Salespage Snapshot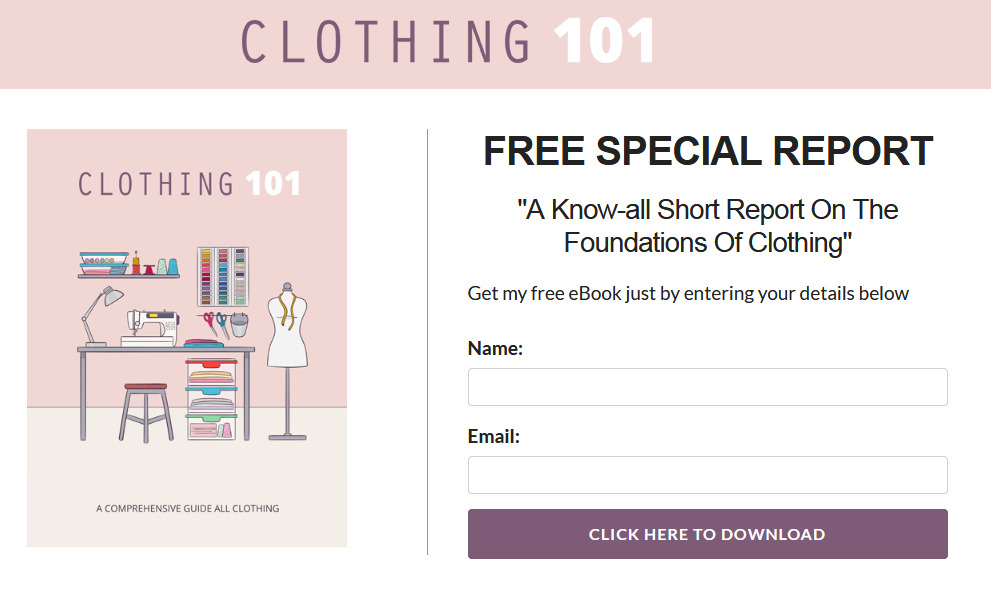 >> Click Here To View Sales Page...
Table of Contents
Introductory . 4
Chapter 1: Fashion Tips For Women . 6
Chapter 2: Clothing Tips for Men 8
Chapter 3: Clothing Your Children .. 10
Chapter 4: Choosing The Right Jeans For Your Body Type .. 12
Chapter 5: Lingerie . 15
Chapter 6: How to Wear a Mini Skirt .. 17
Chapter 7: The Basic T-Shirt .. 19
Chapter 8: What Women Should Wear At Office .. 21
Chapter 9: Standards of Looking Great . 23
Sample Content Preview
Chapter 3: Clothing Your Children
It is lovely to see well-dressed children particularly small children who can look cute and fashionable at the same time.
Babies have no say in what we dress them up in so we can be as flamboyant or simplistic as we like!
Specialist shops are in abundance nowadays with prices ranging from sensible to the ridiculous. A small child has no concept of wearing designer clothes only the parent. Whether the clothes be cheap and cheerful or expensive and chic, babies and toddlers will still make a mess while eating, crawling and generally doing things small children do!
No matter how much or how little you spend, clothes still need to be practical. For anyone who has had the pleasure of dressing a wriggling baby or toddler, the buttons and zips definitely need to be in the right places. Time is limited when dressing or undressing your child so fiddly buttons and badly positioned zips and ties are a definite no!
Easy access via poppers especially in baby's trousers is an excellent invention. Just think how much time it takes to put kicking legs into a pair of trousers! Babies grow at an incredible rate so one doesn't have to worry much about clothes being worn out, they tend to be outgrown and still in beautiful condition. This is great if you are possibly going to have more children or have someone with a smaller baby to pass clothes on to. Definitely a money saver if you are on the receiving end of another parent's generosity.
Toddlers are wonderful little people who you can still dress to look cute – until they suddenly start to become independent and pick their own clothes. When they are at this stage you can forget looking stylish and fashionable, toddlers tend not to have any color co-ordination or dress sense – be warned!
Early school years can be really simple, as most of the time the child will spend wearing a school uniform. Clothing your child is easier though it can be expensive depending on where you buy the uniform. Most of us buy at least a size bigger blazer or trousers so that the child 'can grow into them', this can cause embarrassment to our children. Be diplomatic and not too enthusiastic about your child's growing abilities.
The wonderful teenage years! – A clothing nightmare. Just when you thought that purchasing a school uniform was simple you find out to the contrary. Your teenager suddenly must have designer named shoes, trainers, trousers – whatever they wear has to have the latest logo emblazoned on the front or back.
Buying labels and sewing them on won't work, teenagers may be difficult but they are not easily fooled.
At the end of the day, buy what you can afford, make sure the clothes are reasonable hard wearing and put together properly.
Dressing smaller children should be practical, it seems silly putting a pretty dress on a crawling baby as they will probably come to a standstill if they keep putting their knees onto the dress! As to dressing teenagers, well that is another matter, birthdays and Christmas come in handy for purchasing expensive clothes or trainers as presents, this can often be a good compromise.
Trends chop and change like the wind for teenagers so while your child is small enjoy dressing them up in colorful tasteful clothes that you have chosen, they at least won't worry about losing their street cred!
Chapter 4: Choosing The Right Jeans For Your Body Type
High on the list of frustrating things people do because they feel they have to is jeans shopping.
Shopping for a pair of comfortable chinos would be easier, but it would not meet that irresistible need to have a stylish well-fitting pair of jeans ready to go at a moment's notice.
If you are like most people, there are several pairs of jeans in your closet that almost never see the light of day. They may have looked right in the store, but at home they just don't make the cut over the one pair in the closet that actually fits and feels just right.
Just about all frustrated shoppers have thoughts on the matter of how to buy the right pair of jeans. Only a few ideas, however, are really worth considering given subtle variations of body types that a pair of jeans needs to fit.
Fit the body type
Although it is fairly simplistic to say that there are only five body types, it is the easiest way to narrow down the hundreds that could be given. Consider these groupings: short-wasted, long torso, plus-size, wide hips, slim and petite. There are of course variations in between.
For a short-waste consider lower fitting hip hugger jeans. These will tend to elongate the upper body. For a long torso body type, go for a pair of jeans that has a defined waist. This goes in the opposite direction of the short waist person. Plus size people need to work with balancing the hips. To do this, look for a flare at the bottom of the leg.
This will balance out the hips. Also, large pockets close together will help. A petite person should consider a straight leg pair of jeans that may be a bit baggier then normal. This will cast a taller silhouette.
Age appropriate jeans
Unless you look like Goldie Hawn when she was in her 20's and 30's certain areas of the body have moved and your attitude has changed. Make yourself understand that the days of the torn knee and low-rise jeans are gone. This is not necessarily a bad thing because it gives you quite a few options with regard to style and fit. Where are you going?
The perfect fit means differing things for differing uses. Jeans at a casual party require a differing fit then if you might be wearing them on a casual Friday. Consider a stiffer leg if you are going to a function that isn't quite a picnic but not a slack sort of function.
A straight leg will work for people with a narrow waist or short legs, and if your waste isn't quite as narrow as it once was go with darker colors. Darker colors cover up a host of body imperfections.
Casual Fridays call for a dark jean and a defined waste. Anybody can wear this type of jean no matter the body type, but if you are plus-sized or petite add the rules above. The real trick to fitting your style and body type, in this instance, is to find a pair of straight leg jeans you are comfortable with and buy two pair. Buy one pair for flats and one for heels.
Other Details
- 1 Ebook (PDF), 24 Pages
- 1 Salespage (HTML)
- 2 Ecovers (PNG)
- Year Released/Circulated: 2017
- File Size: 1,253 KB
License Details:
[YES] Can be sold
[YES] Can be used for personal use
[YES] Can be packaged with other products
[YES] Can modify/change the sales letter
[YES] Can be added into paid membership websites
[YES] Can put your name on the sales letter
[YES] Can be offered as a bonus
[YES] Can be used to build a list
[YES] Can print/publish offline
[YES] Can convey and sell Personal Use Rights
[YES] Can convey and sell Resale Rights
[YES] Can convey and sell Master Resale Rights
[NO] Can modify/change the main product
[NO] Can modify/change the graphics and ecover
[NO] Can be given away for free
[NO] Can be added to free membership websites
[NO] Can convey and sell Private Label Rights