Salespage Snapshot: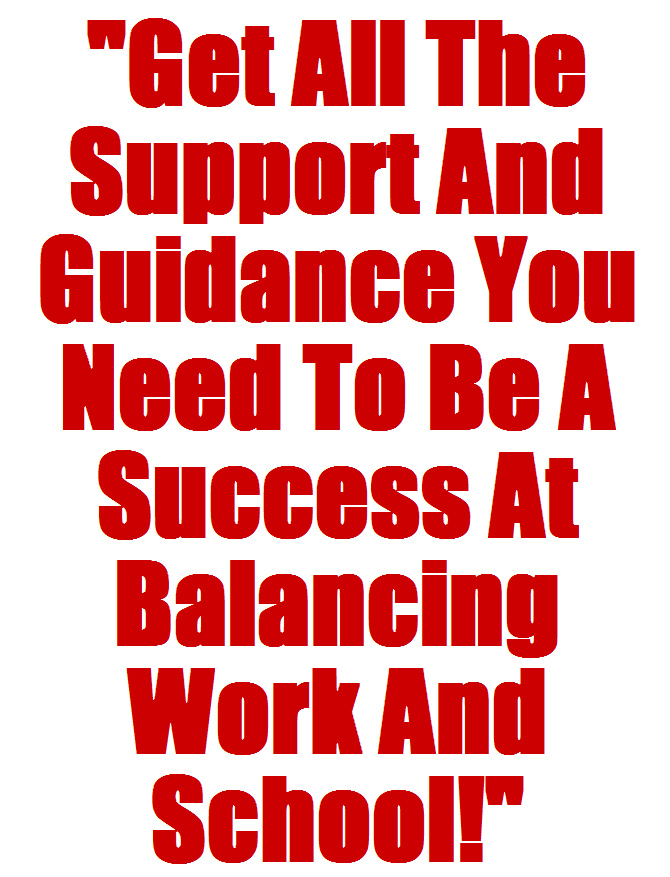 >>> Click Here To View Full Sales Page…
Table of Contents
Introduction
Chapter 1:
Attending Community College Basics
Chapter 2:
Getting Organized
Chapter 3:
Choosing Study Time
Chapter 4:
Tips about Scheduling
Chapter 5:
Time Off Before Tests
Chapter 6:
Make Sure to Live Healthy
Chapter 7:
The Importance of Balancing Your Life
Sample Content Preview
Chapter 4: Tips about Scheduling
While busy with your studies and work, you have to know how to schedule your time. Doing this will make it easy to complete your tasks on time.
When it comes to scheduling, most students attending community colleges don't know where to start. If you are one of these individuals, this information can solve your major concerns.
7 Recommended Tips for Professionally Managing Your Time
Managing your time is not as tough as you think. All you have to do is to know its precise tips and tactics. To give you some hints, here are the top seven tips you shouldn't pass up to ensure that you effectively managing your time:
1. Be Organized – To do this, you have to use time saving tools such as appointment calendars, emails, answering machines, to-do lists and file folders. It is also best to have an organized workplace. Like other students, you have to use your appointment calendar for everything, including listing working and studying times. Your to-do list, on the other hand, is perfect for both daily and long-term schedules.
2. Plan Ahead – As a student of a community college, you have to determine how long your tasks will take. You also need to consider whether any activities can be combined or not. Similar with other
students and workers, you have to know if big tasks can be broken down into smaller jobs that may be simpler to schedule, such as studying for quizzes and visiting the library.
3. Prioritize Your Tasks – You have to use a 1-2-3 rating system for items on your to-do list with 1 being the highest priority. You also need to set goals for both the long and short terms as to what you want to accomplish. It is also best to look at all of your to-do lists to gauge the time needed and whether additional resources will be required to complete them. As advised, make sure that you don't postpone the small tasks because if you overlook them, they will become a bigger one.
4. Avoid Overload – Even if you are eager to finish your tasks immediately, you don't have to pressure yourself. Make sure that you include time for relaxation, eating, sleep, exercise and socializing in your to-do list or schedule. As advised, have short breaks during work or studying periods. You also don't need to put everything off until the last minute. Most importantly, learn to say "No" and to bargain better deadlines when needed.
5. Practice Useful Study Techniques – To do this, you need an appropriate study environment. It is also best to split large tasks into manageable tasks. Additionally, don't forget to read for conception rather than just to finish the chapter. You also need to be prepared to ask questions as they come up during lessons rather than waiting until just before the quiz.
6. Be Flexible – Always expect the unexpected. This is the common phrase that you will hear from the experts. When unexpected situation happens, you need to be able to fit them into your schedule. You also need to know how to rearrange your schedule when needed. In addition, it is best to know who to ask for help if needed.
7. Have a Vision – Simply ask yourself – why am I doing this? Then, write and follow a personal mission statement. You also need to remind yourself why it is important to you.
Above all, you have to be positive in all the things you do. If you are confident with what you are doing, chances are you will be lead to a better and successful future
Chapter 5: Time Off Before Tests
Every college student desires to pass their respective exams and tests. But, with their busy schedule, some of them fail to study and they prefer to scan their notes a few minutes before the exam. If you do the same thing, you have a good chance of failing and getting poor remarks from your professors.
Experts advise that it is best to study a few days before the exam. Then, during the examination day, all you need is to relax and think positively and you will be able to easily answer all the questions on the test papers.
Step-by-Step on How to Take Time Off before Exams
For most individuals, relaxing before exams is completely hard to do because you never fail to think about what will happen during the examination. The extra stress affects your health and your grades as well. Thus, steal a moment to take a deep breath and relax. If you don't know how to relax, here are the step-by-step instructions on how to take time off before exams:
Step 1: Prepare for the exam a night before it is scheduled – The earlier you start studying, the more at ease you will feel with the materials. As advised, you need to give yourself at least one or two weeks to
material. You also need to stop cramming about an hour before the examination and thus, you can concentrate on relaxing instead.
Step 2: Step away from desktop computers and books – Physical activity allows you to relax, concentrate your thoughts better, clear you head and keep your juices running. You also need to take daily breaks while studying and then take a short walk just before the examinations start.
Step 3: Breathe Deep – Deep breathing provides a simple method of reducing stress. All you have to do is to close your eyes, calm down your body, breathe in gradually through your nose and exhale through your mouth. You have to repeat these steps until you feel calm. This works while studying and just before the final examination.
Step 4: Visualize yourself in control during the exam – This type of technique helps you in lessening anxiety and prepares you for examinations. Spend a few minutes the night before and in the last minutes before your examinations doing visualizations.
Step 5: Rest well before your exam – Though you are quite worried what will happen during the examination, you need to stop thinking negative things. This can help in promoting a better sleeping habit. Getting adequate amounts of sleep will make you think clearly and help you to answer complex questions during the exam.
Step 6: Arrive early – When taking exams, make sure that you arrive early to the correct location so you will never feel rushed. This also provides you with time to practice a few relaxation exercises.
Apart from the above mentioned, it is best to keep the essential of the examination in perspective. It is not likely the end of the universe, even if you fail to pass the exam.
Other Details
- 1 Ebook (PDF), 27 Pages
- 1 Salespage (HTML)
- 1 Ecover (PNG)
- Year Released/Circulated: 2016
- File Size: 652 KB
License Details:
[YES] Can be used for your personal use
[YES] Can be given away
[YES] Can be sold
[YES] Can be packaged with other products
[YES] Can be offered as a bonus with other things you sell
[YES] Can be added to paid or free membership sites
[YES] Can be offered through auction sites
[YES] Can sell with Resale Rights
[YES] Can sell with Master Resale Rights
[NO] Can sell with Private Label Rights
[NO] Ebook can be modified in any way