Salespage Snapshot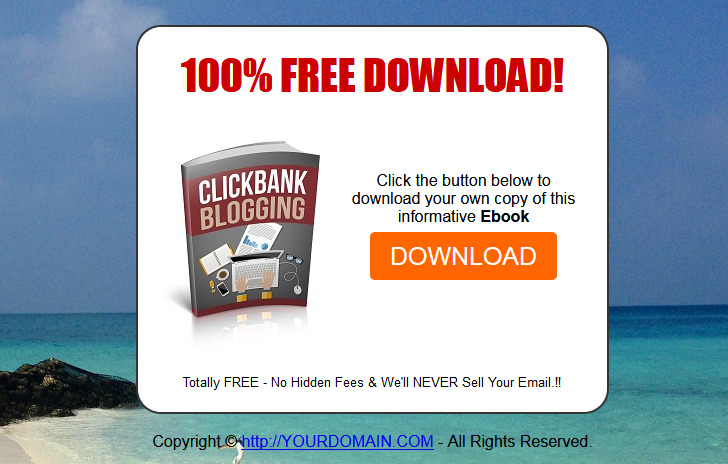 >> Click Here To View Sales Page...
Table of Contents
Table of Contents .. 2
Using Reviews To Cash In With Affiliate Marketing …….. 3
Amanda's Secret ….. 5
But Does It Really Make You More Money? . 6
Is It a Lot of Work? . 7
Section 1: Guide to Clickbank Review Blogging 10
ClickBank Review Blogging Overview ….. 10
Affiliate Marketing ……. 11
The Set Up Mechanics …. 11
How Many Blogs? . 13
How to Choose Subjects with High Returns …….. 14
Picking the Winners …….. 15
How To Find Niches and Products …. 20
Pen Names, and How to Use Them … 23
Section II: Writing Reviews That Sell ……. 24
Elements of A Good Review Post …. 25
Your Post Headline ……… 27
Your Introduction . 28
Pros and Cons …….. 30
How it Works……… 32
Proof … 32
Conclusion … 33
Your Call to Action ……… 34
More About Keyword and Niche Research …….. 35
So What about the FTC? …….. 40
ClickBank Secret Strategies … 41
Sample Content Preview
But Does It Really Make You More Money?
That is the million-dollar question. But think about it… how many vacuum cleaners would you sell, if you hated every moment knocking on doors? You'd procrastinate, chicken out, and present a miserable, half-hearted sales spiel (just as Amanda did) when someone did finally, grudgingly let you inside.
I also remember vividly that she didn't sell one single vacuum cleaner. That type of approach just didn't gel with her personality – or interests.
You have to have a particular mindset to be an in-your-face, aggressive salesman. Most of us aren't hard-wired that way. And that's the beauty of review blogging…
It doesn't matter what your favorite topic is, or whether you like to review products via podcast, presenting yourself on video, or by writing. It doesn't matter whether you're in the business of internet marketing, insurance, electronics or any other specialty niche: Reviewing products your niche will find valuable is a made-to-succeed formula for anyone.
You're dealing with passionate people, when you're dealing with a niche. Help them find exactly what they need, and in their eyes, you're already a celebrity.
How Hard Is ?
Affiliate review blogging is something you can do full-time, or part-time. It doesn't take long to reach authority status, particularly once top marketers or professionals in a niche notice that your reviews bring them sales – and list members notice you always bring them good advice.
In fact, you really can work relatively short hours a day, once you've got your methods down pat, and no longer have to look up how to set up a WordPress blog or how to create an affiliate link redirect.
You can spend as much or as little time you like in promoting and driving traffic to those blogs, too – but you can do it in a way that fits in with your lifestyle and personality preferences.
If you hate making videos, you don't have to. If you've got no time for Facebook, work from Twitter. If the whole social marketing scene drives you insane, focus your efforts on press releases and article marketing instead (and you don't have to spend more time at these than you would on review writing, either, to achieve solid success).
Finding Partners
You may have heard of the power of JV (joint venture) reviews. This is when someone writes and asks if they can send a copy of their product to a "super affiliate" – someone who is one of the most prominent figures in their niche. If the super affiliate says "yes", and actually produces a favorable review of the product, it can vault marketers overnight from "unknown" status to heading firmly for the top.
Less is said of the reverse phenomenon – instead of sitting there waiting until you've become a super affiliate before top marketers approach you with first "dibs" on their products, approach them yourself, and ask if you can be the first to review their next product. (Make it clear you expect to purchase the product, of course.)
You probably won't hear back from most of them: Don't take it personally. Just remember most of the top guns don't even read their own emails – they have VA's to do that who apply a certain, impersonal set of criteria to what gets responded to. (And there may even be no time to answer all letters, if their lists are especially gargantuan.)
But eventually, one of them may actually say, "Sure, I've got this new product, and you can test drive it for me." You'll then have an "exclusive" to share with your list – ahead of the herd!
It may comfort you to know that the whole key to getting a "yes" answer doesn't lie in what a celebrity you are (or aren't) but in whether or not your review blog is a good fit for their list.
When a top professional in your field says "yes", and sends you that product ahead of the rest of the pack of review bloggers, that's your time to show how many sales you can generate for them. (In the meantime, it goes without saying that you have already purchased and reviewed their existing products anyway.)
Who do you approach first?
Simple. The people you've already made the most sales for.
If this sales amount is substantial, they will probably know who you are. If it isn't, spell it out for them. Tell them you've been in business X number of months (or weeks… or days) and that one review you did of their Product #65 generated you X amount of commission. Tell them you'd like to help promote their products more, and suggest that reviewing the next one straight out of the gap will help both of you reach your goals.
I should stop and stress here, you're not soliciting freebies – make very sure your approach doesn't contain even a whiff of that headspace. You're letting them know you are available to review and promote their products… because their products are perfect for your list.
Surprised by that "yes" answer? Don't be. Top marketers are all aware of the power of affiliate review blogs.
Just keep these key points in mind, and yours will become one of the sought-after sites sooner than you may be imagining.
Here's how to help propel yourself more quickly towards success:
1. Follow a "formula" (template), to give your reviews consistency and a distinctive style. (People psychologically love and align themselves to repetitive patterns.) And if you don't have a formula or template – create one, and stick to it for each review
2. Listen to your readers (or your niche market, if you're brand new). Find out which problems haven't yet been solved, and do your best to solve them by finding the right products – and telling they why it's right for their needs.
3. Present yourself intelligently. Study top affiliates, and see what little signature tricks or quirks they employ that set them above the "herd". While all the other would-be review bloggers are buying book after book, all telling them to do the same things, over and over, spend your time studying the super affiliate reviewers and their sites – to see what they do differently. (Hint: Lynn Terry always includes a graphic signature at the end of her post and a P.S.)
4. Always focus on your readers. This can't be said too many times. Remember, no one is really interested in your expert opinion, even while they're wanting you to be that expert. They're too busy focusing on "Is this going to show me how to do X at last?"
5. Don't be afraid to be unique, and let people know who you are. Both you and your readers will have more fun – and the sales you attract will be less likely to generate refunds, because they'll be more in line with your market's real needs.
Other Details
- 25 Articles (TXT)
- 1 Ebook (PDF), 46 Pages
- 1 Squeeze Page (HTML)
- 2 Ecovers (PNG)
- Year Released/Circulated: 2018
- File Size: 2,661 KB
License Details:
[YES] Can sell and keep 100% of the sales.
[YES] Can edit the squeeze page.
[YES] Can be bundled into another paid package and sell at a higher price.
[YES] Can be used as a bonus to another product you are selling.
[YES] Can be sold in a Dime sale event.
[YES] Can be added into a paid membership site.
[YES] Can pass on the Master Resell Rights privilege to your customers.
[YES] Can be given away for free AGAINST an email address (lead generation)
[NO] Contents of the product can be edited, modified or altered.