Salespage Snapshot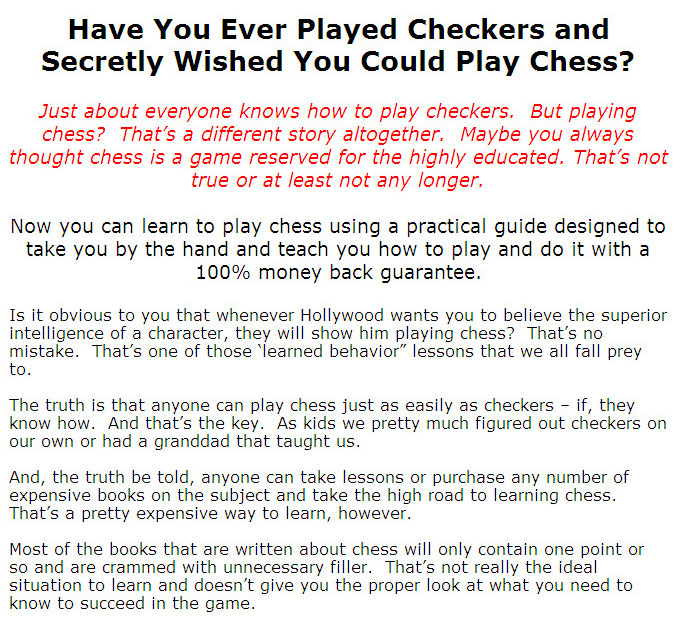 >> Click Here To View Sales Page...
PLR Ebook Table Of Contents
History of Chess
Why Play Chess
About the Environment
Playing by the Rules
Build a Bigger Army
Smart Tactics
Dirty Tricks
Capturing the King
Opening Phase
Pawn Strategies
Control the Board
Recognize Weakness
Getting Serious
Playing Chess Online
Champions of Chess
Ebook Sample Content Preview
History of Chess
History Of Chess Playing
Chess is one of the most popular games nowadays. In fact, this pastime, game or addiction is a big hit not only in one country but all over the world! However, this game has quite a colorful history behind it that most players are not aware of. Whether you're a chess fanatic or simply curious about the game, for sure you'd love to know how it all began. So, here goes!
Where It All Began
Its not surprising that Chess earliest evidence would also be the murkiest. Experts believe that the earliest evidence of chess could be traced back in India. It is said that the game Chaturanga which translates to 'quadripartite' in Sanskrit, is the main origin of Chess.
This game is actually a four-player rendition of Chess and makes use of dice. Information about it was gathered because the game was mentioned in the Puranas, that dates back to 3000 B.C.
According to studies, Chaturanga developed and transformed into a two player rendition that didn't make use of dice, and disproved the Puranas dating, which left literary evidence that pointed to 620 A.D.
Getting Some Relevance
It was then during the Persian Empire period that much relevant origins were found to exist. Research shows traces of the game pointing back to the Sassanid Empire or Sasanian Dynasty, which ruled over Iran for more than four centuries. In their Book of Kings, 'Shahnama', one chapter described how India's Raja sent the game through an emissary to King Nushirwan. The game was known to be Chatrang. Also found in the same chapter is the legend of chess invention followed by a civil war in which both of the Queens sons fought each other. Chatrang was also mentioned in 'Karnamak', or the Book of Deeds.
Other Details* Sales Page:
Included, HTML, MS Word Doc
* File Format:
MS Word Doc, PDF
* Number of Pages:
67
* Included Graphics:
Ecovers, PSD
* Download File Size:
1,649 KB