Salespage Snapshot: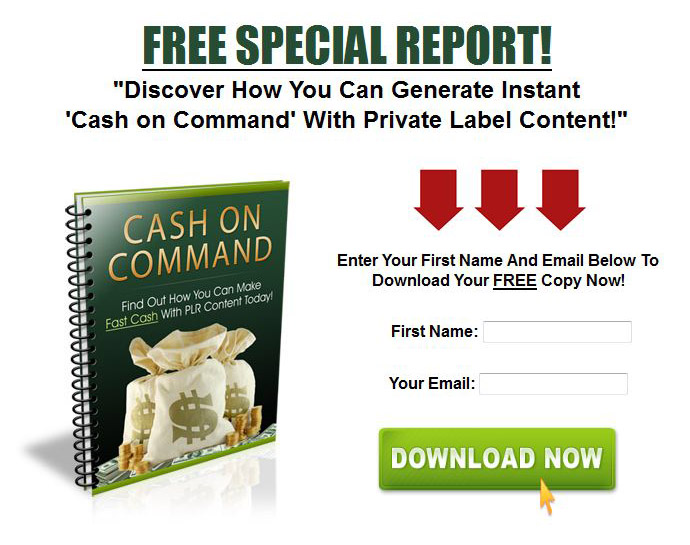 >>> Click Here To View Full Sales Page…
Table of Contents
Cash on Command ……… 4
The Real Value of PLR …. 5
How To Monetize PLR – Today! 7
Quick Start "Prep" ………. 8
Instant Monetization Strategies ……… 10
Build An Automatic Sales Machine … 13
Build A PLR Powered Membership Site ……. 14
Selling PLR – No Cost Set Up . 16
Essential Tools .. 17
Quick Start Checklist …. 18
Tools & Resources ……. 19
Sample Content Preview
The Real Value of PLR
I'm sure that I don't have to tell you that private label content is only as valuable as its quality. There are hundreds of PLR distributors online, some of which write their own content while others outsource cheap article content and package it up together in order to sell it with PLR rights.
When it comes to buying PLR, you truly get what you pay for. If you find yourself being attracted to the advertisements offering "thousand of PLR articles with unrestricted rights for $5.00", you'll want to reconsider your purchase.
Private label content should be written as if it were not intended to be PLR at all. In other words, if YOU wouldn't want to read it, and if you don't find the information valuable, helpful or comprehensive, your customers won't either.
Apart from the quality of the content and material itself, you also want to consider the different licenses that are attached to PLR releases.
For the most part, you will want to avoid "unrestricted rights" because it entitles all buyers to distribute the content in virtually any way they wish, including re-selling the content cheaper, or giving it away. This kind of license may provide extended freedom, but it will also be saturated throughout your niche. This sort of content will be de-valued in a matter of days, due to its saturation throughout your niche.
To protect your investment, consider purchasing PLR that comes with either limited options and licenses (sold to fewer people with clear restrictions in place) or extended PLR, where PLR rights are given only to the buyers (not passed onto their customers and so on).
That way, you can avoid buying PLR that will be passed on to thousands of people, making it easier to sell to your customers with personal, non-transferable rights – just like any other high quality product you release.
Many different private label developers online offer high quality content with limited rights.
You can explore one of the leading PLR communities at http://www.SurefireWealth.com where you can create a free account and gain access to brand new, all-inclusive private label packages. You can also explore premium PLR releases at http://www.ExclusiveLicensingRights.com
How To Monetize PLR – Today!
When it comes to making money with private label rights, there are many different options available to you.
You could:
· Rebrand the content as your own and sell with personal rights.
· Use the content to build quality authority-type websites and blogs.
· Power up auto responder systems or create a newsletter for your niche.
· Offer smaller segments of content as free downloadable reports.
· Create incentive offers for squeeze and landing pages.
You can also resell PLR content 'as is', or you could:
· Hire an affordable freelancer to "tweak" the content and make it your own.
· Compile multiple PLR products into one longer, full featured package.
· Create training packages – "how to" guides and courses that include a variety of training material derived from various PLR content sources (reports, worksheets, ebooks, etc)
How you monetize PLR will depend on your target audience, your niche, and your overall goals but one thing remains the same – you can start making money from PLR TODAY even if you've never done it before!
Quick Start "Prep"
Before you can monetize PLR, you need to complete a few simple steps that will not only help you make more money, but will drastically improve the quality of the PLR that you distribute under your brand.
Edit Content
Even if the content is professional and well written, you will want to touch up the content in a few different ways including:
Inject Your Personal Message
You want your customers to feel as though the content was written for them, so it's important that the information contained within the PLR release represents your personal message and voice. Touch up the content by adding in your own introduction, or add a "Note From: Your Name" at the beginning of each guide.
Inject Your Brand
If you are planning to use PLR to create information-style products for your business, it's important that each release carries a strong brand message. It's important to remain consistent with every product you release under your company and this may include font styling's, color schemes, layouts, templates and even chapter titles or headlines. Run through each PLR product quickly and make sure that it reflects your company and the impression you wish to make.
Inject Your Links
Regardless if you plan to monetize PLR content or use it in giveaways, incentive offers or lead-in free products that capture attention and push your marketing message out to your audience, it's important that you include direct links to your websites and blogs.
Every PLR product could be used as a lead generation tool or a traffic magnet, so take the time to add in relevant links that direct readers to other useful resources.
Inject Your Sign Off
Consider creating your own 'sign off signature' and add it to all of the PLR products you intend to use, in both your product line and marketing campaigns. This may be as simple as your full name, a slogan, message of encouragement or a logo.
When editing content, you will also want to consider restructuring chapters and retitling Table of Contents to make it your own. Since PLR is sold to multiple buyers, changing things up just a bit will help prevent refund requests from customer's identifying the material as PLR (or as being sold by other people).
Sometimes spending just a few minutes editing, tweaking, and improving the content and layout, can do wonders at adding incredible value to the PLR products you purchase, and in transforming each one into a product that you can call your own!
Instant Monetization Strategies
Once you have edited the content so that it better reflects your message and brand, the next step is to determine how you plan to use the content.
· Do you want to create your own PLR store?
· Do you want to upload PLR based products and sell them directly from your website?
· Do you want to use PLR products as incentive offers on lead capture pages? Depending on how you plan to use or monetize PLR content – we will outline the next steps you need to take. To help you get started, here are a few ways that I instantly monetize every private label package I purchase:
Setting Up A Store
Creating a digital store that offers PLR content is exceptionally easy, especially with the power of WordPress.
There are many different templates to choose from that will help you create a full featured storefront in a matter of a few minutes. You can use a series of powerful plugins to handle the delivery and order processing.
One of the easiest plugins that comes bundled with everything you need to set up a fully loaded e-commerce shop is found at http://getshopped.org/
Get Shopped offers a full payment gateway while providing instant protection for all digital products, making it easy to set up a digital storefront in minutes.
If you already use a payment processor or product protection service such as ejunkie. com or DLGuard.com, you can easily integrate payment links into a blogbased eCommerce shop and let your preferred processor handle payments and delivery. If you aren't currently using a digital delivery system, you may want to take a look into http://www.digitaldeliveryapp.com/ , a fully loaded payment processing and delivery system that will automatically process orders, deliver digital files and even subscription based offers.
Other Details
- 1 Ebook (PDF, DOC), 19 Pages
- 7 Part Autoresponder Email Messages (TXT)
- 1 Squeeze Page (HTML, PSD)
- File Size: 9,023 KB