Salespage Snapshot: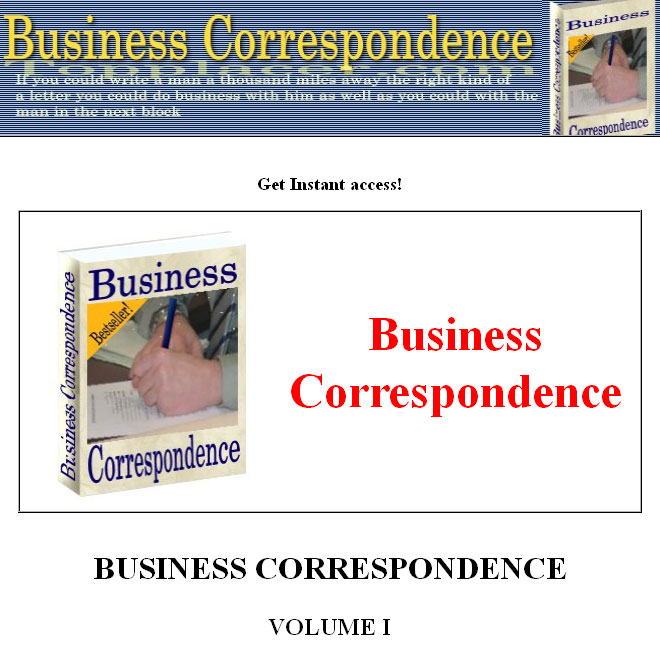 >>> Click Here To View Full Sales Page…
Table of Contents
BUSINESS CORRESPONDENCE VOLUME I
PART I
Preparing to Write the Letter
CHAPTER
1: What You Can Do With a Postage Stamp
2: The Advantages of Doing Business by Letter
3: Gathering Material and Picking Out Talking Points
4: When You Sit Down to Write
PART II
How to Write the Letter
5: How to Begin a Business Letter
6: How to Present Your Proposition
7: How to Bring the Letter to a Close
PART III
Style—Making the Letter Readable
8: "Style" in Letter Writing—And How to Acquire It
9: Making the Letter Hang Together
10: How to Make Letters Original
11: Making the Form Letter Personal
PART IV
The Dress of a Business Letter
12: Making Letterheads and Envelopes Distinctive
13: The Typographical Make-up of Business Letters
14: Getting a Uniform Policy and Quality in Letters
15: Making Letters Uniform in Appearance
PART V
Writing the Sales Letter
16: How to Write the Letter That Will "Land" the Order
17: The Letter That Will Bring An Inquiry
18: How to Close Sales by Letter
19: What to Enclose With Sales Letters
20: Bringing in New Business by Post Card
21: Making it Easy for the Prospect to Answer
PART VI
The Appeal to Different Classes
22: How to Write Letters That Appeal to Women
23: How to Write Letters That Appeal to Men
24: How to Write Letters That Appeal to Farmers
Sample Content Preview
PART I—PREPARING TO WRITE THE LETTER—CHAPTER 1
Last year [1910] fifteen billion letters were handled by the post office—one hundred and fifty for every person. Just as a thousand years ago practically all trade was cash, and now only seven per cent involves currency, so ninetenths of the business is done today by letter while even a few decades ago it was by personal word. You can get your prospect, turn him into a customer, sell him goods, settle complaints, investigate credit standing, collect your money_–ALL BY LETTER. And often better than by word of mouth. For, when talking, you speak to only one or two; by letter you can talk to a hundred thousand in a sincere, personal way. So the letter is the MOST IMPORTANT TOOL in modern business—good letter writing is the business man's FIRST REQUIREMENT.
There is a firm in Chicago, with a most interesting bit of inside history. It is not a large firm. Ten years ago it consisted of one man. Today there are some three hundred employees, but it is still a one-man business. It has never employed a salesman on the road; the head of the firm has never been out to call on any of his customers.
But here is a singular thing: you may drop in to see a business man in Syracuse or San Francisco, in Jacksonville or Walla Walla, and should you casually mention this man's name, the chances are the other will reply: "Oh, yes. I know him very well. That is, I've had several letters from him and I feel as though I know him."
Sitting alone in his little office, this man was one of the first to foresee, ten years ago, the real possibilities of the letter. He saw that if he could write a man a thousand miles away the right kind of a letter he could do business with him as well as he could with the man in the next block.
So he began talking by mail to men whom he thought might buy his goods—talking to them in sane, human, you-and-me English. Through those letters he sold goods. Nor did he stop there. In the same human way he collected the money for them. He adjusted any complaints that arose. He did everything that any business man could do with customers. In five years he was talking not to a thousand men but to a million. And today, though not fifty men in the million have ever met him, this man's personality has swept like a tidal wave across the country and left its impression in office, store and factory—through letters—letters alone.
Other Details
- 3 Ebooks (PDF, DOC), 118 Pages
- 1 Salespage (HTML)
- Year Released/Circulated: 2009
- File Size: 530 KB
License Details:
[YES] Include Professional Sales Letter.
[YES] Can edit the sales letter and graphics.
[YES] Can sell Master Resale Rights.
[YES] Includes Professional Graphics.
[YES] Can Put Your Name As The Author.
[YES] Can Be Edited.
[YES] Can Be Used As Web or e-zine content
[YES] Can be added into a paid membership sites.
[YES] Can Be Broken Down Into Articles.
[YES] Can Sell Private Label Rights.
[NO] Can be offered as a bonus.
[NO] Can be given away for free.
[NO] Can be offered through on any auction sites.
[NO] Can be added to a free membership.