Salespage Snapshot: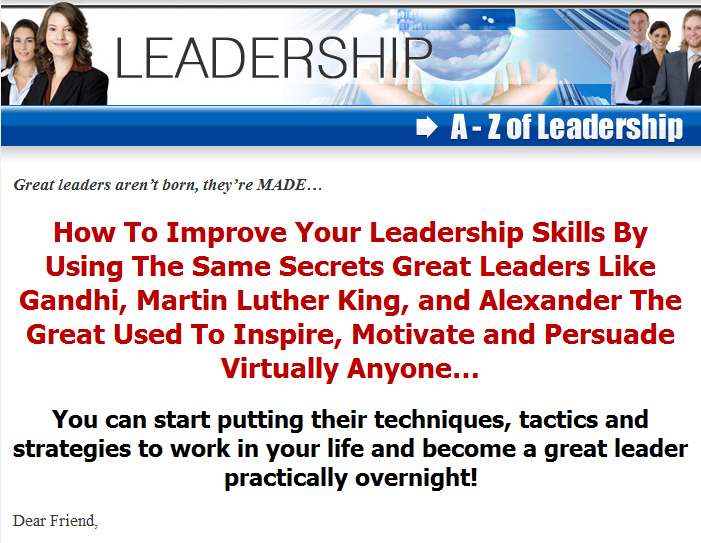 >>> Click Here To View Full Sales Page…
Table of Contents
1. What is Leadership?
2. Leadership: Conventional view Vs Contemporary view
3. The Emerging Concept of Leadership
4. Are you a Leader?-Traits & Characteristics of Leadership
5. Leadership Styles
6. Leadership Theories
7. Leadership Models
8. Exhibiting Leadership
9. Effective Leadership Styles
10. Human Behavior & Leadership
11. Leadership & Team Management
12. Tactics & Strategies of Leadership
13. Leadership & Direction
14. Leadership & Communication
15. Leadership & Time Management
16. Leadership & Creativity
17. After Action Review in Leadership
18. Motivational Leadership
19. Transformational Leadership
20. Situational Leadership
21. Transactional Leadership
22. Charismatic Leadership
23. Ethical Leadership
24. Leadership in Diversity
25. Leadership with a Vision
26. Leadership Relationship
27. How to Distinguish Between Followers & Subordinates?
28. Pillars of Leadership
29. Managing Resources
30. Leadership Vs Management
31. Common Misconceptions Between Authority & Leadership
32. Leadership as an Evolution: From Leaders to Leaderships.
33. Are Leaders Born or Made?
34. Changing Leadership Roles
35. Leadership Exercises
36. Leadership Coaching
37. Leadership Journals
38. Leadership Seminars
39. Famous Leaders
40. Summary
Sample Content Preview
What is Leadership?
As Napoleon Bonaparte had once expressed, 'a leader is a dealer of hopes'. The essence of leadership is the ability to have great analytical skills. A leader is necessarily is a great visionary. A good leader has the ability to choose the best people to accomplish difficult tasks and he also has the patience to guide his subordinates. Leadership is a process and not just a designation. It can be difficult at times to get your work done through the right bunch of people. A leader gathers and guides people to support his ideas and policies to obtain better results.
Since ages past, leaders are getting things accomplished by making use of apt and organized work forces. If you have keen interest in leadership and its aspects, you have to understand that a leader can motivate the right type of people to give their best for accomplishing a common goal.
Yes, it is true that leaders may not succeed all the time, but motivating people to achieve a common goal is the heart and soul of leadership. People may disagree with their leader's opinions, or may not want to pay heed to his ideas, but this challenge is the driving force behind establishing a successful leadership strategy. Leadership has its own share of responsibilities. It is a good idea to get your job done through other people but when you do so the, moral responsibility lies implicitly on you.
If you lead people they can work for you but if you don't lead then, then the task gets established under the guidance of a new leader. In spite of the weighing responsibilities leadership can be quite fun at times.
Leadership is not a gift but it is an art that has to be cultivated. Many people think that leaders are born, but be assured that leadership qualities can also be cultivated. It is all about learning some key skills and implementing them as and when opportunity calls.
It is all about how well you use your grey matter and how much patience you can develop. You may not be able to attain all the required skills, but you can devise your own methodology as you gain experience.
One word of caution to an aspiring leader is to remember that 'boss' is not an alternate word for a leader. The basic characteristic difference is that the boss is the man (or woman) who pushes people around to get the work done, while a leader is the person who motivates people to get the same work done.
Other Details
- 30 Articles (TXT)
- 2 Ebook (PDF, RTF), 57 Pages
- 7 Part Autoresponder Email Messages (TXT)
- 1 Salespage (HTML, RTF)
- 3 Ecovers (JPG)
- File Size: 7,297 KB