Salespage Snapshot: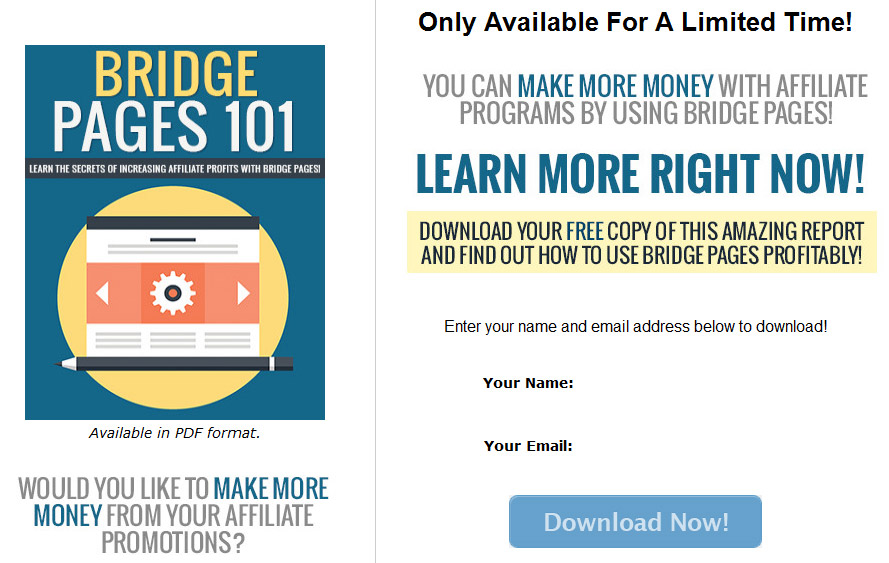 >>> Click Here To View Full Sales Page…
Sample Content Preview
Unstable Traffic Sources
If you're using sites like HubPages and Blogger.com to create your bridge pages, you run the risk of losing your traffic if they're "slapped" by Google.
Thousands of affiliates were hit hard by a Google update a few years ago that penalized sites like Squidoo, HubPages, and most of the popular article marketing websites.
Google realized people were making a bunch of pages that had very little content for the sole purpose of driving traffic to affiliate offers or AdSense, and they penalized these sites for allowing their users to create such pages.
This caused massive ranking drops overnight, costing a lot of people the majority of their affiliate income.
You can still get hit with a Google penalty on your own site, but you have a better chance to fix problems quickly and revive your rankings. If you're hosting on someone else's site, you can be penalized by the actions of other people hosting on that same site, and you're not in control of the entire site, so you can't clean it up to fix your own rankings.
Lack of Branding
Using a site like HubPages to create your bridge pages is not just risky from a traffic standpoint, but also makes it unlikely you'll ever see your traffic again.
Even if they happened to remember your page was hosted on HubPages and they wanted to come back, they would probably just go to HubPages.com and they wouldn't be able to find your specific page.
If you're hosting your own bridge pages, you have the opportunity to brand your website and get users to return later for more of your valuable content.
Creating Effective Bridge Pages
While you can certainly create bridge pages that are hosted on sites like HubPages, it's important to start hosting your own as soon as you can.
Some reasons to host your own pages:
• You cannot add retargeting pixels on pages you don't own
• You often cannot add opt-in forms to pages you don't own
• You can build your own brand instead of someone else's
• You aren't as likely to suffer Google penalties
• You can react quickly to fix issues if you are penalized
Don't think you have to buy a new domain name for every bridge page you create. If you own an internet marketing domain already, for example, you can use that not only for your blog, but also to host your bridge pages. This helps you build your overall brand, while saving money by using one domain to promote a large number of products.
You'll want to have a different domain for each niche you promote, of course. You wouldn't want to promote weight loss products on an internet marketing domain.
Not only would that not look good to visitors, but you'd dilute your content focus in the eyes of Google, hurting your rankings for the primary niche of your domain.
You can create your bridge pages with whatever method you're most comfortable with. If you're great with HTML and CSS or a program like Dreamweaver, you can create your pages manually.
Otherwise, you might want to use a CMS (content management system) such as WordPress.
If you already have WordPress installed on your domain, you can use it. Just create a page (not a post) and use that as your landing page. This had the added bonus of allowing you to have your sidebar (if you choose) and your header (for branding purposes).
Many themes have alternate styles for pages, which you can choose from when you create your page. You will see a dropdown box that will let you choose the style.
Generally, you won't want a sidebar distracting from your affiliate message, however you might want to have it there to hold an opt-in form.
You can create a special sidebar just for this page, if you like. This will let you place only your opt-in form in the sidebar, leaving off anything that might otherwise distract visitors from your affiliate message.
So what can you include on bridge pages?
Reviews
A review is one of the best ways to pre-sell a product, especially if it is a product you have tried and have first hand knowledge of. A well-written, honest, helpful review can increase conversions significantly.
When writing a review, it's important to be as honest as possible. Don't feel like you have to say only good things about a product in order to effectively sell it, because writing about some of the product's flaws can lend some credibility to your review. If you say only good things about a product, you'll probably discover your readers don't entirely trust it.
Tips & Recommendations
Another great thing you can include on a bridge page is a list of additional tips and recommendations for using the product. This kind of information isn't usually found on product sales pages, so you can offer significant value by including this.
Comparisons
If you have several products of the same type that you'd like to promote, you can add value by offering product comparisons. You can do this with comparison tables, bulleted lists, or just offering reviews of the various products that go into detail about how each product differs from the others.
Alternative Sales Text
Sometimes you may have a product that you feel has a sales page that is lacking in some way. Creating a bridge page is a great way to create a sales page that might convert better than the product's own.
When you create your own version of the sales page, you can also include your opt-in box, which will allow you to build your list while promoting the affiliate product.
Be sure to go through the sales page carefully and make notes on what you think could be done to improve it. Then you can implement these changes in your own sales page.
Conclusion
Bridge pages are no longer about spamming search engines with pages that have little to no real content just to get free traffic.
They're about pre-selling your affiliate offers in order to dramatically increase conversions while also building your own customer base.
Think of them as a type of landing page made specifically to pre-sell affiliate offers.
These pages can include reviews, recommendations, tips, comparisons, or they can just be alternative versions of the sales pages.
One of the major benefits of using bridge pages instead of sending traffic straight to your affiliate link is the ability to include an opt-in box to build your list. This can greatly increase your profits, because you have the potential to sell to those people who did not purchase on their first visit, and you can market a wide variety of products to the same traffic source.
I hope you have come to understand the importance of using bridge pages to make the most of your traffic, and I hope this helps you increase your own income.
Best of luck with your bridge pages!
Other Details
- 1 Ebook (PDF, DOC), 15 Pages
- 7 Part Autoresponder Email Messages (TXT)
- 1 Squeeze Page (HTML, PSD)
- File Size: 3,167 KB