Salespage Snapshot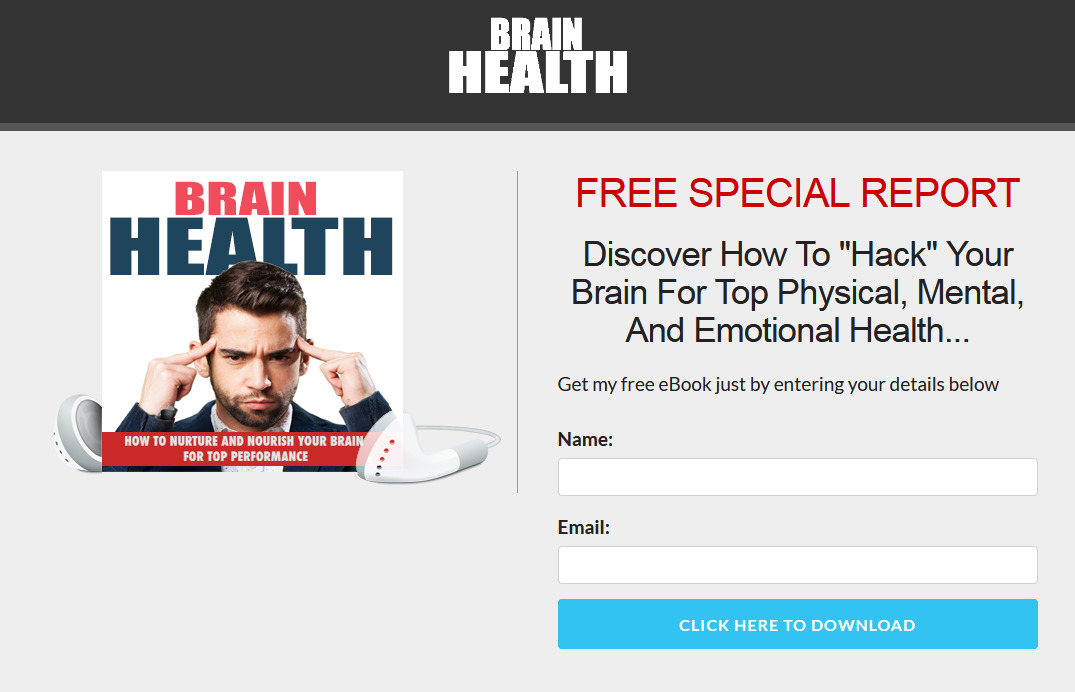 >> Click Here To View Sales Page...
Sample Content Preview
How You Started Destroying Your Brain With Bad Nutrition and Stress
The way that most people eat these days is enough to severely damage our health and lead to serious problems.
As mentioned previously, the brain needs a large number of very specific nutrients in order to function well. These include the all-important precursors to various neurotransmitters. Neurotransmitters are chemicals that change our mood and the way they think – they help us to sleep, to feel good, to focus and to remember things. But the brain makes these neurotransmitters out of vitamins, minerals and amino acids. If you aren't getting enough l-tyrosine for instance, then you might struggle to make dopamine – the neurotransmitter responsible for helping us to focus, stay motivated and remember things. Meanwhile, tryptophan is what the brain uses to create the 'feel good' neurotransmitter serotonin. This is then later converted to melatonin to help us sleep.
Vitamin B6 is a building block for numerous neurotransmitters including dopamine, epinephrine (focus), serotonin and GABA (calmness). Choline, found in eggs, is the precursor to acetylcholine which can improve pretty much every single aspect of your cognitive function!
Then there are the countless other crucial nutrients that the brain needs to perform optimally. For example, healthy arbs are what fuel the brain with energy, antioxidants protect the brain cells from free radicals and zinc enhances brain plasticity.
But most of us are not getting anywhere near enough nutrients in our diets. That's because we eat far too much 'processed foods'. Processed foods contain lots of calories to make us feel full but they are 'empty calories' that are devoid of the things we need.
Meanwhile, our switch to a more modern diet that doesn't include things like fish, mean that even those who try to eat 'healthily' are generally not getting the things they need. A perfect example of this is the modern lack of omega 3 fatty acid. Omega 3 is a fatty acid found in fish (and some plants), which aids with 'cell membrane permeability' (especially the DHA form). This is important because it allows things to pass more easily through the cell walls – good things like nutrients and signals from other parts of the body. At the same time, omega 3 fatty acid is also used by the brain to create a number of hormones that are linked with managing the blood. This way, omega 3 is able to reduce blood pressure and heart problems.
Most importantly though, this also allows omega 3 fatty acid to reduce inflammation in the brain and the predominance of 'pro-inflammatory cytokines'. This is highly important, seeing as pro-inflammatory cytokines are what make you feel so groggy and confused when you're poorly or very tired. Brain fog is a serious problem and it's made worse by the fact that most of us also have far too much omega 6 fatty acid. Omega 6 fatty acid is a useful nutrient in its own right but when we get too much of it, it can actually lower omega 3 and cause more inflammation. Most of us have far too much omega 6, because it is used in all kinds of preservative oils. This is then combined with chronic dehydration, which most of us experience on a daily basis. Dehydration can also cause inflammation in the brain, while also generally leading to sluggish performance.
These processed foods are also examples of 'simple carbs' – carbs that have no sustenance and which the body processes very quickly. This results in a sudden spike in blood sugar that provides you with a burst of energy, followed by an immediate trough straight afterward.
Then there are all the toxins and high quantities of sugars that we consume regularly – and the cancer causing free-radicals.
Is it any wonder that you struggle to think through the thick haze sometimes?
The Role of Stress
Even worse is the role of stress. Today, it's a sad fact that a great number of us experience chronic stress, leading to elevated levels of cortisol (the stress hormone) in our systems. This has a number of serious negative effects on our health and on our brain function in particular.
For starters, when there is excess cortisol in the system, this increases the amount of the neurotransmitter 'glutamate'. Glutamate is a general excitatory neurotransmitter and this means that you'll experience increased brain activity across the board. This leads to heightened awareness and that sense of nagging thoughts. It also makes it harder to sleep, which can lead to memory loss and depression. But perhaps the most worrying side effect is that ongoing stress also leads to the creation of more free radicals – unattached oxygen molecules that attack the brain cells and potentially cause cancer. It can also generally destroy brain cells, robbing you of your ability to think straight.
Also worrying is that stress depletes levels of brain-derived neurotrophic factor (BDNF). This is the principle neurotransmitter that stimulates the creation of new brain cells and it's highly important for increasing brain plasticity. In other words, stress prevents you from learning and this in turn is associated with depression, OCD, schizophrenia, dementia and Alzheimer's disease.
And cortisol also acts contrary to numerous other important neurochemicals. That is to say that when cortisol goes up, these go down. And key victims here are serotonin (happiness), testosterone (drive) and dopamine (motivation and learning).
Other Details
- 1 Ebook (PDF, DOC), 10 Pages
- 1 Audio (MP3)
- 1 Graphic (PNG)
- 1 Squeeze Page (HTML)
- Year Released/Circulated: 2020
- File Size: 6,454 KB
License Details:
You may add this product to your PAID membership site
You may giveaway the product as a bonus when people buy through your affiliate link
You may edit the included opt-in / squeeze / landing page
You may giveaway the eBook for Lead Generation purpose
No, you may NOT edit the contents of the eBook
No, this product does NOT include private label rights. You are granted Master Resell Rights only