Salespage Snapshot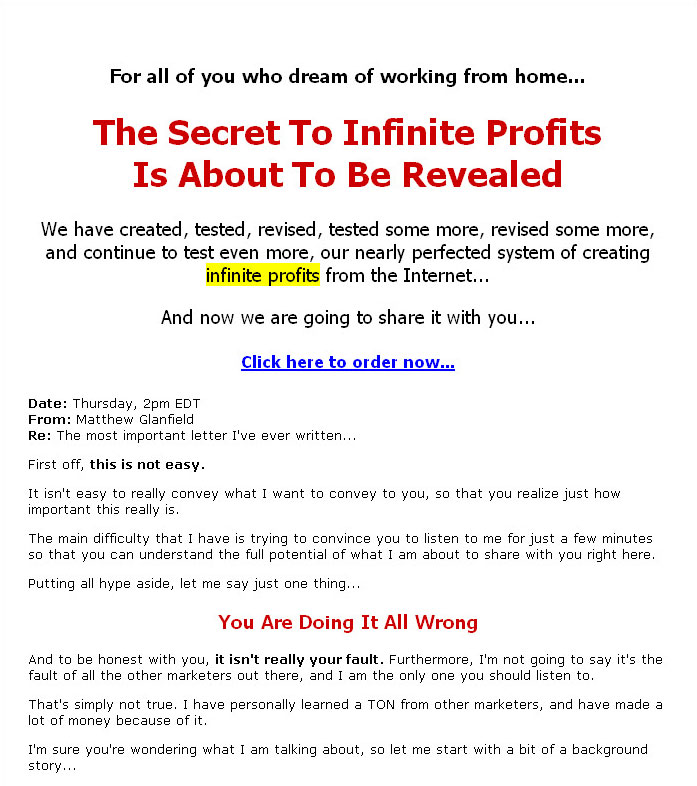 >> Click Here To View Sales Page...
PLR Ebook Sample Content Preview
Infinite Profits Part 1
Chapter 1 – The Infinite Profits System
So what makes a profitable business?
Ah, that is the right question.  And to answer that in its fullest you will need to read this entire e-book.
Don't worry.  I won't fill this up with a ton of fluff that will take up 150 pages to teach what could be taught in 10.
I'll cut through the B.S. and the false ideas that are out there, and I'll show you where the REAL money is.
And no, it's not in e-books.
And no, it's not truly "in the list."
And no, it's not in affiliate marketing.
So what is the "big secret" of the "bigger picture?"  It's quite simple actually.  In fact, I can sum it up into one word.
Ready?
Infinite Profits Part 2
Chapter 1 – The Back-End Continuity Model
Hopefully by this point you understand that the purpose of the BBO Infinite Profits business model is to create sustainable, steady, reliable income that you can profit from month after month.
The basic idea of a continuity product can be summed up into three words:
Monthly Recurring Fees
Let me ask you this – which of the following do you pay for:
•    Phone?
•    Cell Phone?
•    Internet?
•    Web hosting?
•    Cable or Satellite TV?
•    Mortgage?
•    Property Taxes?
•    Credit Card Payments?
Now, what do most of these have in common?  They all charge you monthly fees!
Other Details* Sales Page:
Included, HTML
* File Format:
MS Word Doc, PDF
* Number of Books:
3
* Book Title:
Infinite Profits Free Chapters
* Number of Pages:
32
* Book Title:
Infinite Profits Part 1
* Number of Pages:
95
* Book Title:
Infinite Profits Part 2
* Number of Pages:
63
* Included Graphics:
Ecovers
* Download File Size:
4,998 KB