Salespage Snapshot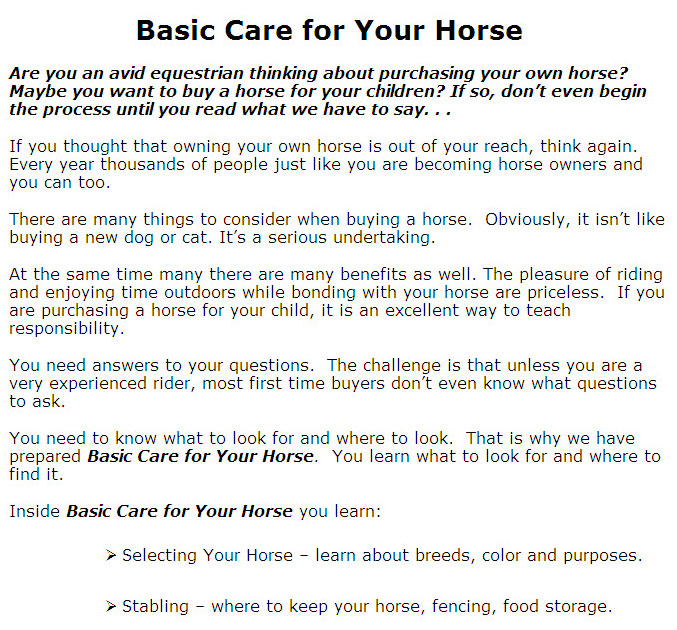 >> Click Here To View Sales Page...
PLR Ebook Table Of Contents
History of Horses
Selecting Your Horse
Stabling
Caring for Your Horse
Your Horses Health
Tack
Clothing for the Rider
Equestrian Events
Selecting a Farrier
How to Select a Horse Trainer
Camping With Your horse(s)
Horses and the Handicapped
Horses and Hollywood
Horses and Youth
Horse Associations
PLR Ebook Sample Content Preview
History of Horses
The History of Horses
Some interesting facts about horses:
• Approximately 75 million horses inhabit our world today.
• The height of a horse can be measured using hands. 1 hand is equivalent to 4 inches.
• The horse has a sharp sense of hearing, direction and smell. The skin is very sensitive and it will respond quickly with a slightest touch.
• Popular horse are Marengo, Moifaa, Bucephalus, Justin Morgan, etc. these are hall of famers in horses' line up.
• There are several markings on the horse's body like a star, white face, stripe, white muzzle, blaze, etc.
Facts are not useful without the historical information. Horses, like any other creature, became useful a long time ago. The Bible, specifically the book of Job mentions horses and horse riders who used them in hunting ostriches. Horse drawings existed about 3000 BC. Drawings of chariots being pulled by horses can be seen in caves during the Bronze Age.
Other Details* Sales Page:
Included, HTML, MS Word Doc
* File Format:
MS Word Doc, PDF
* Number of Pages:
63
* Included Graphics:
Ecovers, PSD
* Download File Size:
2,576 KB