Salespage Snapshot: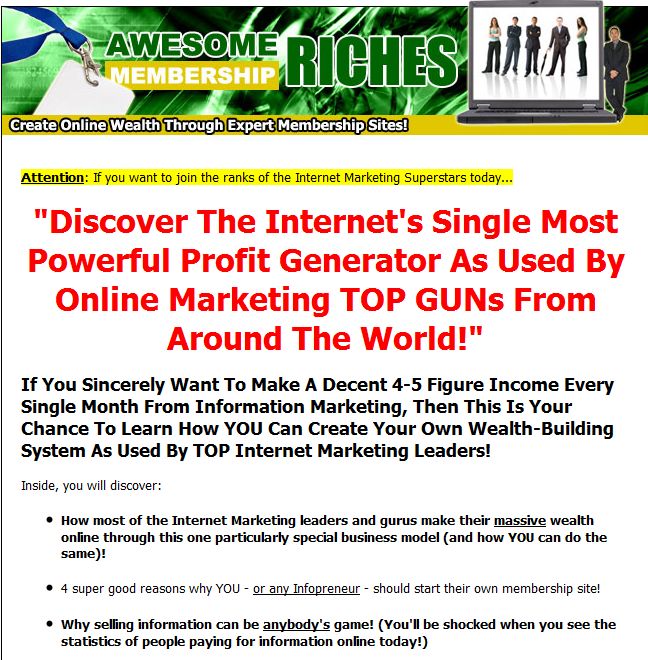 >>> Click Here To View Full Sales Page…
Table of Contents
1.0 An Overview on Membership Sites 5
1.1 Why Start a Membership Site?6
1.2 Membership Sites Today6
1.3 Who Should Start This Membership Business?7
1.4 The Different Types of Membership Sites 8
2.0 Starting Your Membership Site10
2.1 Choosing Your Theme 11
2.2 Membership Software and Scripts 11
2.3 Using Auto Responders12
2.4 Deciding on Your Membership Model 13
2.5 Deciding what Content to Use14
2.6 Choosing Your Publishing Schedule 15
2.7 Suggested Membership Site Themes 16
3.0 The Free Membership Model17
3.1 Free Memberships in a Nutshell 18
3.2 The Pros18
3.3 The Cons19
3.4 Setting up Your Free Membership – Step by Step20
3.5 How to Make Money 21
3.6 Examples of Free Membership Models 22
4.0 The Paid Membership Model24
4.1 Paid Memberships in a Nutshell 25
4.2 The Pros25
4.4 The Cons26
4.4 Setting up Your Paid Membership – Step by Step27
4.5 How to Make Money 28
4.6 Examples of Paid Membership Models 29
5.0 Content For Your Membership Site 31
5.1 Using Your Own Written Content 32
5.2 Leveraging on Resell Rights32
5.3 Engaging Ghostwriters to Write Your Content33
5.4 Installing Web-Based Software 34
5.5 Throwing in Audio and Video Products 35
6.0 Getting Members with Affiliate Programs 37
6.1 The Importance of an Affiliate Program to Membership Sites 38
6.2 How Much & How to Pay Your Affiliates? 38
6.3 Age-Old Question: Is MLM a Viable Membership Model? 39
6.4 Preparing Your Affiliate Marketing Materials40
6.5 Affiliate Hazard: Beware of Affiliate Spamming!41
7.0 Other Marketing Methods43
7.1 Viral Marketing with E-Books44
7.2 Joint Ventures 45
7.3 PPC & Search Engine Optimization 45
7.4 Other Notable Marketing Methods 46
8.0 Managing Your Growing Membership Site 48
8.1 The Importance of Offering Regular Publishing Schedules 49
8.2 Suggestion to Improve Your Membership Site49
8.3 The Main Focus of Your Membership Site 50
8.4 Being Professional with Help Desk Systems and Forums 51
8.5 How to Manage Your Growing Members 52
9.0 In Closing54
9.1 Top Examples of Membership Sites 55
9.2 Is Starting a Membership Site for You? 58
9.3 Last Words and in Conclusion58
Sample Content Preview
1.1 Why Start a Membership Site?
People are willing to pay for online content. In fact, the "Online Publishers Association" said that pay-for content is emerging as a hot revenue model. Business content, personals/match making, and entertainment are the hottest niches. But even smaller niches, like DVD authoring, sports coaching, marketing services, and dieting are producing profits.
You can sell subscriptions for online content with your own membership site? Selling online content by way of a password protected website has become big business. Not only is it fast to set up, but the start-up and running costs are minimal. Work from home entrepreneurs and big businesses alike are tapping into this newfound revenue source.
Less than nine percent of online users currently pay for online content. This means the market is wide open for the savvy entrepreneur. Paying for content in 2004 was more than 5 times what it was in 2005. That's a whopping 500% growth! Those who capture the market first in their niche will have the obvious advantage and it's an international market, so anyone can play.
One of the great things about starting a membership site is you can take your hobby, specialized knowledge or profession and turn it into a profitable business. Your challenge will be finding exclusive content. You can start it part time but it will likely develop into a full time business.
Planning for and setting your site up for auto-responders, automated sign-ups, credit card processing, automated cancellations, etc is all part of a successful membership website. Starting and running a membership site can be a lot of fun and very exciting, however you need to know what's involved in setting one up, and then managing it effectively.
Other Details
- 30 Articles (TXT)
- 1 Ebook (DOC), 54 Pages
- 1 Salespage (HTML)
- 25 Ecovers (PSD, JPG)
- 1 Promotional Ad Material (Emails)
- Year Released/Circulated: 2008
- File Size: 4,078 KB
License Details:
1.Put your name as the author on the product.
2.Re-title and/or edit the contents (of the manual). You can add, remove or edit the contents of the product and insert your own links and affiliate links for back-end income.
3.Change the E-Cover. The source file to 3D and flat E-Cover can be edited in Adobe Photoshop – you can change the color, add in your name, re-title the product, or anyhow you like.
4.Change and/or edit its pre-written sales letter. You can put your name on the sales letter, rewrite it, collect and compile your own testimonials and endorsements into the sales letter, or anyhow you like.
5.Sell the product. Sell it to your customers for their personal use at the suggested price of $47.00.
6.You can convey Basic/Master Resell Rights to the package and sell at a higher suggested price of $97.00.
7.You can resell the Private Label Rights to the source code. The suggested selling price is $197.00. Your customer can in turn resell the Private Label Rights, too. However, you must pass on this license to them so they can be informed and abide by the same terms and conditions if you are passing on the Private Label Rights.
1.You CANNOT give away the Private Label Rights to the product for free under any circumstances whatsoever.
2.You CANNOT under any circumstances offer more than 2 Private Label products from PLRGold Master Rights Package 3 in a bundled package, paid membership site, or bonus.