Salespage Snapshot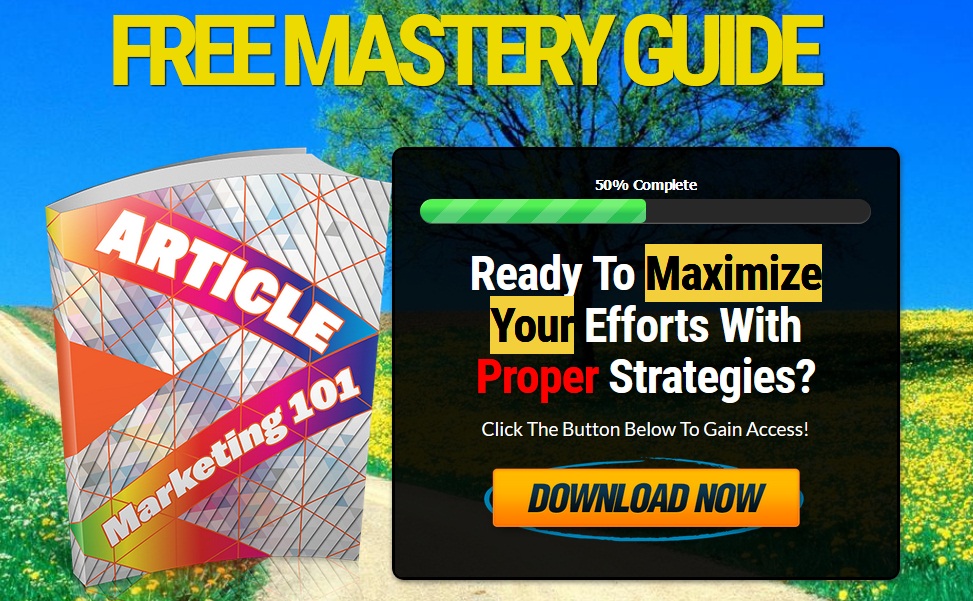 >> Click Here To View Sales Page...
Sample Content Preview
TELL A STORY
Maybe you have a personal story to tell as to why you went into the business you did. Maybe you know of someone's story that touched your heart and made you realize what's important about your business. Telling a story has a way of connecting people to other people's real life situations and also of provoking comparison. Sometimes, you can use the comparison to trigger people into avoiding mistakes by not learning more on your niche market. Other times, it can help them to become more productive by hearing how other people became successful with some method or strategy. Humorous stories can also be used to make light of the human condition while also entertaining your readers. Just be careful to stay as respectful of other people's choices so that no one can see bias or callousness in the way that you tell the story, which will be an automatic turnoff. Keep it heartwarming and friendly, but don't moralize or patronize your readers.
Submit Articles Frequently
Article marketing works by creating exposure for your business. The more articles you have, the more likely that you will start to create a following and the more you will bring traffic back to your door. However, if you show your audience everything that you have the first week, you won't be able to maintain that online presence long enough to reap the rewards of a long-term exposure on the Internet. Therefore, plan your article marketing to make it frequent, but also lengthy. You can do this by getting articles ready ahead of time and then rolling them out a little at a time.
PLAN ARTICLE SUBMISSIONS
Once a day isn't a bad schedule for a blog, and it certainly can be equally as good for article marketing. Keep in mind that you will probably be submitting to multiple directories, and that needs to be managed too. You might want to stagger the appearance of your article in different directories just to manage the workload better, or you can opt to hire a company that submits an article to multiple directories in the same day.
NOT ALL ARTICLES ARE ACCEPTED
Not every article will be accepted, since some might unintentionally violate the terms of the service. In that case, you may submit it and it never gets published. Be sure to have a backup article ready in case an article is not published so that your readers aren't left stranded while you try to think up another topic.
KEEP AT IT
Article marketing is a long-term strategy, not an overnight success. Each article builds on the others and will link visitors more and more to you. Thus, don't expect one week of article marketing and seven articles to lead to immense streams of traffic coming back to your site. It takes a while to get up and running, and it will take some backend promotion to really fully exploit the potential of article marketing.
As long as you have a plan, just keep at it. It only takes time if you decide to do it all yourself, and it can generate a loyal following for very little money. If you decide that it's just too much work, you still have the option to hire ghostwriters who can use your direction, keywords, and topics to put together some dynamic copy to use in your article marketing plans. It will cost you more upfront, but if you start to see an increase in sales relative to that expense, it will be money worth spending.
What To Do If You Can't Write
What if you can't write or don't have the time? Can you still do article marketing? Yes, you can. You can hire ghostwriters who will pass all of the rights of their copy to you, and you can then submit it as if it were your own original copy. Many people do outsource their article marketing, either because they can't write or because they don't want to take the time to write. As long as you are providing the research for your writers, you can be reasonably sure that what comes from them will be representative of the information that you wish to market to your potential customers.
WHERE TO FIND FREELANCE WRITERS
You can find freelance writers all over the Web. They will be available for work on job boards like Elance.com or GetAFreelancer.com. You can approach different blog owners who have a writing style that appeals to you and that seem knowledgeable in your niche to see if they want to write for you. You can even outsource from other countries, but you will generally have to spend more time editing those articles, as they may have spelling or grammar mistakes in them, being that they are non-native writers.
WHAT TO LOOK FOR IN NEW WRITERS
Every writer has his/her own area of expertise and knowledge base to draw from. If your articles have to do with the energy industry, you really do need to find someone who understands that industry. You can't just hire someone who writes successfully about other topics because, many times, the knowledge doesn't transfer well. Some writers are great technical writers, but are poor creative writers. They would work well for technical subjects like computer hardware and software, or maybe even for mobile devices. Just don't ask them to write about style or fashion. Look through a writer's past projects to see if he/she has experience with your topic, and you'll have a better chance of getting someone who can write for you and can represent your company well.
YOU GET WHAT YOU PAY FOR
Freelance writing rates are all over the map, and generally, lower paid freelance writers might provide a temporary bargain, but will not have as good a quality as other, more seasoned writers. Some will refuse to work for anything less than their set wage. Others might be more flexible. It's up to you to decide whether your topic demands a more knowledgeable writer or if you can hire a beginner and get a good deal.
Promote Your Articles Everywhere
Writing good articles, submitting them to multiple directories, and linking property back to your offerings are just the basic steps of article marketing. To really ramp up the exposure, you should link to your articles that you are using to draw traffic from areas all over the Web and create a web of interest from multiple sites. This way, you can build your image as an expert in the field while quickly funneling people back to your website. This is particularly useful as an intermediary space to wean people off of social networking sites and back to something a little more commercial so that you can eventually get them to become subscribers to your business websites.
UPDATE SOCIAL NETWORKS WITH ARTICLE POSTS
If people know that you are writing free information that they can read, find helpful, informative, or entertaining, and don't have to buy anything, they'll be more likely to click some link back to your article. However, if you add a link to a social network that goes directly to a sales page, people are jarred by going from a site that frowns upon such activity to one that is openly self-promoting for commercial purposes. In between, you have places like blogs and article marketing, where people aren't really on a social network anymore, but they're not on a commercial website either. If there happen to be links back to the website from there, that's fair game and no longer deemed unacceptable behavior, since the commercial link appeared in the proper context. It's a way of getting people used to clicking your links from high traffic social network sites back to an area where you're going to lead them back to your business website.
Other Details
- 1 Ebook (PDF), 12 Pages
- 1 Squeeze Page (HTML)
- 2 Ecovers (PNG)
- Year Released/Circulated: 2019
- File Size: 2,627 KB
License Details:
[YES] Can sell and keep 100% of the sales.
[YES] Can edit the squeeze page.
[YES] Can be bundled into another paid package and sell at a higher price.
[YES] Can be used as a bonus to another product you are selling.
[YES] Can be sold in a Dime sale event.
[YES] Can be added into a paid membership site.
[YES] Can pass on the Master Resell Rights privilege to your customers.
[YES] Can be given away for free AGAINST an email address (lead generation)
[NO] Contents of the product can be edited, modified or altered.