Salespage Snapshot: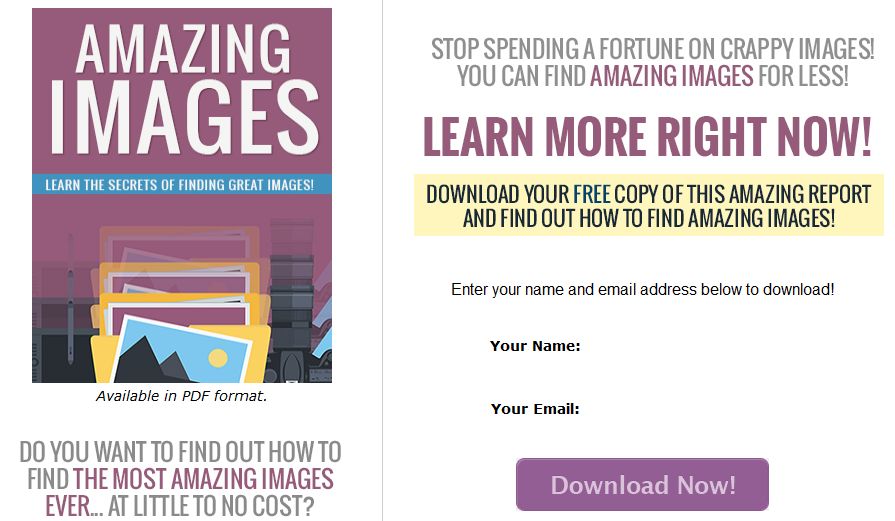 >>> Click Here To View Full Sales Page…
Table of Contents
Table of Contents ………. 3
Introduction ……… 5
Legal Issues ……. 6
Types of Images . 7
Public Domain . 7
Creative Commons …. 8
Royalty Free … 9
Getting Deals On Photos …….. 10
Monthly Subscriptions ……… 10
Deal Sites ….. 10
Free Stock Photos ……. 12
Paid Stock Photos ……. 14
Other Photos …. 17
Conclusion …….. 19
Resources …….. 20
Sample Content Preview
Attribution requires you to give credit to the copyright holder. This is usually done with a simple link, especially if the image is used on a website or in a book, where giving an attribution is simple.
Derivatives basically mean artwork and designs created with the original image and then used as that derivative work. For example, if you take the photo and change the colors of some of the items in it, that is a derivative.
Commercial purposes, of course, means anything that is used to make money, even indirectly. For example, if you make any kind of profit from your blog, or if you're even trying to make a profit with it, you could not use an image that is not licensed for commercial purposes.
Amazing Images
Royalty Free
Royalty-free images are not necessarily free, despite having the word "free" in the name. Royalty-free actually refers to not needing to pay a royalty percentage or fee to the copyright holder for each use of the item.
For example, a musician who licenses use of his song to a company for a television commercial may receive a royalty payment every time that commercial airs. Or a celebrity who allows the use of their likeness on the cover of a book might get a percentage of all book sales.
Royalty-free images require a one-time payment for use, and generally require no further payments after that. There are minor exceptions to this, but generally once you pay for a photo, you can use it once and you won't have to pay any additional money for it.
If you intend to use a royalty-free image for a printed item or something like a book cover, be sure to read the license carefully. Most stock agencies require you to pay a higher fee for use on things like t-shirts and posters that will be sold, and for things like book covers, have a limit to the number of copies that can be sold before another purchase is required. (It's usually 250,000 copies, and most of us don't sell that many copies of a single book, but it's worth noting, just in case.)
Amazing Images
Getting Deals On Photos
There are ways to get better deals on stock photos than the normal prices, which can be several dollars per photo. Some sites, like iStockPhoto.com, can actually charge $20 or more for a single image if that picture is exclusive to their site and they deem it better than average quality.
Monthly Subscriptions
Most stock photo sites offer monthly subscription packages that give you a discount off their regular prices. The monthly cost can vary considerably, so it pays to shop around. It's also worth looking at the terms before you join, because some sites only let you download a certain number of images per day, others make your credits expire each month if you don't use them, and a few will let you build up credits each month.
Keep in mind that if you want to use the photos for printed items like t-shirts or posters, your credits will not apply and you'll still need to pay for them individually. Only standard images are usually available with credits.
Deal Sites
There are a lot of deal sites out there that offer hefty discounts on packages of stock photo credits. Deposit Photos offers the best deals I've seen. If you catch it just right, you can get a package of 100 photo
Amazing Images credits for just $39! They run this deal a couple of times a year, or maybe quarterly, through a couple of different sites.
You'll need to sign up to their newsletters to be notified about the deals, and they often sell out quickly, so be ready to grab them when they show up. They also usually let you buy multiple packages, so if you need a large number of photos, you might want to buy more than one package. The credits usually never expire.
>> http://www.appsumo.com
>> http://www.mightydeals.com
Both of these newsletters regularly send out huge deals on other great, useful stuff, too. Sometimes you can get lifetime memberships to things like software and membership sites for less than a single year costs, so they're worth joining even without the stock photo deals.
Amazing Images
Free Stock Photos
There are a number of websites that offer free stock photos that you can use in a variety of ways. Many of them offer public domain photos, which means you can use them for anything you want. Others offer photos under the various creative commons licenses. Just be sure to read the license for each photo before you use it so you don't inadvertently forget to credit the photographer, if required.
The Stocks
>> http://thestocks.im/
The Stocks allows you to search many of the major free stock photo sites from a single location. This way, you don't have to keep remembering all the different URLs each time you want to go look for photos.
Pixabay
>> http://www.pixabay.com
Pixabay is a huge archive of stock photos from a large number of contributors. The quality of the photos can vary, but there's enough photos available that you can usually find at least a few photos on just about any subject you can think of.
>> https://www.pexels.com/
Amazing Images
Pexels is another huge archive of stock photos. They have a big variety with a lot of very high quality photos. All photos are licensed under the Creative Commons 0 (Zero) license, which allows any legal use. Basically, you can do anything you want with the photos as long as you're not portraying any humans in the photos in a bad light.
New Old Stock
>> http://nos.twnsnd.co/
New Old Stock is an archive of old photos that are in the public domain. Unfortunately, it's not searchable, but you can find some very cool historical photos there that are copyright free.
Other Details
- 1 Ebook (PDF, DOC), 21 Pages
- 7 Part Autoresponder Email Messages (TXT)
- 1 Squeeze Page (HTML, PSD)
- File Size: 2,780 KB