Salespage Snapshot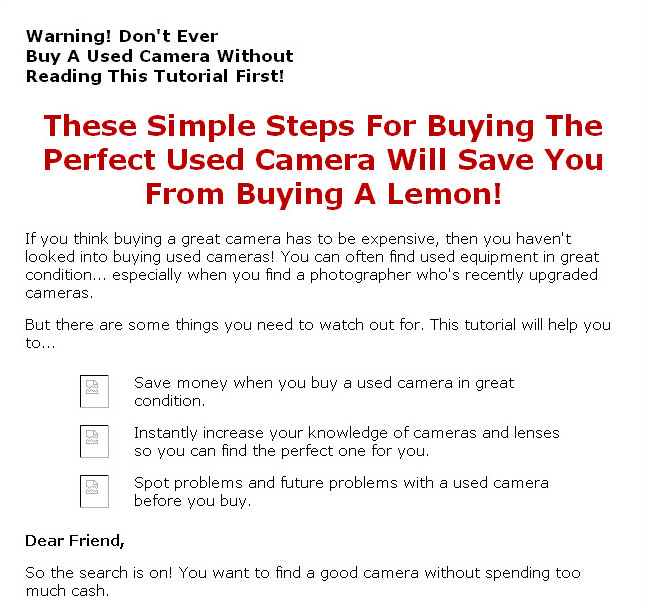 >> Click Here To View Sales Page...
PLR Ebook Table Of Contents
page 3    Classic Photography or Digital?
page 7    How a Digital Camera Works
page 10    Batteries for Digital Cameras
page 12    Used Digital Camera Buying Guide – I
page 14    Used Digital Camera Buying Guide – II
page 22    Imaging Problems and Used Digital Cameras – I
page 24    Imaging Problems and Used Digital Cameras – II
page 29    Buying a Used Camcorder
page 32 The DSLR Camera
page 35    Buying a Used Camera Lens
page 36    Camera Flash
page 38    Camera Aperture
page 40    Testing a Classic Used Camera
page 41    Testing Exposure Meters
page 43    Shutter Speed
page 45    Testing Shutters and Aperture Diaphragms
page 47    Note on Color Balancing
page 49    Tripods
page 51    Understanding Lighting
page 53    Final Words
Ebook Sample Content Preview
When it comes to buying a camera, and camera equipment, you might want to consider buying used. You will be able to save yourself a great deal of money while at the same time buying a quality camera.
Before you invest money in a used camera, be it a classic camera or a digital camera, you should have some idea of just how a camera operates and what components of the camera can be purchased new.  You will be able to save yourself hundreds of dollars if you know what you are looking for in a used camera and used camera equipment.
The following information will show you how to test a used camera before you make that final sale.  Don't be hesitant to ask questions about the used camera so that you know as much as you can about its history.  Some camera owners keep a log of repairs so you can get a clear picture of any problems the camera has had.
Buying used means that you can buy an expensive camera at a great price.  Experienced photographers are often upgrading their camera and camera equipment.  And experienced photographers take better care of their camera than average camera owners. This translates to savings for you.
Other Details* Sales Page:
Included, HTML
* File Format:
MS Word Doc, PDF, RTF
* Number of Pages:
51
* Download File Size:
236 KB