Salespage Snapshot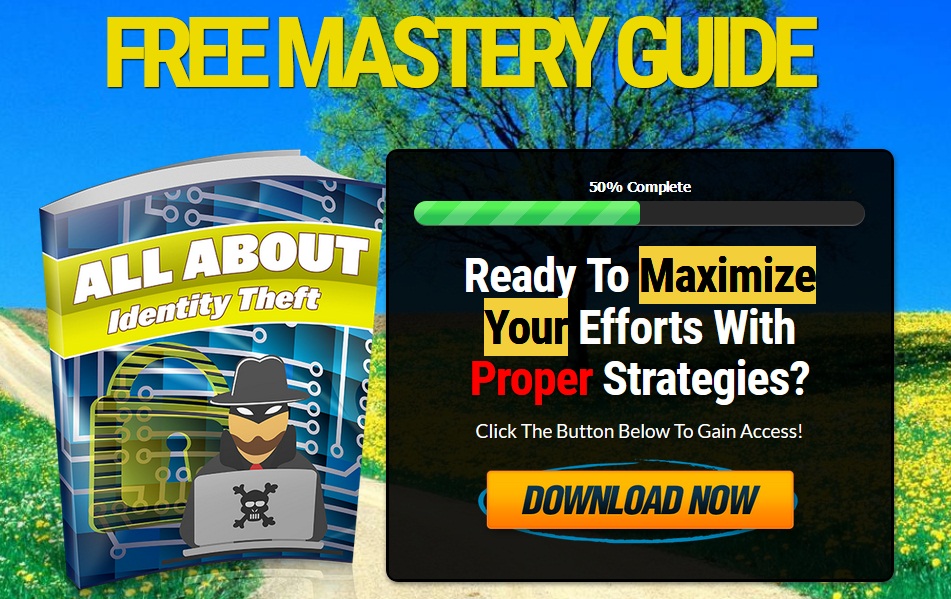 >> Click Here To View Sales Page...
Sample Content Preview
FTC ID THEFT COMPLAINT
In the United States, the FTC also helps consumers to fight identity theft. You may file an ID Theft Complaint with the organization (FTC.gov). This allows you to then bring this printed complaint to your police station to file your report. This will work as support for you when filing your claim. It also provides key details to police agencies on how to pursue the claims you are making and gives them the details they need to further investigate these claims you are making.
PROTECTING YOUR IDENTITY
Before providing you with a few tips on how to protect your identity, let's talk about the ramifications for not doing so.
In the previous chapters, we have talked about what identity theft is and what to do if you believe that you have become a victim of it. But, why does it matter? What can the results of identity theft be to you, should you end up facing any of these charges?
Identity theft can last years. It can be a one-time occurrence. It is hard to say just how long it will last or how long the effects of identity theft will last. There are many factors that play into this, including whether the thief was the only person to use your information or if they passed it on to other thieves. In some cases, all reports may be closed and the accounts may be fixed, but the thief is not caught, which leads to them still using your information even years and years later. Problems with your credit report can linger for some time too, making it difficult to get jobs or to apply for new loans.
As you can see, it is critical that you do everything in your power to prevent these problems from happening to you in the first place. If you have been the victim of identity theft, you will need to:
• Monitor your credit report and your financial records closely for at least the next year to ensure that all details have been found and that you are no longer being victimized.
• Review your credit report every three months during the first year, at least, to ensure that any problems are identified quickly and are handled as soon as there is a problem.
• After the first year, check your credit report at least one time per year, but preferably, more often.
• Stay alert of any other signs of identity theft that we have mentioned on the previous pages.
• Correct any problems with your records with the lenders or companies. It is critical that you handle any type of fraudulent transaction or account as quickly as is possible to do so.
• Call your lenders or financial institutions over the phone to dispute charges or to handle problems. You should also follow up in writing to ensure that claims you make are handled properly.
• Be diligent. It is critical that you work towards monitoring and reacting to any problems quickly. The sooner that you fix a problem, the easier it is to fight that charge.
As a victim, you are likely to be worried about your finances for many months to come. Yet, you do not have to be a victim to take steps to protect yourself from identity theft in the future or even as a first-time event.
HOW TO FIGHT IDENTITY THEFT
There are two things to remember about identity theft. First, this can occur to anyone, and therefore, you need to use the following tips to help you to stop these things from happening to you. Second, there are things you can do to help the FTC to fight these crimes as well, such as reporting the claims to the FTC and your police department.
The following are some tips to help you to protect yourself from identity theft.
1. Take the time to balance your check book, to check your financial statements, and to look at your credit card accounts each month. Ensure that all charges made there are actually charges that you made.
2. Do check your credit report on a regular basis. Each of the three credit reporting agencies can provide you with paid memberships where you can check your report as often as one time each month. But, you do not need to do this in most cases. Rather, just checking your credit report one time every four months (using one of the national company's free reports each time) will help protect you. You can get a copy and learn more about the free credit reports by visiting AnnualCreditReport.com, the only government site.
3. Be aware of the things happening around you. For example, when handing your credit card to make a payment, be sure you can watch the person using it. They should only use one device to swipe your card. Even in restaurants, you can walk up to the booth that they are using.
4. Shred all of the documents that you do throw away. It is important to stop identity thieves before they can get your information. Use a paper shredder to cut up old credit cards, destroy financial paperwork, and destroy statements, account information, or even applications for new accounts that you do or do not get.
5. Spot problems with your credit as soon as they occur. For example, if you are turned down for a loan, find out why.
6. Check your criminal background every few years to ensure that there are no charges against you that you are not actually facing.
7. Speak to your employers about the security of your information. Where do they store your personal identification information? Is it locked up or accessible to anyone?
8. Educate your family and friends on identity theft. Be sure that your children know what types of information they may or may not provide to strangers.
The more diligent you are in stopping your information from being used, the better off you will be in the long term. Again, small problems can be handled through phone calls to your lender, but larger, more complex problems are those that often go undetected for years to come. More so, you never know who it is that wants to use your information, or even worse, sell your personal information to others who will steal your information.
Other Details
- 1 Ebook (PDF), 13 Pages
- 1 Squeeze Page (HTML)
- 2 Ecovers (PNG)
- Year Released/Circulated: 2019
- File Size: 2,388 KB
License Details:
[YES] Can sell and keep 100% of the sales.
[YES] Can edit the squeeze page.
[YES] Can be bundled into another paid package and sell at a higher price.
[YES] Can be used as a bonus to another product you are selling.
[YES] Can be sold in a Dime sale event.
[YES] Can be added into a paid membership site.
[YES] Can pass on the Master Resell Rights privilege to your customers.
[YES] Can be given away for free AGAINST an email address (lead generation)
[NO] Contents of the product can be edited, modified or altered.