Salespage Snapshot: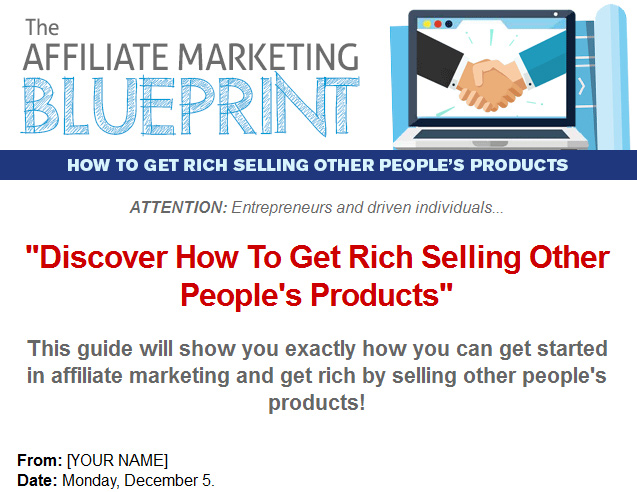 >>> Click Here To View Full Sales Page…
Table of Contents
Introduction 4
Chapter 1: The Basics – Everything You Need to Know About Affiliate Marketing 7
Getting Started 7
Chapter 2: Choosing a Niche – What Should I Market? 10
Chapter 3: Getting Set Up – Your Affiliate Website 13
Setting Up Your Website 14
Web Hosting 15
Chapter 4: Setting Up and Optimizing Your Ads 17
Search Engine Optimization 18
Chapter 5: Where and How to Promote Your Site 22
Video Marketing 22
Social Media Marketing 23
Email Marketing 23
Content Marketing 24
Chapter 6: Be Recognized – Building a Brand 26
Your Target Market 27
Your Brand Voice 27
Visual Branding 28
Chapter 7: Keep at It – Growing Your Business 30
Making a Commitment 31
Conclusion 34
Sample Content Preview
Chapter 1: The Basics – Everything You
Need to Know About Affiliate Marketing
Affiliate marketing has become one of the most popular ways to make money online, but what is it exactly? Simply put, affiliate marketing is a method of making an income by which you advertise other people's products and services. As an affiliate marketer, you will set up a blog or website which you will use to display advertisements provided to you by the companies which you represent. Each time a sale is made through your affiliate site or blog, you are paid a commission. Depending on the popularity and success of both your website, the products and services that you promote and the company or companies which you promote for, there is a lot of money to be made from affiliate marketing, which is why it's important to get it right.
Getting Started
Most affiliate marketers start off by using an affiliate program, for example Amazon Associates, which is highly recommended to both first-time and experienced affiliate marketers. Choosing a reputable company such as Amazon is very important, as the visitors to your site are much more likely to make a purchase from an organisation which is a household name and is well-known for being trustworthy, professional and good value. The second reason why programs such as Amazon Associates are so popular is that they offer a diverse range of products to promote and advertise. !
Before you dive straight into being an affiliate marketer, there are a lot of things which should be taken into consideration. In order to be successful at affiliate marketing, it's important to have a good idea of how to create and maintain a website, understand how search engine optimisation works, and have a good working knowledge of social media and social media marketing. Staying up to date on all of these topics is absolute key to ensuring that your new affiliate marketing business venture doesn't end up going nowhere.
Does Affiliate Marketing Work?
If you've been trawling the web for methods of making money online, you have probably come across more than just a few which appear to be quite dubious. When it comes to making money from the internet, there are many methods advertised as being sure fire, quick ways to make money when in reality, they are nothing but a scam. So, if you're wondering whether or not affiliate marketing actually works, we don't blame you. The good news is, yes – affiliate marketing absolutely works as a genuine way to make your income online. There are usually no fees to set up as an affiliate marketer, with a number of different programs available which allow you to get started making money for free.
Who Benefits From Affiliate Marketing?
You may be wondering who else affiliate marketing is beneficial to. Other than yourself, of course, affiliate marketing has some great advantages for a number of other people. This includes both businesses who are looking to sell their products and services online, and the customers who are look- !
ing for the items that you promote. Affiliate marketing is a popular choice amongst business owners who are looking to advertise their products, as it is hugely cost effective since they do not need to pay to display the advertisement on your page, but rather only pay when a sale is made. When it comes to customers, affiliate marketers can make it easier for them to find the products and services that they need. !
Chapter 2: Choosing a Niche – What Should I Market?
Choosing which products and/or services to market is one of the most important tasks faced by new affiliate marketers. With so many different product niches out there, choosing one which you think will be the most profitable can often be a very confusing and daunting task.
Many affiliate marketers make the mistake of choosing a product that sells well, but they have little knowledge of. Although choosing a product which sells well is a good step, it's important to take a step back and think about how much you actually know about the niche, and whether or not you are interested enough in it to market it to others successfully. Do you really want to spend the rest of your life selling products that you have little to no interest in? The most successful affiliate marketers are those who promote products that they love, as they find it easier to dedicate the time and effort into promoting them.
Every Niche Has a Market
When starting out as an affiliate marketer, it's important to understand that every single niche has a market. Whether you choose one of the larger niches such as the casino and online gaming niche or decide to promote a smaller and more unique niche, there is always the potential to hit it big. It's not about the niche that you choose, it's about how well you reach out to your target audience and promote the products and services of the businesses which you are affiliated with. !
With this in mind, it's a good idea to make a list of the kind of things that you yourself are interested in. For example, if you are a huge fan of beauty, you might be interested in setting up an affiliate site which promotes makeup and other beauty products. Or, if you're a die-hard gamer, why not set up an affiliate site which promotes products related to your favourite game? If you are interested in the products that you sell, you will be able to write more compelling descriptions of products and explain them better to potential customers.
Cheap or Pricey?
One of the biggest questions which new affiliate marketers face is whether they should promote products which are expensive, or go for cheaper products that more customers will be attracted to buy. A big mistake is to think that advertising cheap products is going to earn you more money as an affiliate marketer. Although you may well get more sales when you promote affordable, cut-price products, it's important to remember that as an affiliate marketer, you will earn a percentage of the price of the item which sells. Therefore, if you promote products that have a larger monetary value, you will earn a larger amount of commission per sale. Let's say, for example, that you promote luxury cars. By advertising a car priced at $10,000 with a 10% commission rate, you will earn $1,000 per sale. Compare this to advertising an item priced at $10 with the same commission rate – you would need to make 1,000 sales before you earn the same amount. !
Go With What You Know
Choosing a niche is a hugely important part of becoming an affiliate marketer, but in general, many new affiliate marketers make this process a lot harder than it should be. As mentioned above, going with what you know is the best option for becoming an affiliate marketer.
If you're already using the internet to talk about things that you enjoy, for example if you are a blogger, have a YouTube channel or have a social media page which discusses a theme, niche or product, tying your affiliate marketing venture in with this is a great way to get started.
If you're unsure, make a list which includes a variety of things that you're interested in – what you studied at college, what you enjoy doing in your spare time, and other things that you are knowledgeable and skilled about. Do people always come to you for financial advice? Why not market financial products? If you're struggling to come up with a niche, look around you and the answer will be there.
Other Details
- 10 Articles (TXT)
- 1 Ebook (PDF), 35 Pages
- 1 Salespage (HTML)
- Year Released/Circulated: 2016
- File Size: 1,584 KB
License Details:
yes you may giveaway this ebook.
yes you may resell this product.
yes you may sell/pass resell/master resell rights to this product.
yes you may edit the squeeze/sales page.
you di not have private label rights.you may no t sell okr giveaway private label rights.
you may not re title or edit the contents of this product.
you agree to handle any own customer support issues related to this product.