Salespage Snapshot: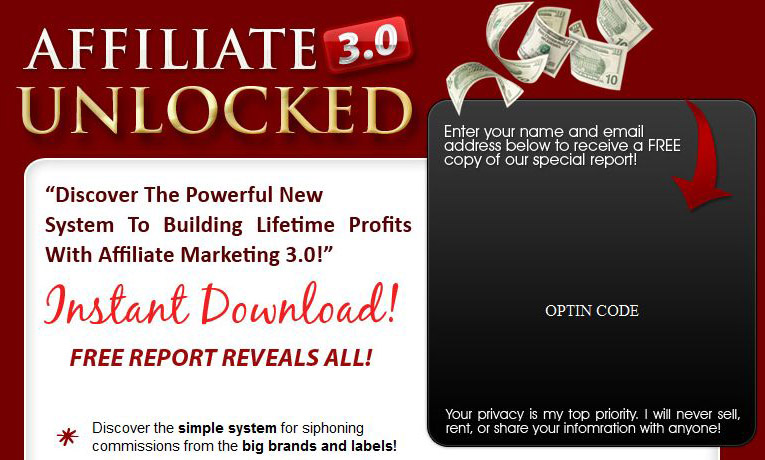 >>> Click Here To View Full Sales Page…
Table of Contents
Introduction 3
Promoting Big Brands – Physical Products 7
Building Profitable Campaigns – 3.0 Style 10
Interaction = Unstoppable Profits .. 14
Choosing Proven Markets & Products. 16
Sample Content Preview
Simple & Convenient – Consumers don't want to be forced into endless hoops and circles. They want their shopping experience to be hassle-free, convenient, and simple, with products available on demand, and within a few clicks of the mouse.
Interactive Experience – Consumers want a more personalized shopping experience. While they don't want to spend a lot of time navigating through shopping sites, they prefer to buy from websites that offer recommendations, and similar products that demonstrate the company's interest in helping them make sound buying decisions. Doing this offers a truly tailored shopping experience that not only helps them find similar products, but in doing so sites like Amazon, Best Buy and Wal-Mart have been able to collect invaluable data that tells them exactly what consumers are looking for! Let's take Amazon as an example.
In 2011, they sold over 40 billion in products, surpassing any other year in their long history. And it only continues to grow.
This ever-growing trend serves as a valuable lesson to affiliate marketers. If you really want to build wealth online and make money for years to come, you need to cater to this powerful demand, and build your campaigns around the big brands that people already know, and are already buying from!
Not only is it simply easier to cater to these consumers because you already know what they are interested in buying, but also the actual markets are incredibly massive! You could generate a year's income in only a few short weeks just catering to specific consumer groups!
Taking Amazon as an example once again, you could spend a few hours browsing through some of their most popular categories and develop campaigns around the hottest products.
You could also expand your outreach and maximize your income instantly by setting up "holiday campaigns" or campaigns based on seasonal shopping trends!
The potential for incredible, long-term profit is outrageous. In fact, affiliate marketing has never been as lucrative as it is today. But you need to make the switch both in mindset and in the way that you build your affiliate campaigns.
You will need to look at what the big guys are doing and learn how to integrate these same strategies into your affiliate campaigns.
Let's take a closer look at the essential components of building a profitable affiliate 3.0 campaign.
Note: Make sure you check out the commission on products before choosing a niche. 60% commission on an ebook may come out to more then 10% on a larger ticket item!
Promoting Big Brands – Digital and Physical Products
While information marketing will always be profitable, you can make even more money building campaigns around reputable big brands and names that people recognize and trust.
Better yet, the type of products found on these mass-scale marketplaces are often priced higher than e-books or other information products, giving you the opportunity to make more money from every referred sale.
Start by creating a swipe file of all of the big brands that you plan to promote. Then, create your affiliate account with each marketplace. It is important to focus only on 2-5 marketplaces; so that you're able to stay focused and on track, while ensuring that you don't spread yourself too thin.
Here are the top marketplaces to consider:
ClickBank – http://www.ClickBank.com Create your affiliate account here for digital products. (If your niche is Internet marketing then this site is the place to start for trusted products.)
Below are great sites to find digital and physical products to promote Amazon – http://www.Amazon.com
Create your affiliate account here: https://affiliate-program.amazon.com Macy's – http://www.Macys.com
Create your affiliate account here: http://m.macys.com/campaign/affiliate.jsp HSN – http://www.hsn.com
Create your affiliate account here: http://www.hsn.com/hsn-affiliateprogram_ at-4685_xa.aspx
EBay – http://www.EBay.com
Create your affiliate account here:
https://ebaypartnernetwork.com/files/hub/en-US/index.html
Walmart – http://www.Walmart.com
Create your affiliate account here: http://affiliates.walmart.com/aff_home.jsp
Barnes & Noble – http://www.barnesandnoble.com
Create your affiliate account here: http://affiliates.barnesandnoble.com/ Shopping.com
Create your affiliate account here: https://partners.shopping.com/app
Best Buy – http://www.BestBuy.com
Create your affiliate account here:
https://signup.cj.com/member/brandedPublisherSignUp.do
Sears – http://www.sears.com
Create your affiliate account here: www.sears.com/sears-affiliate Buy – http://www.Buy.com
Create your affiliate account here: http://www.buy.com/corp/affiliate.asp
Note: You can find that many of these personalized shopping features are available very cost effectively by using WordPress plugins.
You could also research the numerous shopping carts available online which come equpped with these kinds of intuitive features.
Building Profitable Campaigns – 3.0 Style
Since affiliate marketing has taken a drastic turn in what is required of every affiliate campaign, we need to build our websites in a whole new way. Rather than sticking up a bit of content, blended with advertisements and affiliate links, we need to reverse engineer what successful marketplaces are already doing (spy on the big guys) to maximize sales and improve the buying experience.
This includes:
Personalized Shopping
Your website needs to provide visitors with a tailor-made shopping experience. While it would be difficult to create a website that directly caters to every group of customers, it is important that we tie in the products we're promoting with other relevant and similar products.
You've likely seen this action for yourself, if you've ever shopped on Amazon.com.
When you add an item to your cart, Amazon will provide you with a snapshot of products that are similar in nature. These products are based on what other people, who bought the same item you purchased, also have purchased in the past.
This system works in a number of different ways that you can emulate:
1: It provides consumers with a quick overview of related products based on genre, product type or category, encouraging consumers to purchase additional products during one shopping session.
2: It helps consumers make sound decisions by purchasing additional products that augment the value of the items already in their shopping cart. For a laptop, this could be an additional battery or padded case. Think of this in the same way that you would with traditional "one time offers" or "upsell offers" in Internet marketing. Once a customer has placed an item in their cart, you make them a second offer that adds an additional product into their shopping experience. An item that they may otherwise have never have noticed or searched for.
Other Details
- 1 Ebook (PDF, DOC), 17 Pages
- 7 Part Autoresponder Email Messages (TXT)
- 1 Squeeze Page (HTML, PSD)
- File Size: 8,296 KB