Salespage Snapshot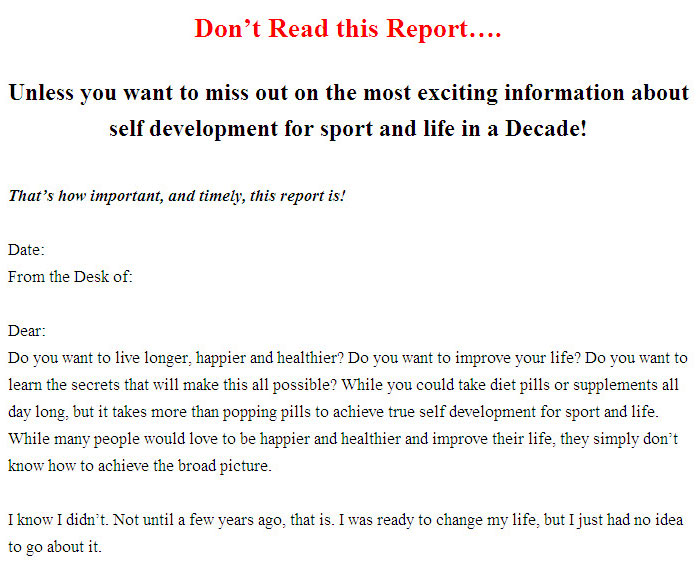 >> Click Here To View Sales Page...
PLR Ebook Sample Content Preview
Discovering a Guide to Positive Self-development for Sport and Life
Over the past, few years, new research has brought to the table several new strategies and practices that can help us with self-development for any purpose of improvement, including sports and life. Online you will find these guides plus a surplus of products in the holistic medicines category that have proven to assist with self-development. Go online and search for the latest technology self-development aids, such as biofeedback, educational toys, Neurofeedback, Radionics, and so much more.
All of the aids listed will assist you with relaxation, meditation, and self-development. Take some time to research the latest courses in accelerated learning as well. These courses combine biofeedback, Neurofeedback and subliminal learning into a holistic training course guaranteed to improve your effort in self-development.
The latest technology advancements have proven tracks of success. Biofeedback alternatives for example, have proven to improve brain performance, as well as physical performance for those that have used the products. Biofeedback uses physiological control strategies. Biofeedback also uses a monitoring device to display data or feedback. The monitor works and reads out bodily functions. It focuses on how it operates. For instance, it will monitor and give feedback of the body's heart rate, blood pressure, sweat productions, etc, in which the conscious does not control itself.
According to recent studies, if we can adjust the conscious mind to become aware of these bodily actions it can improve our mental and physical states dramatically.
Recently, scientists discovered that when the body and mind is relaxed it has more power to learn at faster rates. The theory brought in the latest accelerated learning courses.
In these courses students seat themselves anywhere they choose rather than have some instructor tell them where to sit. The strategy has proven to encourage students to make choices for themselves. In accelerated courses relaxing music plays in the background as the instructor repeats text from reading materials. According to recent studies, students learn faster in a repetitive course with relaxing music in the background. The courses combine natural arts and music, as well as repetitive learning to encourage students to delve into their subliminal mind and discover past knowledge from their experiences and learning. The results of these courses have proven to deliver very good turnarounds.
Other Details* Sales Page:
Included, HTML, MS Word Doc
* File Format:
MS Word Doc, PDF
* Number of Pages:
144
* Included Graphics:
Ecovers
* Download File Size:
977 KB