Salespage Snapshot: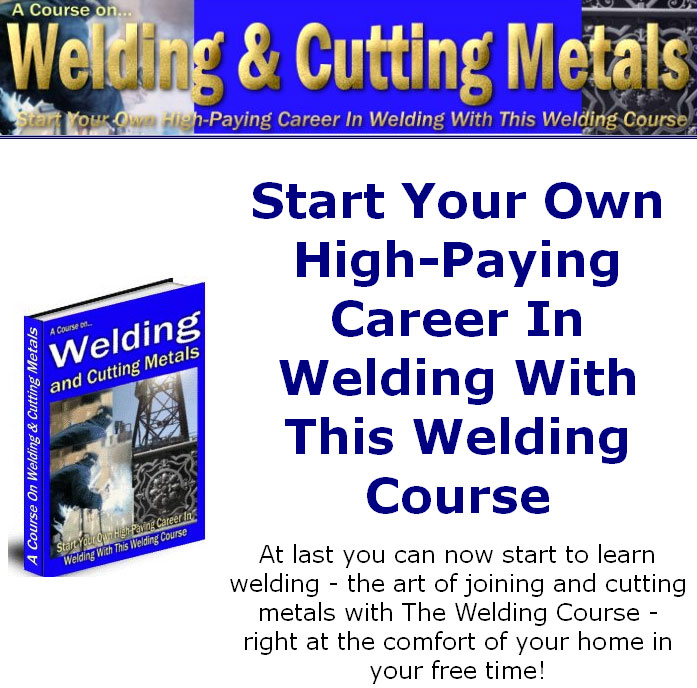 >>> Click Here To View Full Sales Page…
Table Of Contents
CHAPTER I
METALS AND ALLOYS–HEAT TREATMENT:–The Use and Characteristics of the
Industrial Alloys and Metal Elements–Annealing, Hardening, Tempering and
Case Hardening of Steel
CHAPTER II
WELDING MATERIALS:–Production, Handling and Use of the Gases, Oxygen and
Acetylene–Welding Rods–Fluxes–Supplies and Fixtures
CHAPTER III
ACETYLENE GENERATORS:–Generator Requirements and Types–Construction–Care
and Operation of Generators.
CHAPTER IV
WELDING INSTRUMENTS:–Tank and Regulating Valves and Gauges–High, Low and
Medium Pressure Torches–Cutting Torches–Acetylene-Air Torches
CHAPTER V
OXY-ACETYLENE WELDING PRACTICE:–Preparation of Work–Torch Practice–
Control of the Flame–Welding Various Metals and Alloys–Tables of
Information Required in Welding Operations
CHAPTER VI
ELECTRIC WELDING:–Resistance Method–Butt, Spot and Lap Welding–Troubles
and Remedies–Electric Arc Welding
CHAPTER VII
HAND FORGING AND WELDING:–Blacksmithing, Forging and Bending–Forge
Welding Methods
CHAPTER VIII
SOLDERING, BRAZING AND THERMIT WELDING:–Soldering Materials and Practice–
Brazing–Thermit Welding
CHAPTER IX
OXYGEN PROCESS FOR REMOVAL OF CARBON
Sample Content Preview
CHAPTER I
METALS AND THEIR ALLOYS–HEAT TREATMENT
THE METALS
Iron.–Iron, in its pure state, is a soft, white, easily worked metal. It is the most important of all the metallic elements, and is, next to aluminum, the commonest metal found in the earth.
Mechanically speaking, we have three kinds of iron: wrought iron, cast iron and steel. Wrought iron is very nearly pure iron; cast iron contains carbon and silicon, also chemical impurities; and steel contains a definite proportion of carbon, but in smaller quantities than cast iron.
Other Details
- 1 Ebook (DOC)
- 1 Salespage (HTML)
- Year Released/Circulated: 2008
- File Size: 874 KB