Salespage Snapshot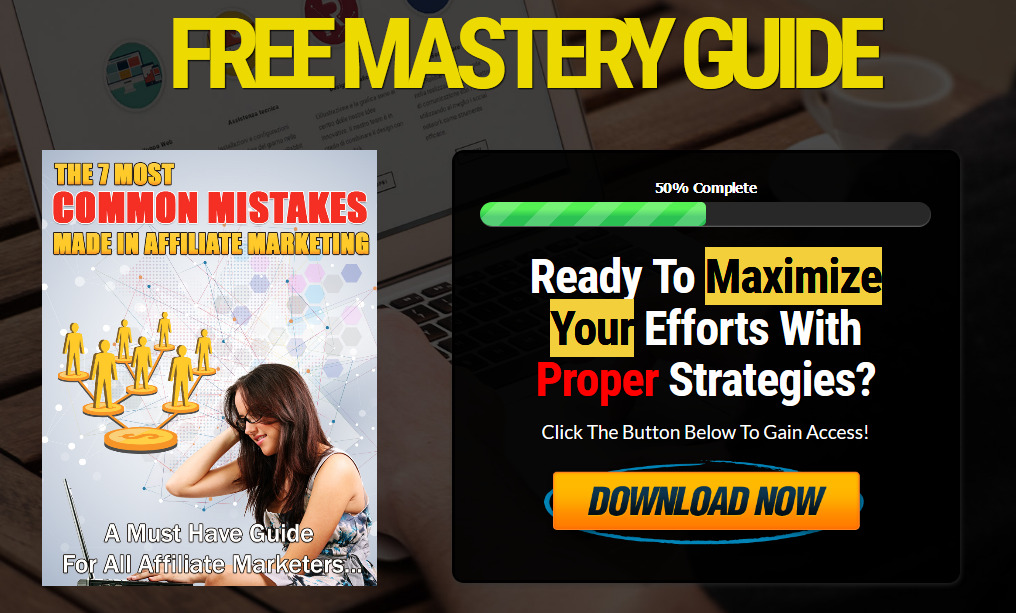 >> Click Here To View Sales Page...
Sample Content Preview
Pitfall #2: Picking a Low Converter
As an affiliate marketer, your goal is to profit from the hard worker others have done; and from the money they have spent on copywriters, product developers, and software. If you select a product that underutilizes these advantages, you are likely to benefit less.
Take, for instance, conversion rates. Not all product creators hire a top-notch copywriter. In fact, many of them just write their own copy. Many also don't hire someone to do graphs for the sales page. Instead, they try to do their own. The end result? The page looks hideous, the copy contains major errors, and the product converts poorly.
Before you start promoting any particular product, read the sales page carefully and compare it with others. Do you feel compelled to buy? Did the graphics throw you off? Did the copy fail to reel you in for the catch? These can all amount to fatal errors for both the seller and you. You cannot help the seller at this point, but you can avoid his product and find a better one. Do yourself a favor: choose your products carefully.
Pitfall #3: Selling Snake Oil for a Snake Oil Salesman
This pitfall is especially important to avoid if you have a list. All it takes is one erroneous product promotion and you could end up with a mass exodus from your list. Again, don't make this error.
Even though you may be tempted to promote the next "biggest launch," make sure you don't buy into just anything. Several marketers have lamented their choices to promote the Rich Jerk's latest offering after list members complained that his sales page was loaded profanity and sexist comments. Don't be one of these guys. Make sure you carefully inspect anything before you promote it to your list. Unless you happen to be the Rich Jerk, you probably don't want people to think you're just that—a rich jerk.
Additionally, avoid jumping on the affiliate product bandwagon for major promotions. Instead, wait until the buzz dies down slightly; and then release a comprehensive review (something most affiliate marketers do not provide) of the product. This has a much better chance of getting sales for you; and it will also help you to maintain credibility.
Last, avoid promoting products that make outrageous and fallacious claims. As Carl Sagan once said "Extraordinary claims require extraordinary evidence." In most cases, these snake oil peddlers cannot provide you with any extraordinary evidence, but they do make the claims. Avoid promoting them and becoming associated with them.
Pitfall #4: Picking Products that Offer Meager Commissions
If you're marketing to a list of people, they're only going to consider so many product offers in a given period of time, so select the ones you promote wisely. If you promote something that only generates a 25% commission for you, then you're leaving a lot on the time. In reality, you could probably find a similar product that offers a 50% or 75% commission.
In terms of the actual dollar value of the commission – don't sweat that as much. While many top name Internet marketers now say that they concentrate on promoting high-ticket items (since only a few sales will generate a lot of money), you can still make a killing selling relatively cheap reports. The rising popularity of the $7 report is testament to this fact.
So avoid the cheapo sellers, but don't worry as much about the price.
Pitfall #5: Failing to Collect Leads
Always, always, always capture leads. Rather than generating traffic through pay per click, search engine optimization, and other methods and then sending that traffic to your affiliate link, you should make an effort to convert them into list members first. Why? Two reasons: simple mathematical reasoning and the collective experience of many marketers.
The simple mathematical reasoning goes something like this: virtually everyone who would have purchased the product will opt in to your mailing list. And many who definitely would not have purchased the product will opt in to your mailing list. Instead of converting at a rate of around 1-3% (in affiliate sales), you will convert between 15 and 40% of visitors (to your mailing list). From there, you will get the chance to contact the willing buyers and the more reluctant. Additionally, once they're on a list, this is no longer a one-off effort. You get the chance to market to them again and again for months or even years.
Other Details
- 1 Ebook (PDF), 10 Pages
- 1 Squeeze Page (HTML)
- 3 Ecovers (JPG)
- Source DOC, Source PSDs
- Year Released/Circulated: 2019
- File Size: 97,776 KB
License Details:
[YES]Can be sold
[YES]Can offer Resell Rights
[YES]Can offer Master Resell Rights
[YES]Can resell Private Label Rights
[YES]Can be edited
[YES]Can put your name as the author
[YES]Can be broken down into articles
[YES]Can be used as web or e-zine content
[YES]Can be added into membership sites
[YES]Can be sold in any format
[YES]Can be packaged
[YES]Can be offered as a bonus
[YES]Can be sold on auction sites
[YES]Can be published offline
[YES]Can be given away (in any format)