Salespage Snapshot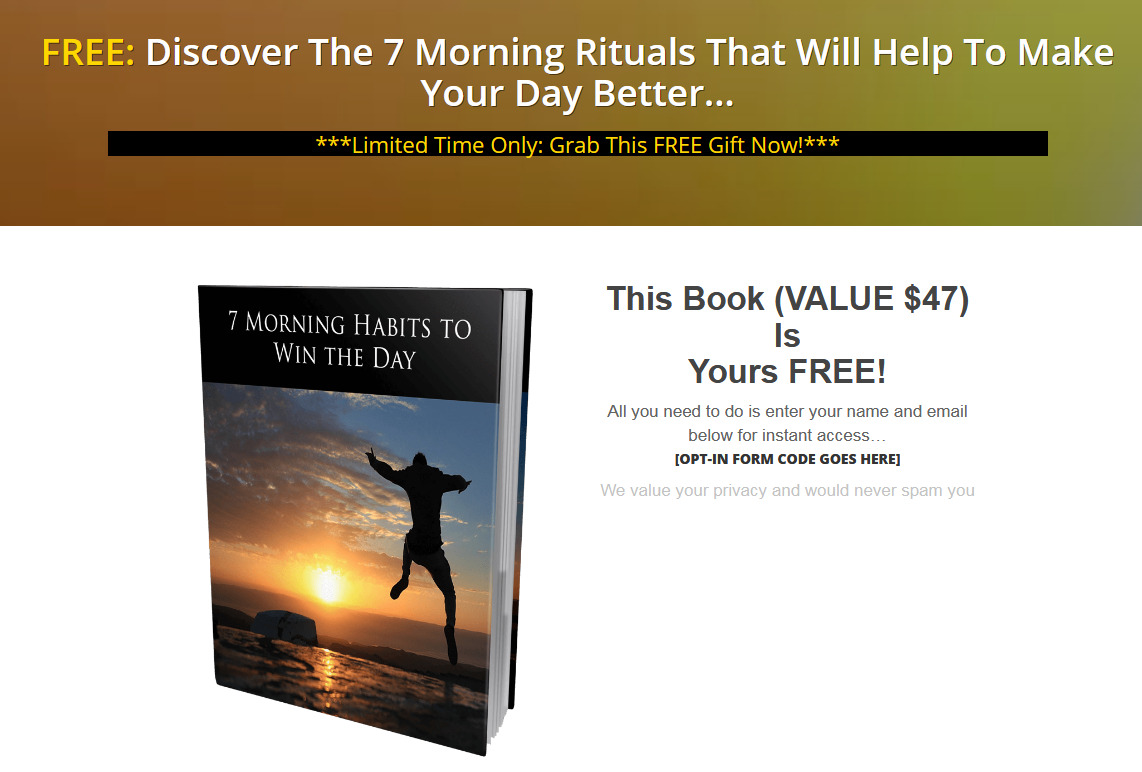 >> Click Here To View Sales Page...
Sample Content Preview
Self-discipline is perhaps one of the most important benefits you get by just having a morning routine and habits. In fact, according to so many philosophers, there is evidence that shows that having that discipline of getting up every morning at the same time is a good foundation to kickstarting a good day. It carries over into the rest of the days in the week, and then months and years.
When you enforce an act of discipline at the start of the day, you will simply draw that discipline into various parts of your life. These include your mental focus, health, work, family and diet among others.
2. Time
The discipline of a morning habit and getting up early every day is one of the most practical aspects of extra time. In today's culture, time is considered the most valuable asset. If you don't believe me, look at the success that new time-saving technology like Uber, Amazon Prime, and Alexa's voice has.
The truth is, having that extra hour to your routine in the morning can be channeled into doing something productive. You can use that extra time to do something important to you that you normally overlook.
Limits Procrastination
I don't know about you, but to me, there is nothing worse than being rushed in the morning. But I bet this is pretty familiar to you too, right? Ever wondered why you feel rushed? Probably because you pressed the snooze button over and over until you are late?
Maybe, you spent too much time trying to make breakfast or put together your takeaway lunch? What you wake up to is realizing that you did not allocate adequate time for these activities, possibly because you allowed something else eats into their time.
Not having a morning routine simply throws you off the internal clock. This often happens when you do not have a definitive waking time. This is because you are constantly snoozing when the clock goes off. When you choose to hit the snooze button, you are procrastinating tasks even before you get out of bed.
This also applies when you procrastinate your urgent tasks to the next. You have to realize how toxic this can be to you. It does not only induce stress but most importantly, it serves as a barrier to attaining your goals and reaching your productivity limit. Therefore, it is important that you start creating reliable habits that are centered around your wake time so that you set the tone for your day, hence eliminate procrastination.
3. Helps lower anxiety
Over the last couple of months, I have been trying hard to expand my productivity limits so that it caters well to my evolving workload. To my surprise, waking up early boosts my productivity tenfold throughout the day. In fact, on the days when I get up as planned, I have ample time to ease into the day without necessarily rushing.
Stress is directly associated with increased levels of cortisol. This may lead to weight gain, anxiety, and several other health risks. If you have always been in a rush in the morning, try doing things differently tomorrow. Simply get up earlier than usual and take your time to get ready. Then stroll out the door and get to work. This goes a long way in lowering the chances of being anxious and developing stress in the morning.
It's much easier to dive into our to-do list without pressure. The act of checking off several tasks in the morning and creates the momentum that will help you push through the day. Trust me, it is the small wins that matter and pushes you to win big throughout the day.
We are constantly seeking for ways to maximize our potential and seizing new opportunities for growth each day. However, we must learn to adapt to changes that occur in everyday life so that we can eliminate the feeling of being overwhelmed, something that can strip us of continued productivity.
4. It gets rid of major decision-making
Regardless of how this sounds, the truth is that this is something very important. When you do not have a morning routine, you will not manage your time well, and this simply means that when there are important decisions to be made, you will spend most of the time agonizing over everything. This is something that can cause decision fatigue because of mental exhaustion.
You keep asking yourself conflicting questions that eventually flood your brain with unknowns. You do not need this in the morning, as it can be a huge detriment to the rest of the day. It attracts feelings of being overwhelmed and hence inhibiting your productivity.
When you establish stable morning habits that you do not have to think twice about, your morning becomes much simpler creating room for your brain to make informed decisions that will get you winning the entire day.
5. Mental toughness
Unfortunately, the society we live in today is too soft and fragile. This is because people try to find the easiest way out of every situation, most of which cause us to crumble. What you need for growth and development is a challenging setting.
Yes, taking that easy way out can be rewarding in the short-term, but have you stopped to ask yourself what this means in the long-run? It is true that waking up early each day may not be fun, but when you force yourself through this discipline and mental toughness, you are adequately ready for any challenge that life throws at you.
The truth is, you will be standing when everyone else is not!
The 7-morning habits of winning the day
It is important for you to bear in mind that morning habits will set you up for wins throughout the day. In other words, having a ritual that you stick to you no matter what becomes engraved in your system. This produces small wins that will ensure that you are steered in the right direction for the rest of the day. They create the positive momentum.
When morning habits are a lifestyle to you, you enjoy a path that is free of friction and strain. You start your day knowing that you are already a winner. For you to transform your life, you must first be willing to accept that habits can be replaced and that you have the power and responsibility to make a change to yours today. Start by thoughtfully designing your day so that you lay a strong foundation for a productive day.
Here are some of the habits that you set you winning the day for a very long time.
Habit 1: Beat the snooze button
Getting up is something that you struggle with at first, but all it takes to stop hitting the snooze button is tuning your mind to winning every day. There is a strong temptation and desire to hit the snooze button so that you can catch a few more wings in the morning. However, the good news is you can break that habit.
Each time your alarm goes off, tell yourself you are a winner by getting up and a loser if you snooze. Trust me; no one wants to carry the feeling of being a loser throughout the day. It worked for me, and it can work for you as well. You can start experimenting with other tactics as well to discover what works best for you.
Even though there is no single bulletproof solution to overcoming snoozing, you can counter the temptation of hitting the snooze button by simply experimenting different techniques. You may have tried countless methods with no success. Rather than beating yourself over spilled milk, cross off all failed methods and move on to the next attempt. You will eventually find one that works for you and when you do, stick to it.
Other Details
- 1 Ebook (PDF, DOC), 23 Pages
- 5 Part Autoresponder Email Messages (TXT)
- 1 Audio (MP3)
- 2 Graphics (PNG)
- 1 Salespage (HTML)
- Year Released/Circulated: 2020
- File Size: 6,314 KB
License Details:
You may add this product to your PAID membership site
You may giveaway the product as a bonus when people buy through your affiliate link
You may edit the included opt-in / squeeze / landing page
You may giveaway the eBook for Lead Generation purpose
No, you may NOT edit the contents of the eBook
No, this product does NOT include private label rights. You are granted Master Resell Rights only