Salespage Snapshot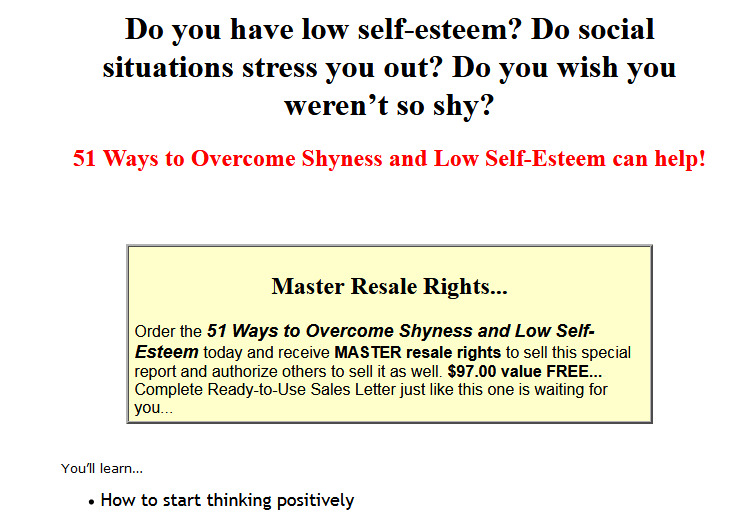 >> Click Here To View Sales Page...
Sample Content Preview
7. Status
You need to know where you stand with the situations in your life. This status helps you to understand who you are and exactly what's expected of you. If you're unsure of your status in your life, depression can easily set in.
DEFINITIONS
Let's go over some definitions of terms and conditions that are commonly used together. Hopefully one of these will strike a cord and help you to understand your condition.
8. Depression
There are several types of depression, but it basically means being sad or down for more than a few weeks at a time. Depression can be made manifest by lack of energy, and motivation interest in normally pleasurable activities.
9. Shyness
According to wikipedia.com, the definition of shyness is "a feeling of insecurity or awkwardness that certain people experience while being among others, talking with others, asking favors of others, etc."
10. Social Anxiety
5.3 million adult Americans suffer from social anxiety. Again, wikipedia.com's definition of social anxiety is an experience of fear, apprehension or worry regarding social situations and being evaluated by others. It's also sometimes described as "crippling shyness." Many people that have social anxiety have had it all of their lives.
11. Low Self-Esteem
Low self-esteem is seeing yourself in a negative way. It can lead to shyness and depression. Not all people who suffer from low self-esteem are shy, however. Many people try to hide their low self-esteem by being funny, talkative, and loud.
START SMALL
Now that we have our definitions, let's talk about some things we can do about them. This first set of tips will give you some ideas on simple things to start doing on a daily basis.
12. Graph Your Days
Graphing your days is a great way to get an idea about your self-esteem. Every day before bed, get a piece of paper and graph your day from the time you get up until you go to bed. If part of the day was good, make your graph higher accordingly. If part of your day was bad, make your graph lower. This can give you a pretty good idea of how you view your world.
13. List Good Qualities
Getting a piece of paper and listing all of your good qualities is a great way to raise your self-esteem. It may be tough at first, but as you start acknowledging that you have some good qualities, you'll be on your way to feeling better about yourself.
14. Positive Thinking
Start thinking positive. Rather than playing the "what if" game, thinking of bad things that could happen, start thinking of good things that could happen. When not-so-great things do happen, try to think of a positive spin on it.
15. Stop Comparing Yourself To Others
One of the most self-destructive things you can do is compare yourself to others. The only person you should compare yourself to is you. This is important, because you need to have a clear view of your own talents and abilities.
16. Stop Putting Yourself Down
How many times have you thought to yourself, "I'm so stupid," or "I never do anything right"? This kind of self-talk is very self-destructive. Try to make a conscious effort each day to add positive self-talk to your thinking.
17. Affirmations
Giving yourself positive affirmations throughout the day is a very important way to raise your self-esteem. A great way to do this is by making it a habit to constantly acknowledge your good points.
18. Accept Compliments
A person with low self-esteem finds it very hard to accept compliments. Practice saying "thank you" in the mirror. Learning to accept compliments sincerely will start you on the road to higher self-esteem.
Other Details
- 1 Ebook (PDF), 16 Pages
- 1 Audio (MP3)
- 1 Salespage (HTML)
- Year Released/Circulated: 2020
- File Size: 3,749 KB
License Details:
[YES] Can be sold
[YES] Can be used for personal use
[YES] Can convey and sell Personal Use Rights
[YES] Can convey and sell Resale Rights
[YES] Can convey and sell Master Resale Rights
[YES] Can modify/change the sales page
[YES] Can be packaged with other products
[YES] Can be added into paid membership websites
[YES] Can be offered as a bonus for buying another product
[YES] Can be used to build a list (giveaway eBook then upsell Audio MRR)