Salespage Snapshot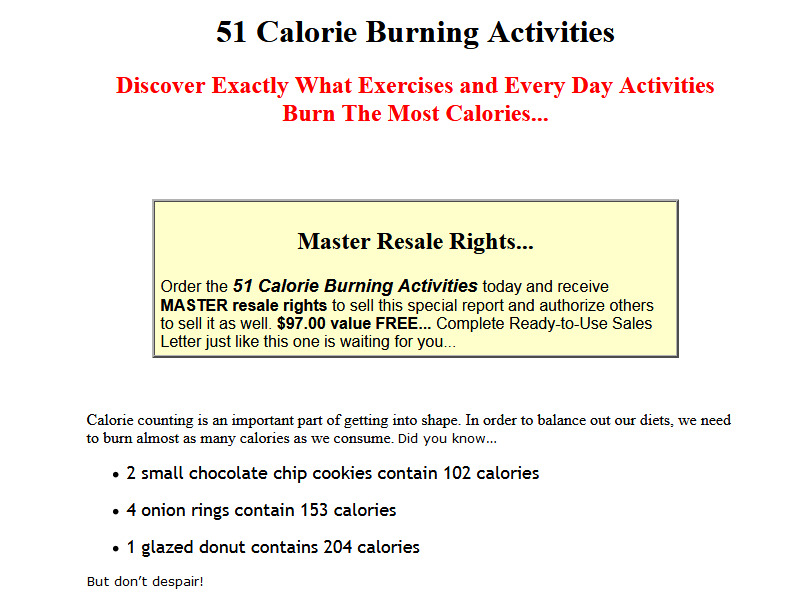 >> Click Here To View Sales Page...
Sample Content Preview
20. Yoga and Pilates
Two of the hottest trends right now, Yoga and Pilates, are great choices for getting into shape. More than 11 million Americans practice Yoga. A 50-minute Yoga session will burn 144 calories. Two 50-minute sessions will burn 288 calories.
21. Calisthenics and Aerobics
Like exercising to music? Calisthenics or aerobics may be right for you. They're fun, and they can really burn calories. A 20-minute workout burns 181 calories. If you work through the pain and make it a 45-minute workout, you'll burn 409 calories.
22. Rock Climbing
Rock climbing is becoming more and more popular. Don't live near mountains? Rock climbing gyms are easy to find. Just 30 minutes of rock climbing will burn 374 calories. Add 30 more minutes, and you'll burn 747 calories.
23. Walking
Walking has been around since time began, and it's just about the easiest way to burn calories. Just a leisurely 15 minute walk will only burn 60 calories, but if you walk a bit faster and longer (45 minutes at 2.5 mph), you'll burn 153 calories.
WATER SPORTS
Many people prefer water sports because they're very low impact. This next set of calorie burning sports are all about the water. So grab your
swimsuit and jump right in!
24. Water Aerobics
This fun and wet way to exercise is a great way to burn those calories. A 30-minute workout will burn 144 calories. Keep going for an hour; you'll burn 288 calories.
25. Rowing
Get out those paddles! Whether you're on the water, or have a machine, rowing is a great way to build those arm muscles and burn calories. 30 minutes of rowing will burn 360 calories. Row for an hour, and you'll burn 720 calories.
26. Canoeing
If you like rowing but the workout is a bit too much, try canoeing or kayaking. 30 minutes of this will burn 203 calories. An hour will burn 405.
27. Sailing
Like sailing or wind surfing? This leisurely sport may burn more calories than you think. An hour on the water will burn 204 calories. 2 hours will burn 408, or the equivalent of each of these:
– ½ cup of cashews
– 6 oz. serving of garlic scampi
– 1 baked potato with cheese sauce and broccoli
– 1 extra crispy fried chicken thigh
28. Water Skiing
Grab those skis and hit the water! Water skiing for 30 minutes can be a great workout, and it'll burn 216 calories. Stay on the water for an hour (don't forget the sunscreen) and burn 432 calories.
29. Scuba Diving
Like swimming with the fishes? Scuba diving may be for you! Not only do you get a terrific view, but you burn calories, too. Scuba diving for 30 minutes will burn 239 calories. Make it an hour-long dive, and you'll burn 478 calories.
30. Swimming
Swimming is probably the most popular water exercise. A leisurely 20-minute swim will only burn 130 calories. If you put a bit more effort into it, and swim a bit longer (45 minutes), you'll burn 409 calories.
31. Surfing
Grab your surfboard! Surfing is an exciting way to get into shape. Catching the waves for 45 minutes will burn 155 calories. Stay out for an hour and a half and burn 310 calories.
32. Rafting
Blow up that raft! Riding those rapids will not only bring out your adventurous side, but will also burn unwanted calories. A 45-minute rugged raft ride will burn 270 calories. A 2-hour adventure will burn a big 720 calories.
WINTER ACTIVITIES
Cold weather doesn't have to be an excuse not to exercise. There are a lot of winter exercises, sports, and even chores that you can do in the wintertime. This next set of tips will give you ideas on how you can burn calories and get in shape, even in bad weather.
33. Ice Skating
Grab those skates! Ice-skating is a great winter activity and a great way to get into shape. A 20-minute skate around the rink will burn 138 calories. Stay on that rink for a good hour, and you'll burn 414 calories.
34. Ice Hockey
Grab that hockey stick and puck! This popular winter sport isn't just for watching anymore. A 45-minute game of hockey will burn 351 calories. Add another 45 minutes for overtime; that's 702 calories.
35. Snow Skiing
Time to hit the slopes? Thousands of Americans hit the slopes each year. It's fun, exiting and a great way to get into shape. Just spending 45 minutes of downhill skiing will burn 331 calories. Stay on the slopes for 90 minutes and burn 661.
Other Details
- 1 Ebook (PDF), 21 Pages
- 1 Audio (MP3)
- 1 Salespage (HTML)
- Year Released/Circulated: 2020
- File Size: 3,951 KB
License Details:
[YES] Can be sold
[YES] Can be used for personal use
[YES] Can convey and sell Personal Use Rights
[YES] Can convey and sell Resale Rights
[YES] Can convey and sell Master Resale Rights
[YES] Can modify/change the sales page
[YES] Can be packaged with other products
[YES] Can be added into paid membership websites
[YES] Can be offered as a bonus for buying another product
[YES] Can be used to build a list (giveaway eBook then upsell Audio MRR)