Salespage Snapshot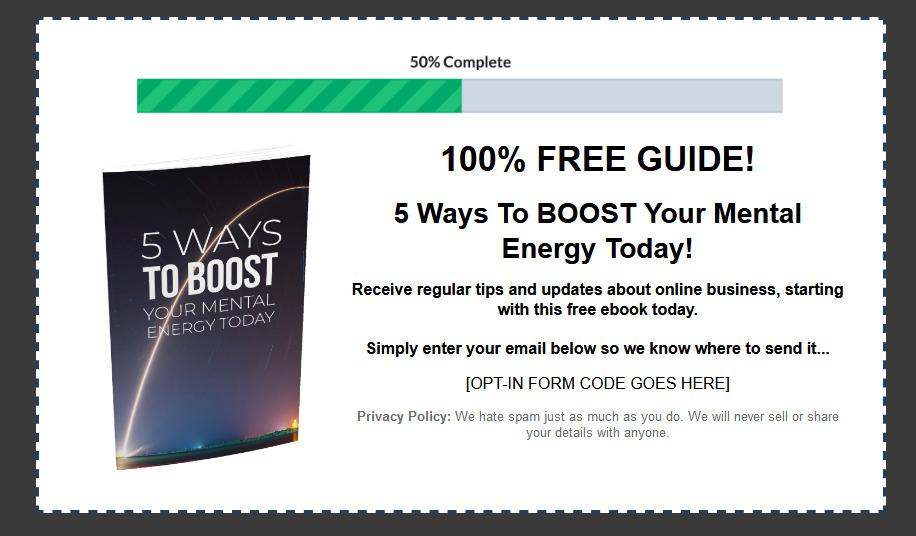 >> Click Here To View Sales Page...
Sample Content Preview
Do Things that You're Passionate About
Spend time every week participating in activities that you're passionate about. Head outside and enjoy a leisurely walk through the woods or break out the art supplies and paint for a couple of hours.
Participating in activities that you enjoy, helps to foster creativity skills in your brain, which can contribute to a healthy mind. Getting involved in activities that you haven't had the chance to enjoy but have always wanted to do, can do wonders for your mental energy.
Opening yourself up to new experiences will stimulate your brain in a way that can help it to adapt to new environments.
You can also help to sharpen your brainwave patterns by diversifying the activities that you engage in. Trying something new will boost your mental energy.
If you don't know where to start, head to your local community center to see what kinds of programs they have to offer, or check out Facebook to see if there is a group in your area. If you can't find something, take the initiative and start one in your community.
Participating in new activities that are outside will boost your energy even more because sunlight, provides your body with Vitamin D, which is essential for increasing your energy levels. If you start to feel tired at work, take a short break and head outside for a quick walk.
Meditate
A great way to boost your mental energy is to practice meditation on a regular basis. Meditation is nothing more than being present in the world around you and being conscious of your mind and breath.
Many people find meditation to be extremely helpful when they are dealing with real-world situations and remaining focused on difficult tasks throughout their day. When engaging in meditation, it is important to not think about the future or past but to be present in the moment. Along with providing you with a boost of mental energy, mediation has a plethora of other benefits that will leave you feeling happy and healthy.
Meditation can help to reduce pain and enhance your immune system, will help to reduce feelings of anxiety, depression, confusion, and anger, as well as increasing blood flow, which can help alleviate fatigue.
Practicing meditation in the evenings, before you go to bed, can also help to eliminate insomnia and improve your sleep, which is essential for keeping your energy levels high. Meditation will help to retrain your brain, reducing your worries and bringing you into the moment.
Meditation has also been shown to naturally increase the production of melatonin in your body, which will lead you to sleep more deeply, more soundly, and more effectively, allowing you to feel more refreshed and revitalized the next day.
If you're new to meditation, there are a ton of resources online and at your local library to help you get started.
Make Sure You're Drinking Enough Water
Drinking water and brain function are integrally linked. When your brain doesn't receive enough water, it can cause numerous symptoms including problems with focus, memory, brain fatigue, and brain fog, and can lead to depression, headaches, sleep issues, and anger.
Drinking enough water is the solution to almost every health issue.
Increasing your intake of water will keep you hydrated during the day, and rejuvenate a lethargic brain.
The cells of your brain require twice as much energy than the other cells in your body. Your mind is one of the most important organs in your body that needs to be fueled.
Drinking water gives the brain the electrical energy that is required to function correctly, including the thought and memory processes. When you provide your mind with an adequate supply of water, you will think faster and be more focused and will be provided with greater clarity and creativity.
Medical professionals recommend that you should be consuming at least 64 ounces of water every day. This is equal to eight, eight-ounce glasses of water or four plastic bottles of water a day.
When your brain doesn't get enough water, you will begin to experience issues with your focus, memory, and have trouble sleeping at night, all of which will deplete your energy and leave you feeling fatigued.
If you find that you aren't getting enough water throughout the day, try carrying a bottle of water around with your and see how many times you can fill it up throughout the day.
You can also get more water, by drinking teas and eating foods that have a high water content, like watermelon or celery.
Get More Sunlight
In order for your body to function correctly, you need to expose yourself to sunlight. Studies have shown that there is a strong correlation between people who work after midnight, or in locations that have no natural light, like mine shafts or dark factories, and mental health issues like depression, sleep disorders, and other cognitive problems.
Other Details
- 1 Ebook (PDF), 10 Pages
- 1 Squeeze Page (HTML)
- 4 Ecovers (PNG)
- Email Swipes
- Year Released/Circulated: 2018
- File Size: 6,937 KB
License Details:
[YES]Can be sold
[YES]Can be used for personal use
[YES]Can be packaged with other products
[YES]Can modify/change the sales letter
[YES]Can be added into paid membership websites
[YES]Can put your name on the sales letter
[YES]Can be offered as a bonus
[YES]Can be used to build a list
[YES]Can print/publish offline
[YES]Can convey and sell Personal Use Rights
[YES]Can convey and sell Resale Rights
[YES]Can convey and sell Master Resale Rights
[YES]Can be given away for free
[NO]Can modify/change the main product
[NO]Can convey and sell Private Label Rights