Salespage Snapshot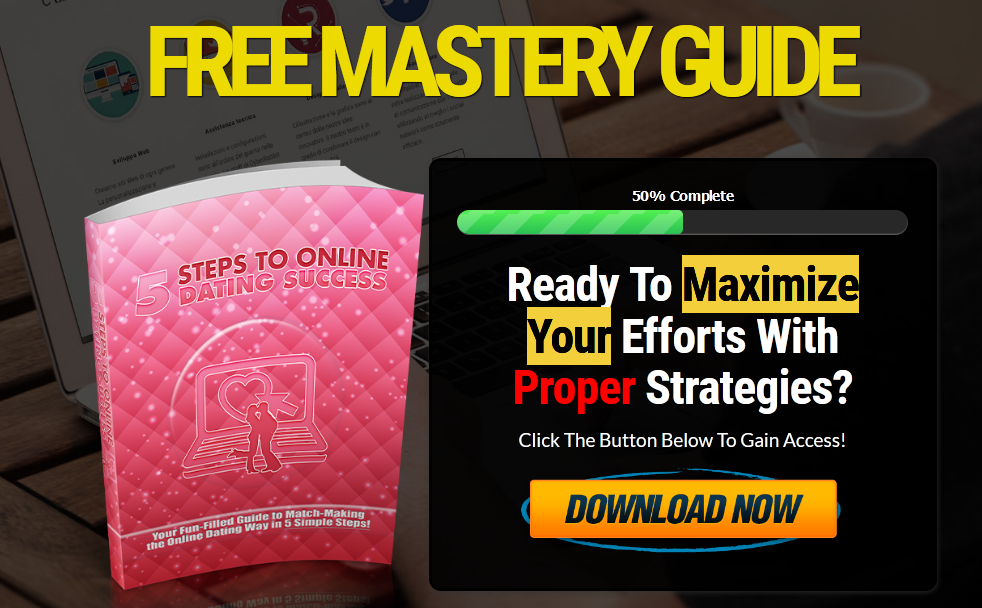 >> Click Here To View Sales Page...
Table of Contents
What You Need to Know About Online Dating… First! 5
What Makes Online Dating So Different? 7
Step 1: Getting Started 13
Step 2: Making Yourself Look Like A Million Dollars 19
Step 3: Letting The Relationship Blossom 28
Step 4: Meeting Face To Face 32
Step 5: Once Bitten… 38
In Closing 39
Sample Content Preview
So, no matter what you ask for, it always ends up in that and the purpose is defeated. You will never get the kind of person who kind of matches your interests and tastes.
Sometimes it can really get quite infuriating. Everything starts off well. You are having a nice conversation with a person and warming up when all of the sudden, the topic moves towards the three letter word. The you let out a sigh and either have to bar messages from that person and risk the person bad mouthing you in a public chat room. Usually you have to leave the chat room all together.
In other words, it is the easiest thing to get someone to sleep with you but if you are looking for something more enduring, like a partner for life, then you are going to have to be a little more patient. The pick of the litter is not easy to find. But you do find it; it is going to be worth the effort.
So instead of going into a singles" chat room, what you could do is, you could try the whole thing out from a different angle. You could try working backwards.
More Than Looks
Sit for a minute or two and try and think about the things that interest you and things that you would find interesting in a person.
By "things" over here I am not referring to physical attributes. I am not referring to something that might interest you in a person"s physical appearance. Again the distinction has to be drawn between a serious relationship and a casual relationship. In a casual relationship, the importance is always for the physical attributes. We are more concerned with what the person looks like and what the person has been endowed with.
On the other hand, if we have a serious relationship, then the physical qualities are not so important. Compatibility is probably the most important factor over here. Along with that there are certain qualities that obviously we will be looking out for. We are talking about qualities of the mind. After all, beauty is only skin-deep!
This idea might sound strange, but it is actually true. The idea is that it is possible to grow to like the looks of a person. Once you find the character of the person agreeable you will start liking the person as a whole. It is entirely possible to fall in love with a person if the person does not look like a movie star. That is one of the tricks that nature plays.
There are many people who insist on taking a look at the other person"s picture before actually committing to a relationship. They might have their reasons of course, but I, for one, feel that such a decision based largely on looks is more suitable for a casual relationship. It is bound to sizzle off after some time. After all, how long can you keep staring at a person? And what happens if the person doesn"t stare back at you?
Or even worse, what happens if you find the person staring at another person? Looks may be important, but they certainly are not the most important thing and should never be used as the deciding factor if you are thinking about a serious relationship.
Common Interests
A human being is not like a piece of glass though which you can look and see the other side. A human being is more like a diamond, which when held against light reflects and deflects light so that a myriad of colors are seen. We"re complex.
We have a lot of interest and the interests of one person need not match with the interests of another. But thankfully the interests are not as numerous as human beings. So we are bound to find a lot of people who share our interests. And if we can find someone like that, then our search should end there. So, what are your interests? That is something for you to find out.
Mind you, you might have to do some serious thinking before you level down you preferences. There might be a lot of things that you enjoy doing but about which you have given a second thought.
Your interests could be something like sports or outdoor activities. Or you could think of interests like social work or cross-words or religious interests. Keep the ball rolling; please understand that the words I have listed here are mere suggestions.
Your tastes and interests could be very different. So let them be. And once you have decided on what your interests are then half the story is done.
What Interests You In A Person?
This is probably the more important part of the story. Each one of us has to sit and think about what we would like in another person. Having the same interests doesn"t necessarily mean that you can get along with a person.
For example, if you a person who likes to talk a lot, it doesn"t mean that you could like another person who likes to talk a lot as well. If two people try to keep talking at the same time then obviously, there cannot be any dialogue.
Other Details
- 1 Ebook (PDF, DOC), 38 Pages
- 1 Squeeze Page (HTML)
- 2 Ecovers (PSD, PNG)
- Year Released/Circulated: 2022
- File Size: 15,214 KB
License Details:
[YES] Can be sold
[YES] Can offer Resell Rights
[YES] Can offer Master Resell Rights
[YES] Can resell Private Label Rights
[YES] Can be edited
[YES] Can put your name as the author
[YES] Can be broken down into articles
[YES] Can be used as web or e-zine content
[YES] Can be added into membership sites
[YES] Can be sold in any format
[YES] Can be packaged
[YES] Can be offered as a bonus
[YES] Can be sold on auction sites
[YES] Can be published offline
[YES] Can be given away (in any format)