Salespage Snapshot: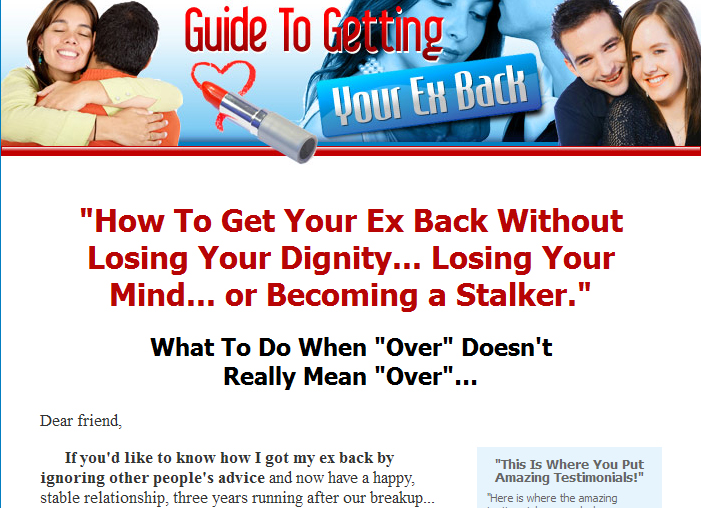 >>> Click Here To View Full Sales Page…
Table of Contents
Forward 5
Introduction 6
Relationships .7
Why you're here 10
You – and your Ex 12
Breaking up is hard to do .14
A few do's and don'ts .15
Clean up your act 16
Act normally .16
Keep your dignity 17
Keep a smile on your face .17
Do the unexpected .18
Try these two little words – I'm sorry 18
Don't make the same mistake twice 20
Don't act like a shrew 21
Don't be clingy .21
Be flexible 22
Go out with your friends and get some fresh air .22
Don't turn into the ex from hell .23
Don't beg – it's unseemly 24
Stay away from asking questions about your ex 24
Keep things simple – don't play the blame game .25
Don't use sex .25
Be honest .26
It's crunch time 30
Revenge isn't all it's cracked up to be 31
Who dumped whom? .33
If you were the dumper .33
If you were the dumpee 34
Be strong .35
Be positive about things 36
Don't get discouraged 36
Look for the silver lining .37
Fight for what you want 38
Have patience – it might take time .39
Use humor 39
What you want to do, and what you should do .39
Don't become a stalker .42
Don't give in to the urge to recriminate .42
Don't wail and rant and rave 43
Don't come on too strong .43
Don't become a doormat .44
Don't contact your ex's family for information .45
Don't hit on your ex's friends 45
Don't do a "Ross" .47
What you can do to get your ex back .48
Be yourself 51
Give your ex some breathing space .52
Hold your tongue .53
Pride has its place – learn where it goes 54
Classy begging 56
Strive for lightheartedness 56
Keep things on a friendly footing 57
Bring back happy memories, if at all .58
Touching memories .59
Make your ex feel special 59
Use everything you've got .60
Jealousy can work – sometimes 61
Start over, go back to the beginning .63
And if all else fails, try humble honesty .64
Try couples counseling .64
Sex – to use it or not .63
When to use sex .66
Remember the good times you used to have 67
Create a special bond with your ex .68
Show your ex what they're missing without you 68
Get your ex to share their troubles with you .69
Learn when to let go 71
What happens after you get back together 73
In conclusion .75
Sample Content Preview
However, the reason I wrote this book, was for the simple reason that I was asked to do so by a good friend who wishes to remain anonymous.
This friend, having been with me when I broke up with, then got back together again with my partner, knew what I had been through and knew what I had done to get my relationship in working order again. Having at time been going through some troubles herself in her own relationship of some time, my friend decided to try some of the tactics which I had so successfully utilized, and to good effect.
So although this book started out as a means to pacify her nagging me to put everything down in writing, I now find myself hoping that this book will be able to help others like us who were having trouble in our relationships, or who have already been put through the wringer of breaking up.
Sometimes it doesn't matter what you put into a relationship, it will break, and sometimes it doesn't matter whether you thought you had a stable relationship or not, it just breaks.
There are a number of reasons why relationships break and sometimes it isn't due to anything that we do, or don't do. It just happens.
Sometimes the breakup is a long time in the coming and like the beginning of Spring signals that large ice floes are breaking up, our relationships sometimes also these warning signs and harbingers which we can see plainly and clearly indicating that our relationship is not as sound as we might wish it to be.
And sometimes, what looks to be strong ice underfoot turns out to be thin ice and you will find yourself cast adrift in the middle of a sheet of ice that is cracking faster than you can hope to escape from. This in turn is similar to those relationships which breakup out of the blue with little to no warning about what was to happen.
All relationships are like this. No matter what you think when you first get together, you will hit a rocky patch. It's not a matter of "if"
Other Details
- 30 Articles (TXT)
- 2 Ebook (PDF, RTF), 75 Pages
- 7 Part Autoresponder Email Messages (TXT)
- 1 Salespage (HTML, RTF)
- 3 Ecovers (JPG)
- File Size: 87,723 KB