Salespage Snapshot: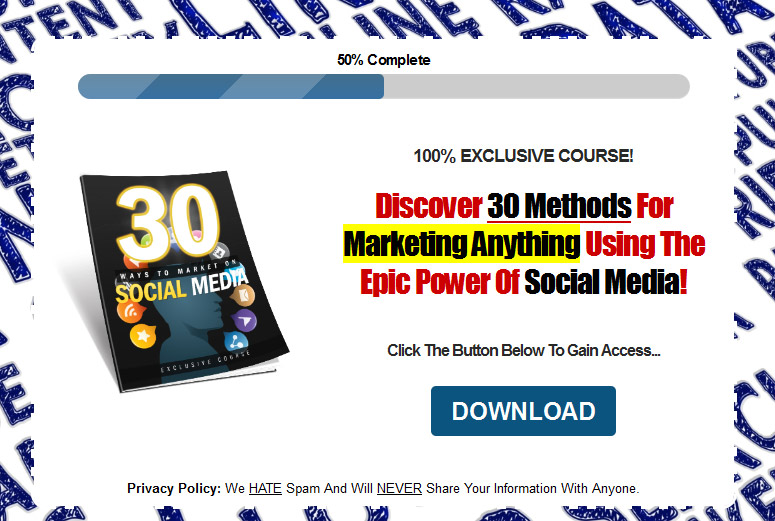 >>> Click Here To View Full Sales Page…
Sample Content Preview
Ways To Market On YouTube
At this point, there's really no excuse for you to not be utilizing YouTube in your business, especially with how easy it's become to create awesome videos. With that said, if you're still thinking of a way to implement YouTube into your business and your marketing strategy, this is for you.
The following are just a few ways you can take advantage of the massive authority and ever-growing pool of traffic on YouTube.
Create Simple Or Complex Videos, Upload, And Optimize Them For Rankings There's so many services (free and paid) to create videos for any purpose. Whether it's a simple text and slide based video, or a complex animated video – it doesn't matter. Upload your content via videos and start creating. Optimize them for different keywords, tags, titles, and add a nice description with a link to your website or other offer. It's really that simple, just rinse and repeat.
Create And Upload A Highlight Reel Video
Video provides a unique opportunity to convey the energy and excitement of a live event. Great visuals and catchy audio are a potent combination that drives registration. It also creates engagement opportunities as the video is shared with friends and other networks.
Harness The Power Of Visual Testimonials, Reviews, And Other Feedback Do you have great comments in the exit surveys from previous products? Maybe you've interviewed attendees or speakers and captured statements of excitement about specific sessions, great experiences and so on related to your business or products. Don't let those nuggets go to waste! Create simple graphic images with these quotes and comments. Share these visuals in your email marketing campaign, social platforms, blog posts and email signatures.
Hold Contests And Explain Them In Videos, Ask For Interactions To Enter Similar to other platforms, you can easily host all kinds of different contests and crowd incentive-based events on YouTube. All it takes it a little thought and creativity, and the effort to create and upload the video. You can set up rules for entering, ask viewers to share something or sign up for something, and so many other things. The possibilities are limitless.
Network With Others By Commenting On Other Videos And Contributing Some may consider this a spammy tactic, but it's not if you utilize it properly. By interacting on other videos and channels, being helpful, and participating in discussions – you will easily generate interest and establish yourself. In some situations, other channel owners will offer to promote you or help you out.
Ways To Market On Pinterest
Over the last few years, Pinterest has positioned itself firmly as a means for sharing, storyboarding, and spreading ideas, products, and different information. Better yet, it's not just for images anymore. The platform has the massive potential to drive loads of traffic on essentially autopilot, you just have to utilize it properly. The following are just a few different ways you can market your products on Pinterest. Pin Relevant Products Or Projects For Your Brand, Business, Or Niche This is the main purpose of Pinterest, and you should become accustomed to it if you plan to use the platform. It's super easy to find products and posts to "pin" and you can even add your own comments to help build a following.
Add And Upload Your Own Images Of Your Products, Crafts, Or Creations Sure there's tons of content already out there that you can post, contribute, and pin around. But you can also upload your own images of your products, crafts, or anything else to the platform. This not only gives your account and brand an original edge and authority, but it will also create loads of traffic all piloting back to you. Network With Other Pinterest Users By Communicating & Promoting Them Pinterest has a gigantic user base, and it's super easy to interact with other users and make awesome connections. By doing this, you'll easily increase your authority, expand your audience, and maybe even end up getting promoted by some bigger accounts or celebrities that use Pinterest. Just stay active and persistent on the platform and you'll see success.
Ways To Market On Reddit
Reddit is often referred to as the "front page" of the internet, and for good reason. When you consider the fact that it attracts upwards of 8 billion page views every single month, you see how much traffic potential the platform has. You can easily generate tons of highly targeted traffic using Reddit, if you do it the right way. If you want some ideas for marketing on Reddit, the following are just a few to get you started off right.
Join Relevant Sub-Reddit's For Your Niche, Brand, Or Market
With the gigantic audience that Reddit hosts, you have to find one of the hundreds of thousands of sub-reddit's that specific to your audience and niche. Once you find the sub-reddit's for your brand, you need to start interacting and establish yourself. Post Infographics About Information And Statistics To Create Discussions Infographics speak volumes about content, and provide a great visual representation of data that can then spawn a ton of discussion. They're easy to make, and easy to find, and people are always interested in looking at them.
Answer Questions From Other Users All Over The Site
Just like everywhere else on the net, people are constantly asking questions on Reddit and that means you have plenty of opportunities to share your knowledge, answer questions, and establish your authority. Make it a point to search for questions and answer a few every single day, if you can.
Share Valuable Content And Other Information
Reddit users are savvy and won't fall for generic articles, or lame rehashed information. With that in mind, you can always create new content, share your own posts, or share current event's related to your topic. Just always ensure that the content you contribute provides some level of value to the viewers.
Ways To Market On Instagram
Instagram is by far the most popular platform and app for sharing images on the go, not including older sites like Flickr. But even so, Instagram has now found it's way into many big businesses and all sorts of marketers campaigns. With that said, the following are just a few ways that you can market anything on Instagram.
Post Photos of Your Products Or Inventory
Not sure what to post? Aside from the normal stuff that people always post, you can focus on uploading images of your products, inventory, or other details. You can even post photos of people wearing your clothes or using your product which is an incredible way to improve your overall brand awareness.
Upload Photos Of The Inner-Workings of Your Business Or Your Life
Let's face it, people love to witness a behind the scene's experience from a business or even individual that they like. Showing off the different aspects of how your business functions, or sharing specific details about your personal life can be a great way to connect with your audience personally. It also gets people talking!
Expose Your Personality
Going off of the previous point, exposing your personality and giving that human touch to your business or brand is without a doubt one of the best ways to improve your authority and drive traffic. It will allow people to better relate to you and what you do and it's an easy way to create content.
Other Details
- 1 Ebook (PDF), 14 Pages
- 3 Graphics (JPG, PNG)
- 1 Squeeze Page (HTML)
- 5 Promotional Ad Materials (Emails)
- Download Page, Affiliate Program, Cheat Sheet, Twitter Tweets
- Year Released/Circulated: 2017
- File Size: 12,578 KB
License Details:
1. You CANNOT put your name or pen name on the product as the creator.
2. You CANNOT edit the contents of the product in any way
3. You CANNOT change the title and sub-title of the product.
4. You can sell the product (Report) in PDF format. The recommended selling price is $1.00 to $7.00
5. You are granted the master resell rights, resell rights or to resell with personal use rights. Nothing else.
6. You CANNOT offer private label rights to this product. You are granted only the Master Resell Rights.
7. You can add the product into a membership site (paid only).
8. You can add the product into your product bundle or package and sell for a higher face value.
9. You can offer the Basic Resell Rights to the PDF Report. The recommended selling price is $17.00 - $67.00
10. You can produce audio and/or video content from the materials found in this product.
11. You CAN give the product away for FREE, in exchange for an optin (email address) or lead.
12. You CAN offer the product as a bonus to another product you are selling. Or as a bonus when people purchase through your affiliate link.
13. You CANNOT sell the product on auction sites such as eBay.com.
14. You CANNOT use sell product in a dime sale event, under any circumstances or situations at all.
15. You CANNOT sell this product as a WSO, under any circumstances or situations at all.