Salespage Snapshot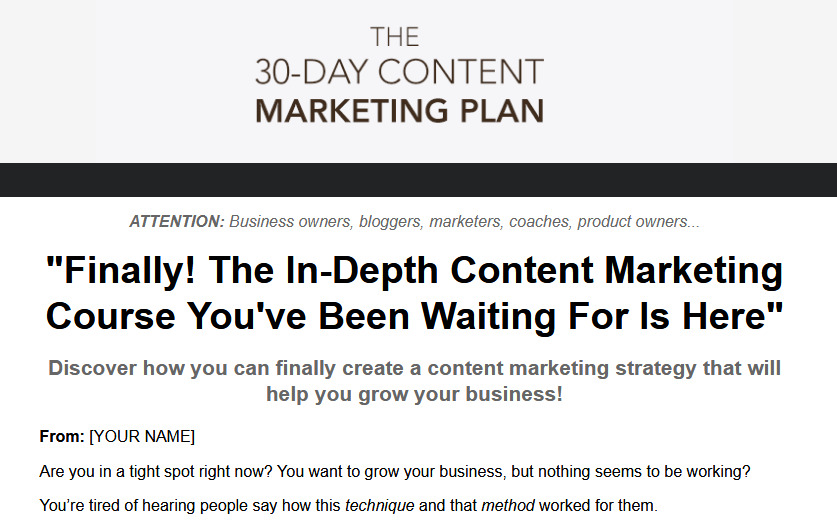 >> Click Here To View Sales Page...
Table of Contents
Introduction …. 5
Day 1 – Define Your Content Marketing Goals 9
Day 2 – Research And Understand Your Audience 12
Day 3 – Create Your Audience Personas .. 14
Day 4 – Brainstorm Content Ideas … 16
Day 5 – Do Keyword Research .. 18
Day 6 – Come Up With Content Titles And Outlines ….. 22
Day 7 – Plan Out Your Content Calendar . 24
Day 8 – Create Your Website (If You Haven't Already) . 27
Days 9 to 15 – Content Creation (Blog Posts/Articles) . 32
Content Productivity Tips …… 33
Content Editing Tips 36
A Few More Content Tips …… 38
Day 16 – Set Up Your Social Media Accounts . 39
Days 17 to 23 – Repurpose Your Content 42
Benefits of Content Repurposing .. 42
Some Popular Formats To Repurpose Your Content Into 44
Day 24 – Set Up Google Analytics …. 50
Day 25 – Start Publishing New Content On Your Website … 53
Day 26 – Publish Content On Social Media and Start Building A Following…. 56
Day 27 – Start Reaching Out To Authority Sites For Guest Post Opportunities …. 59
Day 28 – Reach Out To Social Influencers In Your Niche ….. 61
Day 29 – Comment On Popular Articles And Blog Posts ….. 64
Day 30 – Reach Out To Relevant Websites And Ask Them To Feature Your Content ….. 66
Conclusion – Day 31 and Beyond ….. 69
The 30-Day Content Marketing Plan
Sample Content Preview
Day 2 – Research And Understand Your Audience
Knowing who to target is essential to your content marketing strategy's success. If you don't know who your target audience is, then you could be wasting your entire content marketing campaign! That would be equivalent to months of hard work down the drain.
You'd spend time creating and promoting your content only to find out you've been targeting the wrong demographics or the wrong people. I'm sure you would like to avoid this situation at all cost.
When you know who your ideal audience is, you can easily tailor your content to hit them where it matters. You can discuss problems they can relate to, and they would appreciate your insights and your solutions.
You'll become a hero in their eyes. They'll trust you. And when they do, then you can easily convince them to move along to the next stage of your content marketing funnel!
Knowing who your target audience is is easier if you've already got some existing data. For instance, if you've got a database of your past and current customers, then you can easily determine the common factors among them.
The 30-Day Content Marketing Plan
Or if you've got Google Analytics installed on your site, you can quickly see the demographics of your site visitors. And you can see which groups of people are converting best.
If you're just starting out and you don't have the luxury of having an existing audience data, then you need to get a bit creative. While you may already have a general or preliminary idea of who your target audience is, it's best to actually get some concrete proof from the real world.
Here are a few suggestions:
– Conduct surveys. You can either do offline or online surveys. For offline surveys, you will need to go out into the real world and face your prospects. For online surveys, you can use a tool like Survey Monkey (https://www.surveymonkey.com) and get people to answer your questions. The thing is not a lot of people will probably volunteer to answer your questions, so you need to offer some sort of incentive that will make them want to take your survey.
– Competitor research. Know the type of people your competitors are targeting. Check out their blog or their case studies, if they have any. Or you can search their website for info as many companies state their customer demographic upfront.
– Monitor social media channels in your industry. Keep your ear to the ground and listen to what people on social media are saying. You'll learn which topics people want to read about, plus you can check people's profiles and come up with an idea of who your ideal audience should be.
Day 3 – Create Your Audience Personas
Now that you've identified who your target audience is, it's time to create an audience persona. Basically, audience personas are fictional people who represent your ideal customers or clients. They are a composite of your ideal audience's characteristics.
The more information you put into your buyer persona, the better it will be for your content marketing campaign. This is because you can then easily create content that your ideal audience will be able to relate to. Here's a good template you can use when creating your audience persona:
(Image source: https://blog.bufferapp.com/marketing-personas-beginners-guide)
It's best to fill out all the details in the template to make your persona as 'real' as possible. If you can add a picture, that will be great, too. Putting a face to a name will help you a lot during the content creation process. It will make you care about the type of content you're making because now you know people like 'John' or 'Jane' is going to benefit a lot from your content!
But how are you going to get the background info on your audience persona? Do you just make it up as you go along?
Since you've come this far, and you've done a lot of research into who your audience is, then it's best to make your persona as representative and as accurate of who your audience actually is.
You can check your site analytics for demographic information, you can research on social media, you can do some research into the people who are active on your blog and social platforms, or you can just go and ask your audience to tell you more about them.
Personas are useful only when they're accurate. If they're not, then you're essentially wasting your time, and you'd feel like you're fishing in the dark. You're wondering why no one's coming to your website, or if you do get visitors, why they leave right away. Maybe it's because you're not targeting the right persona or the right audience.
It may take you more than a day to create the perfect persona, but keep in mind that this is an important part of the process. And your content marketing success will greatly depend on how well you do this step.
Other Details
- 20 Articles (TXT, DOC)
- 1 Ebook (PDF), 69 Pages
- 2 Graphics (JPG, GIF, PNG)
- 1 Salespage (HTML)
- Promotional Ad Material (Emails)
- Checklist, Resource Cheat Sheet, Mindmap, Optin Page, Social Media Images
- Year Released/Circulated: 2018
- File Size: 59,005 KB
License Details:
You're granted master resell rights, resell rights or to resell with personal use rights.
You may add this product to your PAID membership site
You may giveaway the product as a bonus when people buy through your affiliate link
You may edit the included sales page and opt-in page
No, you may NOT edit the contents of the eBook(s) & videos
No, this product does NOT include private label rights. You are granted Master Resell Rights only
No, you may NOT giveaway the eBook(s) & videos for free.