Salespage Snapshot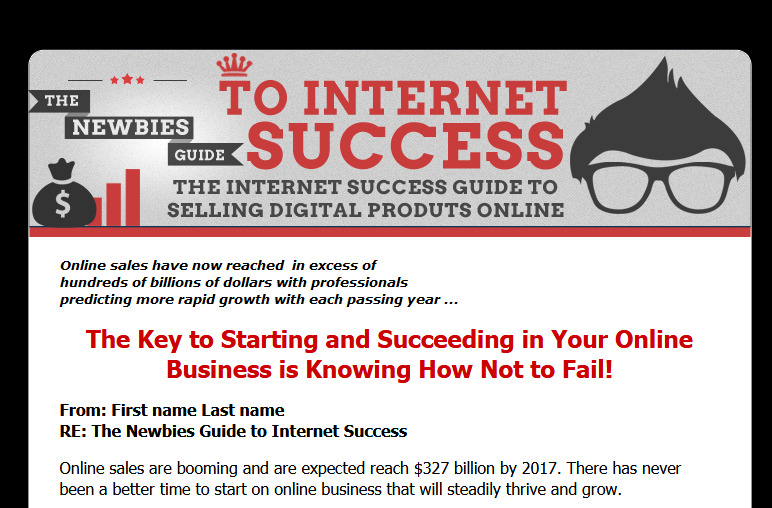 >> Click Here To View Sales Page...
Table of Contents
Introduction. 3
How is Technology Beneficial to you when selling Online? . 5
Rationale of Developing your own E-Commerce Store . 7
How to Successfully Build your Online Brand. 10
How to Create an E-Commerce Store to Sell Products online . 16
Do it yourself 20
Perform Relentless Marketing .. 21
Factors for Success for Online Shops … 23
Conclusion 29
Sample Content Preview
Rationale of Developing your own E-Commerce Store
Here you need to ask yourself one important question. Consider the average online shopper that is looking for a specific product but wants the best value for money. Then why would this shopper who is browsing for products on Amazon or eBay purchase your product when it looks almost identical to that of your competitor. You see what these storefronts do is that they arrange their products much like any regular physical store would; according to the category of the product. Coupled with the search function that makes items easier to locate, there is a very high likelihood that the shopper will not see the difference between your product and that of the competitor. The purchase decision will probably come down to mundane things such as color or what is cheaper. Therefore, if you truly want to be successful then you need to consider having your own online store. This will help your product stand out from the crowd and also give your product a sense of authenticity.
Admittedly, it would be simpler to set up your own website and sell your product directly using Amazon, Facebook, Etsy, Alibaba or eBay. In fact, in the recent past these sites have focused on simplifying the task for the average user. There are many benefits to using these sites as they have a greater reach than your starting online store would probably have on its own. However, the most common mistake beginners make is that they rely almost entirely on these sites to run their business. For example, the Algorithm that is employed by Amazon to allow the users to search and find different products is in a state of constant change. Therefore, one day your product may come up in the top searches and the next it may not come up. Also, on Facebook, your shares and ads are dependent on a similar algorithm that is always changing. Moreover, you would be required to spend some significant amount of money so that your shares can reach a certain number of people. These are additional costs that cut into your margins. Not forgetting that there are competitors that are selling products that are similar to yours and will often result to undercutting to win over customers. You will be forced to respond in kind resulting is a situation that can be defined as a race to the bottom. How to Sell On Amazon Basically, if you are planning to sell your products on Amazon you will be one of many merchants competing for the same clients. Amazon can be likened to one huge supermarket and you will be one of the many suppliers. Your products will be categorized depending on functionality so there is likelihood that your product will be displayed right next to the competitors' products. Given this situation, a lot of merchants will resort to reducing their prices in order to stay competitive. While the end consumer greatly benefits from this, you as the merchant will have a totally different experience. It has long been the consensus that a price war will ultimately confer no benefits to the parties involved; it is a race to the bottom from which everyone does not profit. However, there will always be that one desperate merchant that will always slash their prices so that they can win the customer from you. This is just one of those things that you need to prepare yourself to deal with when you trade on this platform.
After all, it will often prove to be an arduous affair to set apart your brand in marketplaces such as Amazon, Facebook, or eBay. From the consumers' perspective you will only be another merchant that is selling a generic product. The consumers being the rational investors that they are will often look for the best value for money in these platforms; the only way to tell if a product is valuable is through reviews however reviews can also be faked. That being said, the main factor shall always be money and the consumers will look for the cheapest product that has acceptable reviews. This goes to show that in creating your own brand, in the course of time you will be able to build an online asset that is valuable and unique. A robust brand has the ability to evoke a sense of trust from the shoppers. When it comes to success in online marketing, trust is one of the key features that you need to pay keen attention to. Put yourself in the position of the shopper, would you purchase an item if you did not trust the brand? Probably not.
How to Successfully Build your Online Brand
In today's competitive business environment, being successful is pegged on ensuring that your company name, brand, identity and also your unique personal brand is accessible in every nook and cranny in the internet. Why do you really need a brand? In the business world of today, people find the need to conduct business with individuals that they trust or have a feeling of attraction to them. Trust is a difficult thing to attain but at the base of it, people will only trust you if they have some sort of relationship with you.
• Building an online brand will mostly comprise of creating some sense of awareness the kind of business that you run, as an entrepreneur the kind of things that you stand for and the whole point of the business.
• Building an online brand will afford you the opportunity to forge a sense of likeability and to facilitate the growth of a much needed fan base in an instant.
• Building an online brand will go a long way towards ensuring that your credibility is elevated, this is simply because you have exhibited that you are willing to embrace that your brand is out there for anybody to find.
• Developing an online brand will go a long way in enabling you to gain trust which is basically one of the most important elements of the sales process, which will in turn result into more opportunities, customers and ultimately profits.
Understanding Your Brand
To have a brand basically means that you will define the core values of your company and the promise that you will give to your customers. It can simply be defined as an expression of the traits and characteristics of your business. Branding will go a long way in terms of positioning your company in a way that customers will instantaneously thing of it as the one target whenever they need your service or your product. Ideally, the outcome of branding is to make the customers be loyal to your brand and they will be comfortable when it comes to recommending it to any other potential customers that they may know. In order to build a brand that is strong and convincing to the general public, then you will need to come up with a mission statement that will convey your values and your vision. To help you with this process, you can start off by brainstorming phrases and statements that will convey the whole purpose of the business that you are running and its overall impact to your customers. Find out the Overall Perception of your Brand by the Customers To start off, you need to launch a campaign to find out whether the way you view your brand is the same way the customers perceive your brand. By changing perspectives and viewing your brand from the vantage of the customer will go a long way in enabling you to have a much better insight in to the things that they consider to be really important and matter to them the most. You will then be able to nitpick through the brand elements and see which one you need to pay most attention to. Here you will need to pay particular attention to the informal feedback that you are bound to receive from social media platforms, seek out that standout or consistent word that the customers will use when describing your business. It may be of help if you were to make a list of these words that are most commonly used by the customers. Focus on Conveying the Benefits rather than the Features It is important to remember that the features of your company will only ever be its characteristics. By themselves characteristics are not particularly helpful. The benefits on the other hand will tell the customers how a certain service or product will be of use to them. If you chose to focus on the benefits that the product or service will have, then there is a higher likelihood that it will leave a longer lasting impression on the customers. Therefore, always aim to ensure that you list the features of the business and translate these features into benefits. A simple way of ensuring that you achieve this is through asking yourself, "How does this feature benefit the customer?" It may further prove to be of great benefit if you were to include a number of case studies or some few testimonials in your website; here the customers can describe the overall benefits of your products or service and their experiences. Try and Foster Relationships, rather than Transactions The whole aim of relationship marketing is to create an avenue where you can strengthen and promote your overall brand image. To reiterate, the objective here is to ensure that your company is the first company that a customer will think of whenever they need a certain service or product. To help you with this, you may need to consider making use of social media to develop relationships through engaging in a number of conversations with your key customers. Another excellent way of building these relationships is through the use of Loyalty programs; the aim of these programs is often to reward the customers for giving you their business. You may also need to consider creating a mailing list of your customers where you will periodically send them newsletters with interesting information that would be valuable to them thus reminding them of the overall importance of your brand.
Other Details
- 6 Articles (TXT)
- 1 Ebook (PDF), 29 Pages
- 12 Graphics (JPG, PNG)
- 1 Salespage (HTML)
- 1 Squeeze Page (HTML)
- Promotional Ad Material (Emails)
- Year Released/Circulated: 2017
- File Size: 2,834 KB
License Details:
[YES] Can be sold
[YES] Can be used for personal use
[YES] Can be packaged with other products
[YES] Can modify/change the sales letter
[YES] Can be added into paid membership websites
[YES] Can put your name on the sales letter
[YES] Can be offered as a bonus
[YES] Can be used to build a list
[YES] Can print/publish offline
[YES] Can be given away for free
[YES] Can convey and sell Personal Use Rights
[YES] Can convey and sell Resale Rights
[YES] Can convey and sell Master Resale Rights
[NO] Can modify/change the main product
[NO] Can modify/change the graphics and ecover
[NO] Can be added to free membership websites
[NO] Can convey and sell Private Label Rights