Salespage Snapshot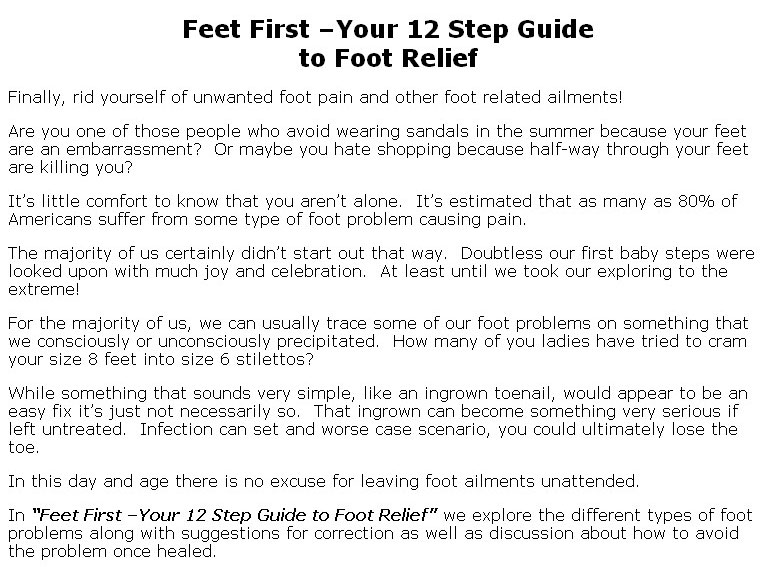 >> Click Here To View Sales Page...
PLR Ebook Table Of Contents
Baby's First Step
The proper way to walk
Shoes Make the Difference
Foot Ailments Part 1 – Sprains, Arthritis & Tendonitis
Foot Ailments Part 2 – Plantar Fasciitis & Hammertoes
Foot Ailments Part 3 – Athletes Foot, Ugly Nails & Burning
Foot Ailments Part 4 – Ingrown Nails, Cracked Heels & Gout
Foot Ailments Part 5 – Corns, Calluses, Diabetes & Foot Ulcers
Foot Ailments Part 6 – Shin Splint, Haglunds Deformity & Foot Odor
Foot Ailments Part 7 – Warts, Neuroma and Stress Fractures
Foot Ailments Part 8 – Flat Feet/High Arch, Tarsal Tunnel Syndrome & Bunions
Foot Ailments Part 9 – Charcot Foot, Circulation & Fungus
Foot Ailments Part 10 – Metatarsal Problems, Diabetic Hygiene
Foot Ailments Part 11 – Neuropathy & Tailor's Bunion
Foot Ailments Part 12 – How Orthotics Work
PLR Ebook Sample Content Preview
Watching Your Baby's First Step
Parents of newborn babies won't be able to hide their excitement when they see their child trying to carry out his/her first step ever. Babies trying to walk are a good indication that their bodies and mind are developing at a normal rate.
Some parents might become a worried if they see that other babies learning how to walk sooner than their own kids. That could happen. Children have their own calendar as to when they will be attempting that very first step.
Walking is considered a motor skill. Most of the time, it does not have anything to do with the intelligence of the child or their physical weight and size. And it certainly has nothing to do with one's parenting skills as well.
The only thing that parents should take note is that their babies should have at least tried to walk during their eighteenth month. If attempts to walk seem to take longer than that, it could be time to check with their pediatrician.
Parents might observe their babies to be pigeon toed as they try to walk. Generally, during the first two years, all babies have this characteristic. They are all toeing in as they walk…
Other Details* Sales Page:
Included, HTML, MS Word Doc
* File Format:
MS Word Doc, PDF
* Number of Pages:
67
* Download File Size:
204 KB