Salespage Snapshot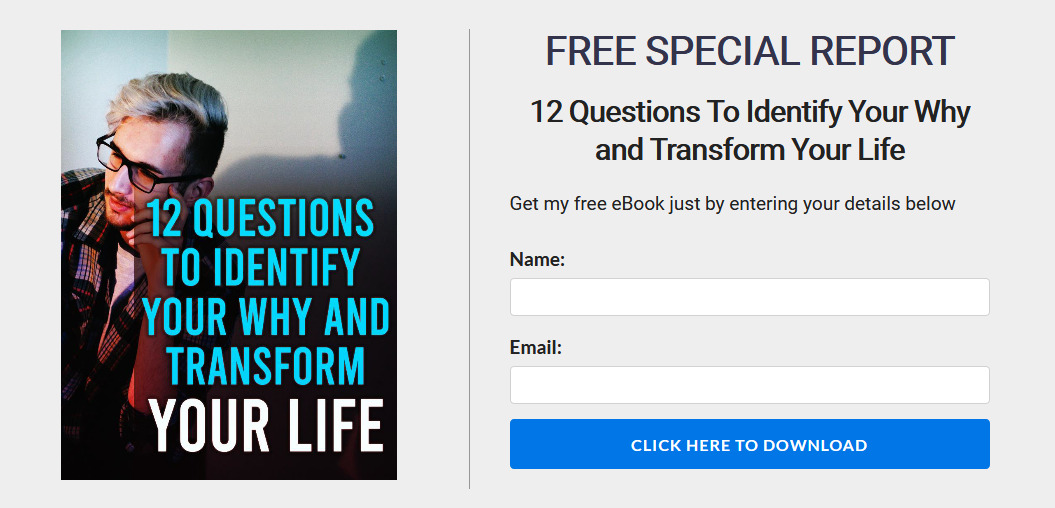 >> Click Here To View Sales Page...
Sample Content Preview
It is very easy to get distracted in the modern world. Although the Internet is a wonderful thing, it can steal your time like nothing else. If you do not have a clear focus in your life then it will be easy for you to become distracted. Other people can influence you to set goals that you are not truly committed to for example.
When your personal WHY statement is complete you will be certain about what you need to do next. You will have total focus which will enable you to prioritize the things that you do to achieve goals that align with your WHY statement.
Your Decision Making will improve
The clarity of a compelling WHY statement will enable you to make better decisions in your life. All decisions, both small and large, are covered here. Without true clarity in your life it is more likely that the decisions you make will not be the best ones.
You will consider all of your decisions against your WHY statement. Internally you will ask yourself "is this a good choice for my life's purpose?" and then be able to instantly decide the right thing to do.
Greater Accountability
People that drift along in life have little accountability. If things go wrong for them it is always someone else's fault. They make decisions with little regards for the possible consequences.
Having a personal WHY statement that really resonates with you will make you much more accountable. You will consider the consequences of everything that you do in the future and the impact that this will have on others.
More Resilient
When you have a personal WHY statement that you are truly committed to it should make you more resilient to the challenges that will come your way. In the past, problems may have overwhelmed you and made you procrastinate. When you have a strong WHY statement you can change all of that.
After identifying your purpose in life you will become more confident and believe that you have the power to overcome any obstacle that is in your way. It will be easier for you to let go of things that are not important and you will learn from any mistakes that you make. Increased resilience will enable you to bounce back from any setback.
Happier and Healthier
It is a real "Eureka" moment to discover your true purpose in life. When you do this you will be able to look forward to the future with a high degree of certainty. This will have a dramatic effect on your happiness because you finally have clarity and you are no longer stuck in your life.
There have been a number of studies that have shown that when a person knows their life purpose it has a significant effect on their health as well. It all goes hand in hand really. When you are happier you tend to be healthier. When you are optimistic about your future this will give your health a boost as well.
Now it's Time to Identify your WHY
Now that you know the incredible benefits of creating your personal WHY statement it is time to discover your true life's purpose. A lot of people try to uncover this but fail because they do not use the right methods.
In this report we will show you the best way to identify your WHY. It is not going to be an easy ride for you and you will have to put in some mental effort here. But it is totally worth it as after you have discovered your true purpose you will be able to shape your life exactly as you want it.
The best way to discover your WHY is by asking yourself some specific questions. We will provide you with those questions here. When you ask each question you need to think about it really carefully. There is no rush with this and it is going to take you quite a while to answer everything and then identify patterns and trends to help with your discovery.
We strongly advise that you find a quiet area to do this where you will not be disturbed for a while. You will need a pen and paper or your journal because you will write a lot of things down. OK if you are ready let's get to the 12 questions.
When you are able to improve the lives of others you will get a very warm feeling inside and you will be very happy with your lot. Numerous studies have shown that people that know their WHY and live a life of gratitude are able to make a significant contribution to the world and help many people.
Having an attitude of gratitude means that you appreciate what you have in your life right now and this includes the people that have helped you get where you are. With this attitude you will really want to give back to these people and others that you have not met yet. There are many ways that you can help other people.
When your WHY statement includes the way that you can help many other people it will have a very powerful effect on you. You will be totally driven by this and it can help you to bring you all of the things that you desire in your life.
When you are really enjoying doing something then it will seem like time is truly flying by. This is because you are passionate about doing these things and you are not focusing on the passing of time. If you are bored then you are more likely to concentrate on the clock. People in jobs that they hate often do this.
You will have a lot more energy when you pursue your passions. This is because you are living out your life's purpose. People that do things that they don't enjoy each day tend to be drained of energy at the end of it.
Other Details
- 1 Ebook (PDF), 18 Pages
- 1 Squeeze Page (HTML)
- 4 Ecovers (JPG, PNG)
- Year Released/Circulated: 2020
- File Size: 4,497 KB
License Details:
[YES] Can be packaged
[YES] You Can Use This Product Yourself
[YES] Can be sold as it is not less than $7 price tag!
[YES] Can pass on the Resell Rights privilege to your customers
[YES] Can Add This Product to a Membership Site or Bundled Within a Product Package as a Bonus
[YES] Can be used to create audio/webinar/video products
[YES] Can Give Away The Product (NOT Source Code Files) To Your Subscribers, Members or Customers as a Bonus or Gift
[YES] Can change sales page and/or graphics
[YES] Can be added to paid memberships
[YES] Can sell master resale rights
[NO] Add to a free membership sites
[NO] You can't just pass away the product to anyone
[NO] Contents of theproduct can be edited, modified or altered