Salespage Snapshot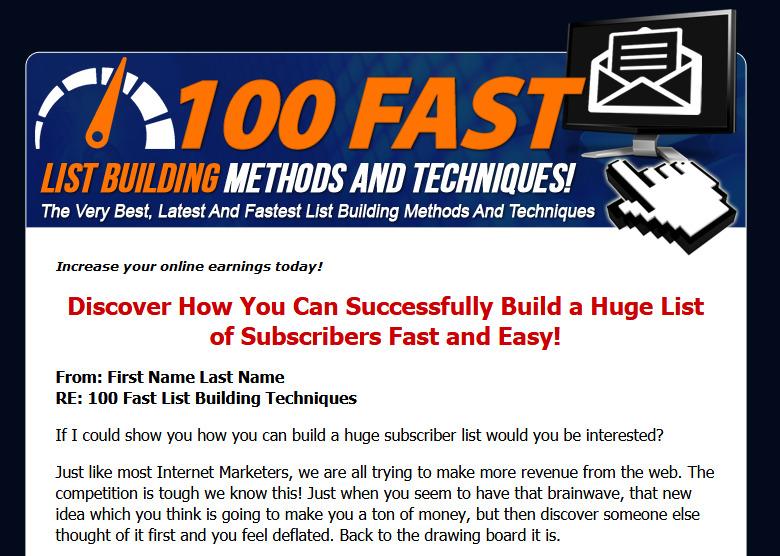 >> Click Here To View Sales Page...
Sample Content Preview
12. Host Giveaways
Giveaways are a fantastic strategy to engage consumers with one's brand and build the email list. When implemented correctly, it is a sure-fire strategy in growing the list. Important components of any giveaway would include the following. First, it should have a compelling prize that the audience actually wants. Second, referred entrants should have access to bonus entries. Third, there should be guaranteed bonus incentives for all people who do not win anything. Despite being effective in growing a list, one should be aware that giveaways can pick up tons of non-relevant subscribers who do not have an interest in the product.
13. Avoid Asking Much Information
In the opt-in forms or sign-up forms, one should not request too much information from the targeted audience. In some cases, some people would ask for names, telephone contacts, email address, and physical addresses yet they do not need all the information. It is important to keep the information requested just simple. The less data one requests, the more likelihood of collecting more emails.
14. Sticky Widget
One should have a fixed sidebar that always remains at the top of the page when a user scrolls the website. This ensures that the opt-in is always visible to remind the user of the need to register. The visibility of the opt-in can result in a subscription at any time and any point in the page.
15. Comment Redirect
Comment redirect is a strategy commonly used to target the most engaged visitors. These are visitors who have already made an effort to share, comment, or ask a question regarding a given content. As such, they are a click away from opting-in if they are given the right push. The comment redirect can send these people to a customized landing page which appeals to them to subscribe to the mailing list.
16. Direct Mail
Direct mailing service is an extremely flexible channel that gives a marketer the access to otherwise inaccessible prospects for various purposes such as selling products, generating leads, following up enquiries, getting more business from existing clients, and keeping in touch with former clients. Through direct mails, a marketer can present each benefit of his product or service in a manner that is 100% consistent. When direct mails reach the right audience with the right message and offer, a marketer is likely to generate inquiries and sales.
17. Using Email Signatures
Email signatures are ideal for people who spend lots of time communicating with customers through email. The email signature normally contains the logo of the business and various contacts a customer can use to communicate with a representative of the business. drives subscriptions because it is appealing, and the target customers understand that they can easily stay in touch with someone from the organization.
18. Use of Social Media Platforms
People have access to a wide range of social media platforms including Facebook, Twitter, Instagram, Periscope, and Snapchat among others. Since billions of people use these platforms, presence in two or more platforms gives an opportunity for one to access highly engaged audience that can subscribe to their mailing lists.
19. Referral Systems
A referral is whereby existing customers recommend the brand or products/services to other people such as friends, family, and colleagues. It is more effective compared to dozens of presentations. List building through referral systems involve strategies such as reaching out to the hard-to-reach buyers, creating a reputation that opens closed doors, improving customer loyalty, and getting prospects to return calls.
20. Publication of Infographics
Infographics refer to graphical representation of statistics or facts about something. According to Massplanner, infographics are often liked and shared on social media three times more than any other type of content especially pure text. Business can easily go viral with well-designed infographics that provide customers with in-depth overview about a product/service.
21. Effective Advertising
Effective advertising involves an advertisement that does the job an effective sales associate can do in a face-to-face meeting with a customer. An effective advert is founded on proven principle and facts rather than a trial and error approach. Effective advertising should use channels capable of reaching sufficiently large population of the target market. In addition, the communication should focus on the needs of customer and offers them something appealing. Lastly, the advert should give the prospects sufficient information and education about the product/service. 22. Writing Long-Form Guides
Guides are insanely valuable to many people. A guide includes things of the nature "a beginner's guide to social media marketing." Guides allow businesses to build their mailing list. This is possible because they are created from the point of view of the target audience. For this reason, guides will naturally attract more shares, likes, traffic, and links. The long-form guide should cover topics related to the company's business to enable it attract the right audience.
23. Word-of-Mouth Marketing
Word-of-mouth marketing refers to a persuasive marketing technique available to any business or seller. Users can driver prospects to try out new products/services. It gives an opportunity for the seller to present the benefits of the product to customers as well as answer queries that may arise. Again, it is important in building relationships of trust with the customer.
24. Using Cases Studies
Case studies aimed at building a list always make the customer the hero of a given a story. It involves featuring customers' results and testimonies in a superb way that compels new visitors to sign up of the firm's list. Through case studies, readers can relate the story of a customer to their own story. This type of case studies helps the business looks authoritative and credible, and, therefore, ability to attract more prospects.
25. Telemarketing
Telemarketing is flexible in its scope, message, and objectives. It is more effective when used alongside direct mails because the marketer can identify customers and reach them immediately through the two channels. It is also useful in advancing and building relationships while gently convincing the target customers to make a purchasing decision. Telemarketing allows for immediate feedback from customers so that the marketer understands what the customers want and like.
26. Host Beneficiary Relationships
Host beneficiary relationship involves establishing good relationships with other businesses so that you can have access to their already existing customers. In practice, the other business is a non-competing business that has spent years attracting and building relationships with customers who are prime prospects for your product/services. It is a strategy that brings more customers and cash within a short period.
Other Details
- 6 Articles (TXT)
- 1 Ebook (PDF), 28 Pages
- 12 Graphics (JPG, PNG)
- 1 Salespage (HTML)
- 1 Squeeze Page (HTML)
- Promotional Ad Material (Emails)
- Year Released/Circulated: 2017
- File Size: 2,656 KB
License Details:
[YES] Can be sold
[YES] Can be used for personal use
[YES] Can be packaged with other products
[YES] Can modify/change the sales letter
[YES] Can be added into paid membership websites
[YES] Can put your name on the sales letter
[YES] Can be offered as a bonus
[YES] Can be used to build a list
[YES] Can print/publish offline
[YES] Can be given away for free
[YES] Can convey and sell Personal Use Rights
[YES] Can convey and sell Resale Rights
[YES] Can convey and sell Master Resale Rights
[NO] Can modify/change the main product
[NO] Can modify/change the graphics and ecover
[NO] Can be added to free membership websites
[NO] Can convey and sell Private Label Rights