Salespage Snapshot: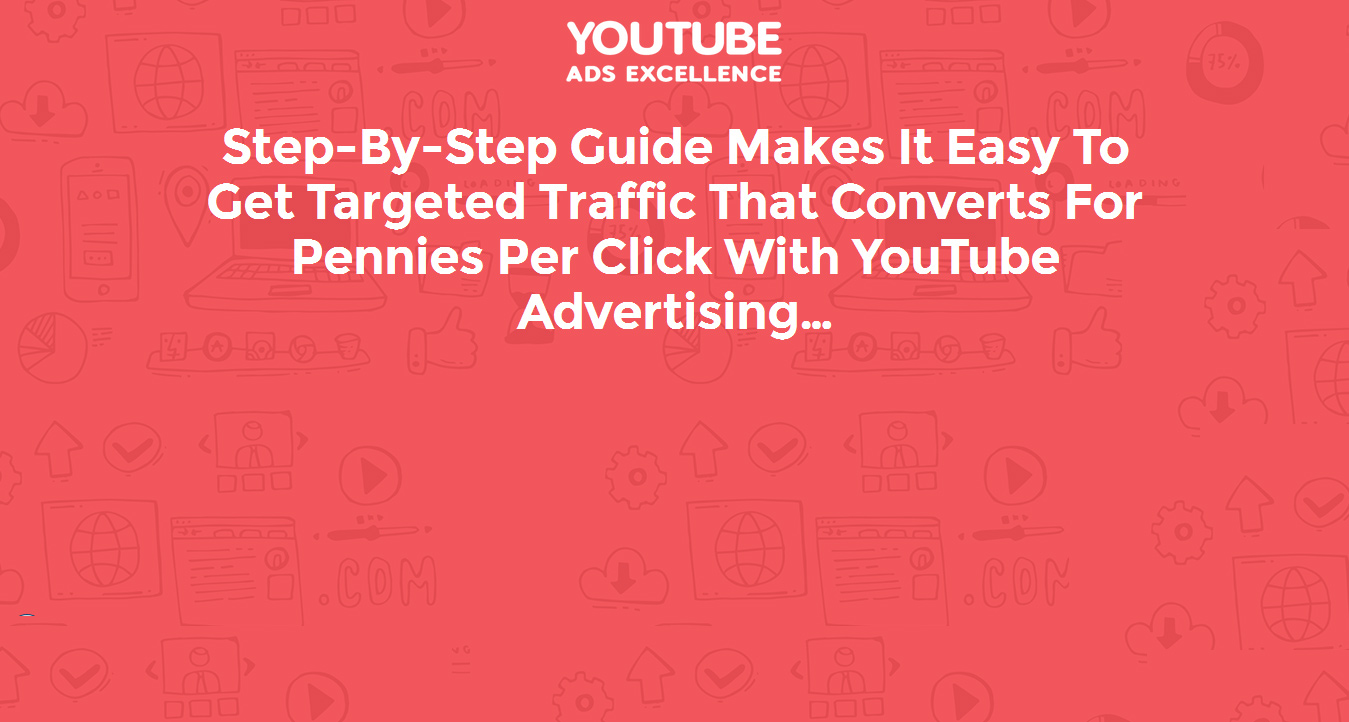 >>> Click Here To View Full Sales Page…
Table of Contents
Chapter 1: An Introduction to YouTube Advertising .. 4
Some Statistics……. 6
Chapter 2: Getting Started With YouTube Advertising …. 10
Setting Up Your Account … 12
Step 1: Creating Your YouTube Account ……. 12
Step 2: Building Your Channel 13
Step 3: Linking Your AdWords Account . 16
Chapter 3: Creating Your First Video Campaign . 17
Choosing Your Ad ….. 22
Chapter 4: How Video Ads Work …… 25
Chapter 5: Advanced Techniques …. 29
Choosing a Length for Your Video .. 31
Linking to Your Website ….. 33
Advanced Targeting …. 35
YouTube Remarketing ……. 37
Thumbnail….. 38
Chapter 6: Creating Stunning YouTube Video Ads …. 40
The Conventional Method: Creating Videos With a Camera ….. 41
Hardware … 42
Video Editing Software ….. 42
Editing . 43
Set-Up . 44
Chapter 7: The Sales Video 45
Creating Videos Without a Camera . 46
Making Your Adverts Persuasive ….. 47
Chapter 8: Conclusion, Tips and Tricks . 49
Sample Content Preview
Chapter 2: Getting Started With YouTube Advertising
While the number of internet marketers currently using YouTube to its fullest is still quite slim, there are nevertheless some great examples of people who are making a lot of money from it. One example is the very 'visible' Mike Chang from Six Pack Shortcuts who uses a ton of advertising to drive visitors to his channel and to his information products. One of his most recent videos involved him stuffing his face as much as he could to demonstrate how his training methods don't require you to starve yourself.
The video is actually quite unpleasant to watch and is certainly fairly controversial. Both these things work in Mike's favour however, as both these things mean people are more likely to watch and to click through to see what the channel is all about. Remember: these videos will normally show just before fitness and bodybuilding videos that the user has clicked on and this is a great way for them to grab attention.
In some of his other YouTube ads, Mike will talk about free techniques that you can use as a reader to lose weight or build muscle. To see the free technique, you need to click on the ad to get directed to another video. This brings people to the Six Pack Shortcuts brand and is what is known as a 'sales funnel'. Gradually, viewers engage more and more with the brand until eventually they are willing to pay for the product.
Another example is Tai Lopez. If you spend much time on YouTube, then you'll no doubt have seen him talking about how he earned his Lamborghini in his garage. Once again, the video is fairly ostentatious and controversial and some people will be put off by it. Either way though, viewers end up watching and this technique has allowed Tai to very quickly grow his channel to 406,000 viewers plus.
It's actually doubtful though whether that Lamborghini is even his…
You don't need to be so on-the-nose, controversial or deceptive to make a splash though. Equally successful is the fitness channel 'Athlean-X' which promotes 'training like an athlete'. In the advertising campaign for this channel, owner Jeff Cavaliere actually actively challenges the methods of advertisers like Mike Chang and positions himself as the more grounded and scientific alternative.
The techniques you'll learn here will enable you to emulate the success these content creators have had and even to surpass them with your own products and channels.
Setting Up Your Account
Step 1: Creating Your YouTube Account
To get started with your advertising, you'll first need to create your account.
These days, YouTube is integrated very closely with Google and with Google+. That means that the easiest way to sign in, is just to log in with your standard Google account. From here, you will then have the option to create a specific YouTube account.
To create your channel, head over to 'All My Channels' and then find the dialogue box that says 'Create a New Channel'. So far, so self-explanatory!
Once you've created your channels coincidentally, you'll be able to find them all situated here. At the same time, you'll also be able to see your Google+ accounts underneath. If you want to create a new channel for your Google+ page, then you can do so by clicking on these.
This means that if you have a business on Google Plus, you can easily create a channel for that business and have your accounts linked. Either way, you need to be on Google Plus in order to use YouTube and in order to be able to add comments etc.
When you click to create your channel, you'll either use the name associated with your Google+ account, or you'll create a new name that's relevant to your brand and that's easy for your visitors to find and to understand. You may choose to create multiple channels – one for your brand and one for yourself as a personal user. Alternatively, you might choose to create multiple channels for each of your products. For instance, you may want to create one channel for your brand and another for your app – Microsoft for instance has a Microsoft account, as well as a Surface account and a Windows account etc.
Take a look over the terms and conditions and once you're happy with the name of the channel you can click 'done' to go ahead and publish the channel.
Step 2: Building Your Channel
Once you have created your channel, the next step is to create some content for it and to add some information.
In case you were wondering, your YouTube channel and your advertising campaign are going to be intimately linked so that when users click on your ads, they will very often be taken to your account page. This means you should make sure that your page is ready to receive said visitors before you start creating your ads.
When people visit your channel, they'll see a number of different headings and features that will tell them about your brand. One of the most important things here for instance is your description which will simply explain what your channel is all about and why people should stick around. This is also important for SEO or 'Search Engine Optimization'. In other words, the text that you include in this description will be at least partly responsible for helping you to achieve more visibility in searches both on Google and through YouTube itself. Make sure then to think about what the most relevant 'keywords' are for your topic and what you can include to encourage more people to find your channel.
Likewise, you can also link to your social media and your website and you can feature some other channels you like. All of this will help your brand to grow. By linking to your website for instance, you'll be able to drive traffic that way and thereby increase the number of people engaging with your brand.
Meanwhile, linking to your website and confirming it as yours will also allow you to link to products etc. directly from videos. As we will see later on, this is a rather useful feature for any marketer!
At the same time, linking to your social media will help you to drive more traffic still and will make it easier for you to build a cohesive brand across multiple platforms. One of the adages you most commonly hear with regards to internet marketing and social media marketing is to 'be everywhere'. Make sure you are in as many places as possible by creating a consistent brand on every platform you can find online.
This branding should extend as well to your cover image and your profile picture. The profile picture here is going to be the same as it is for your Google+ account, so make sure that this is something that accurately reflects your brand and your niche and that looks the part for your channel. The cover image meanwhile can be anything you choose, but a good bet is to put a logo of some sort front and to make sure this logo is the same across all of your channels (social media etc.).
As you create more content for your channel, you'll find that you're also able to add playlists of your videos, which will make it easier for visitors to find the type of information they're looking for. Another useful feature, is the ability to create a video that will promote your channel and this will play whenever anyone visits the page. Here you can create a montage of your best content or just talk to your visitors and explain what they can stand to learn by visiting your channel and why they should keep coming back.
Until you do this though, visitors will simply see a list of your recently added videos.
Depending on the strategy you intend to employ with your YouTube advertising, you will also need to create some content and start uploading videos. The ads you create are likely going to drive visitors to your channel and so you want to have some great content here waiting for them when they arrive.
We'll go into depth on how to create high quality videos on a shoestring budget later in this book. For now though, all you need to know is that your videos need to be high quality and they need to provide value. Don't worry about trying to sell or monetize just yet – what's most important is that you build a following and you gain the trust of your visitors. The best way to do that is to fill yourself with interesting
and unique content that people will want to view and that will encourage them to subscribe. The more quality and value you provide, the more people will be interested in buying from you when you eventually come to sell something.
Step 3: Linking Your AdWords Account
Next you need to link your AdWords account to your YouTube account. This is the crucial step for YouTube advertising specifically and until you do this, your advertising and your YouTube will be separate entities from one another. Once you link the two, you'll not only be able to take part in YouTube advertising but you'll also have the option to see more statistics for your video such as 'earned videos'. You'll be able to control features like CTA overlays (more on this later) and remarketing.
In order to link these two accounts, you need to head over to your YouTube channel and then click the 'My Channel' tab after the channel icon. Now look for the 'Advanced' option and from here you should be able to find a tab that says 'Link an AdWords for Video Account'. This should have a 'Link an AdWords Account' link and when you click this, you'll be walked through the process of linking your AdWords account. Of course, before you do this, you'll need to sign up to AdWords and create an account. You can also alternatively link your YouTube channel from within AdWords. TO do this, you need to sign into your AdWords account and then find the cog icon for settings. In here, you'll find an option that says 'Linked Accounts' and in there, you'll be able to find 'Link a YouTube Channel'. Click the channel you want to link and then search for the video you want to link to begin with.
Other Details
- 10 Articles (TXT)
- 1 Ebook (PDF), 52 Pages
- 5 Graphics (PNG)
- 1 Salespage (HTML)
- 10 Ecovers (JPG)
- 10 Promotional Ad Materials (Emails, Banners)
- Mindmap, Resource Report, Cheat Sheet, Social Media Images Pack, Legal Page, Sales Video
- Year Released/Circulated: 2016
- File Size: 131,395 KB
License Details:
[YES] Can be packaged
[YES] You Can Use This Product Yourself
[YES] Can be sold as it is not less than $7 price tag!
[YES] Can pass on the Resell Rights privilege to your customers.
[YES] Can Add This Product to a Membership Site or Bundled Within a Product Package as a Bonus.
[YES] Can be used to create audio/webinar/video products
[YES] Can Give Away The Product (NOT The Source Code Files) To Your Subscribers, Members or Customers as a Bonus or Gift.
[YES] Can change sales page and/or graphics
[YES] Can be added to paid membership sites
[YES] Can sell master resale rights
[NO] Add to a free membership sites
[NO] You can't just pass away the product to anyone
[NO] Contents of the product can be edited, modified or altered.