Salespage Snapshot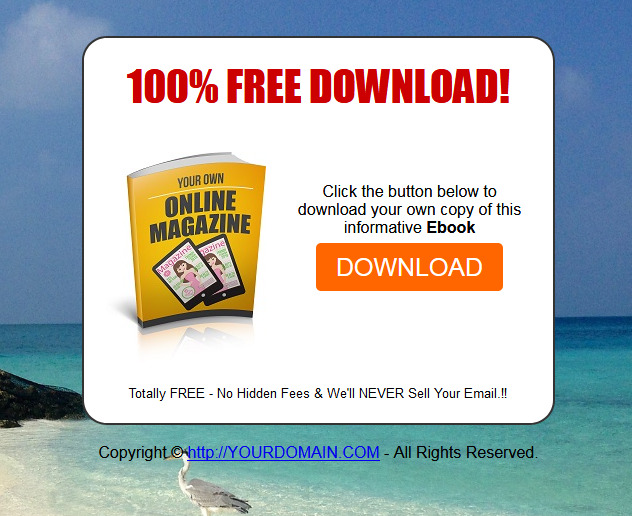 >> Click Here To View Sales Page...
Table of Contents
Chapter 1 – Niches To Write In 4
How To Use The Keyword Tool 4
Creating Knock-Out Titles … 7
Multiple Article Titles In A Blink! .. 8
Chapter 2 – Tools … 10
Dragon Naturally Speaking 10
Visual Thesaurus .. 11
MindManager Pro .. 12
Inspiration … 12
Rack And Write. 13
Mozilla Firefox .. 14
OpenOffice … 14
Chapter 3 – Lists 15
A Simple Word List … 15
Figuring Out Word Lists From Scratch . 16
A More Complex Word List . 18
Research With Word Lists .. 19
Chapter 4 – The Big "G" . 22
The Overall Plan For Research Time 22
Specifics To Speed Up Searching Google .. 24
Chapter 5 – Advice For Writing .. 30
How To Pull Your Readers In By The Seat Of Their Pants … 30
How To Leave Them Satisfied In The End 34
Chapter 6 – Connecting With Your Visitors 37
Act Natural, Even If You're Coding .. 37
Promote Your Site . 39
Make It Pretty .. 40
Sample Content Preview
Search Web Page URL
Another way to use the Keyword Tool to analyze the keywords being use on another web page. This is a great way to generate keywords off competitor's sites without too much effort. If you know of sites similar to your own that are already doing a great job attracting traffic, then you should use this tool to find out what keywords they are using.
The way you do that is to switch the radio button from descriptive words or phrases to "website content." It will then return a results list that will be sorted in groups by whatever the major keyword or phrase used happens to be. This is a very easy way to get a list of usable keywords, but do realize that keywords campaign change frequently as new trends are identified.
Generate Keywords For Already Written Articles
Maybe you've written articles already, but they're not generating much attention. You can still use the tool to help you optimize the articles and change the titles. All you do is choose the "website content" radio button and use the link under the box for the URL to add your text into a box instead. Then, the tool will go through the topic and suggest keywords to use in it. All you have to do is change some words here and there and add a different title to get these stale articles to become stars in your writing lineup.
Just remember that you can't put duplicate content on your website, or Google will penalize you. It doesn't understand that you wrote the same articles, only that they appear plagiarized because more than one copy shows up. So, be sure to make the new articles sufficiently different so that you aren't penalized by Google, or remove the old copies and replace them with new ones.
Creating Knock Out Titles
Now that you understand the importance of researching keywords and how to do it, we'll begin to get started creating knock-out titles. The first rule of thumb is that the first three to five words in the title carry the most weight with the search engines. They will determine the success of your article for the most part. So, it's important that they contain some of the keywords and also some power words to the interest of people who are surfing the web. After all, if you just wrote for search engines – let's be honest – no one would
want to read your articles. You need something in there to make the titles interesting to readers too!
As with most marketing, the way to sell something is to invoke an emotional response first, followed by a justification for buying into a particular product. The same is true when you are writing to attract attention. You want to create titles that have an emotional draw to them, but also don't forgo the logical reason why someone should take the time to read your writing. And, of course, you have to include the keywords too.
It sounds like a lot of work, but it's not!
All you really need is a good Thesaurus. You will take the same old titles you think up and kick them up a notch by finding powerful words that have an emotional effect on your reader. For instance, check out any marketing book and you will see that some words have a higher emotional value than others and sell your products better. These words are things like super, improved, gold, platinum, etc. Well, you can use a Thesaurus to kick-start the brainstorming process to get words in your title that have a more direct emotional appeal. And, try to find action verbs that really engage the readers senses and makes your title come alive.
If you have the money, you should invest in a very good program called Visual Thesaurus. It not only gives you alternative words for your titles, but also lets you drill down those alternatives to find even more words that might work for you. Eventually, you will start to develop a list of power words that you can use over and over again with great results!
Chapter 2 – ToolsTools ToolsTools
As you are probably starting to notice, using different tools can really impact your productivity. Speed Writing isn't just about how fast you can type, it's also about the many technical aides that are available now due to the power of modern electronics. Yes, many of them cost money to get, but they also end up being a great investment that can pay you back by freeing up additional time, and some will even help maintain your sanity and health too as you start to mass produce articles for the Internet.
So, without delay, let's get started discussing the great products out there that can boost your productivity into the stratosphere!
Dragon Naturally Speaking
Once you start to type article after article, maybe an e-book in between, you might start feeling the beginning symptoms of carpal tunnel syndrome. This is a very serious disorder that affects the tendons in your hands and can cause a great deal of pain. It can keep you off the keyboard for long periods of time too! So, getting a program that saves your wrists while it increases your writing speed is really a great investment for you as a content developer.
This program, Dragon Naturally Speaking 10, is a godsend for Internet marketers who may have a good idea of what they want to say, but have very poor typing skills. It allows them to speak and have the program type the spoken words into a word processor for you. It may take a while to get used to, but the newer version has about a 99% accuracy rate. You will still need to proofread your work before you send it, but generally that makes it even easier to do. If you type something, you will notice that reading it over for grammatical errors is harder for the writer, and that's why people generally hand off their work to others to proofread. But, if you speak the
words, you're eyes will see the words as new and won't be as likely to filter out the mistakes when you proofread.
Other Details
- 25 Articles (TXT, DOC)
- 1 Ebook (PDF), 40 Pages
- 1 Squeeze Page (HTML)
- 2 Ecovers (PNG)
- Year Released/Circulated: 2019
- File Size: 2,331 KB
License Details:
[YES] Can sell and keep 100% of the sales.
[YES] Can edit the squeeze page.
[YES] Can be bundled into another paid package and sell at a higher price.
[YES] Can be used as a bonus to another product you are selling.
[YES] Can be sold in a Dime sale event.
[YES] Can be added into a paid membership site.
[YES] Can pass on the Master Resell Rights privilege to your customers.
[YES] Can be given away for free AGAINST an email address (lead generation)
[NO] Contents of the product can be edited, modified or altered.