Salespage Snapshot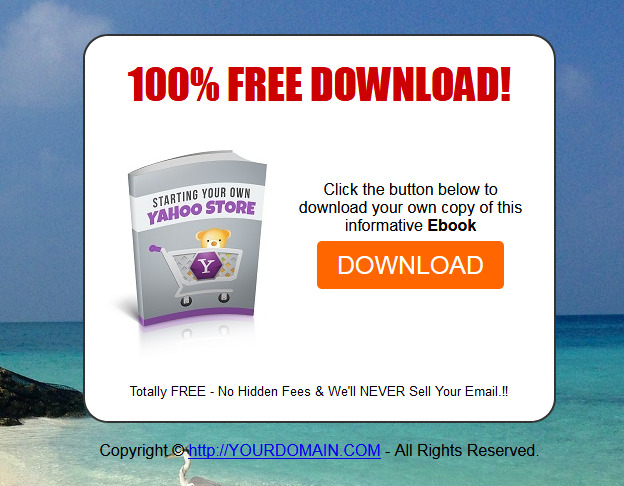 >> Click Here To View Sales Page...
Table of Contents
INTRODUCTION: WHO IS USING A YAHOO STORE AND WHY YOU SHOULD TOO 3
1 WHAT IS YAHOO! STORE? 5
Top Products 6
Will Your Business Work Online? . 7
2 YAHOO! STORE MERCHANT SOLUTIONS … 8
Store Design Benefits 8
Getting Your Product Catalog Up . 9
Shopping Cart and Checkout… 9
Marketing and Promotion . 10
Will This Work For You? … 11
3 SETTING UP YOUR ECOMMERCE STORE .. 13
Design the Store For You . 13
Load Your Products .. 14
Setting Up Payment Methods 15
Establish Shipping Methods .. 16
Establish Sales Tax Costs . 18
That Is It! .. 19
Need Help? . 19
4 CHOOSING THE RIGHT ECOMMERCE PLAN .. 20
Check the Differences .. 20
5 MARKETING YOUR BUSINESS . 24
Search Engine Aid … 24
Paid Search Marketing Tools . 26
Shopping Portals . 27
Other Tools 28
6 THE IMPORTANCE OF ANALYSIS . 29
Yahoo! Web Analytics .. 29
CONCLUSION . 31
Sample Content Preview
TOP PRODUCTS
Yahoo! Stores do best when they sell a popular item that people go online to buy. For example, if you head online to purchase electronics, a Yahoo! Store is a great place to visit. You will find numerous products to choose from and you are likely going to find just what you need. Keep in mind that your store is just one of many that will be on the site, called the Yahoo! Mall.
Imagine if you will visiting your local mall. You walk in, walk around and walk into various stores. If you have come to the mall to purchase something specific, such as a pair of shoes, chances are good you my visit a few different stores. You want to see what your options are and you want to choose what works best for your particular needs. You may do a little bit of price shopping too.
The same is true when you visit the Yahoo! Mall. Keep in mind, there is not a website out there called the Yahoo! Mall. Rather, this term describes the numerous online stores that are selling products to consumers through the use of a Yahoo! Store. In other words, there is not going to be numerous retailers lining up with you to get each person's business. Your Yahoo! Store does stand-alone.
Check out Yahoo! Shopping. When you go to this website, you will find a wide range of stores. Each of these are using Yahoo! Store to operate. What is fantastic about this is that the Yahoo! Shopping location is a one stop shop for just about anything you can buy online. Do you have something different or interesting to offer? If so, this is the place to get it listed so that you can easily start taking advantage of the traffic pouring in to this website.
Keeping that in mind, you may be wondering what types of businesses do best in a Yahoo! Store. You will find hundreds of options, of course. For example, the Lance Armstrong Foundation is a very specific brand and their products are very limited. On the other hand, some companies do very well by offering a full line of unique items for people to buy. There is variety and there are a number of ways for you to use this store to benefit your business.
Again, those stores that sell products that people shop for online are going to do best with the Yahoo! Store. What do you shop for online?
• Clothing
• Shoes
• Electronics
• Books
• Health foods or supplements
• Jewelry
• Advertising packages and marketing services
This really is only a small portion of the types of stores found on Yahoo! Store. Remember that most businesses will do well here.
WILL YOUR BUSINESS WORK ONLINE?
Yahoo! Store works for many businesses. Ask the following questions about your business to determine if you should be using Yahoo! Store to get your business on the web.
• Does your business sell a product that can be sold over the web? A physical product will do best on the site.
• Do you have products that are in demand in the online marketplace? To find out, do some keyword research using some of the tools available. If people are searching for products like yours, getting them into your Yahoo! Store can be a profitable option.
• Do you want to start a drop ship business but you are not sure how to get it online? Yahoo! Store can work in this particular case, too.
If these things sound like things that you would like to do, then investing in a Yahoo! Store is a good place to start. It could be the best option for you regardless of what your goals are. If you are ever unsure about your business and Yahoo! Store, simply check out the company's website shopping.yahoo.com and check out your competition. If they are doing well online, your business is likely to do the same too.
2YAHOO! STORE MERCHANT SOLUTIONS
At the time of this writing, Yahoo! Store was the web host for 500 more ecommerce businesses than the competition. That says a lot since there are thousands of companies out there all trying to compete for your business.
When you invest in the Standard or the Professional plans offered by Yahoo! Store, you really get to take advantage of some amazing products and services. Check out some of the reasons why this ecommerce solution is the best bet.
STORE DESIGN BENEFITS
One of the first things you will encounter when it comes to Yahoo! Store is the actual development of your store. You need to get your store online. This process is excellent for providing you with an easy method. Later, we will take a look at some of the benefits of hiring a professional to help you with the design of your store, but before that, take a look at some of the plan features here.
• You are able to design a professional looking website. That speaks volumes for your business. To do this, you will be able to use a Yahoo! Store wizard tool. The store design tool is quite simply a step by step tool that takes you through the process one step at a time.
• In addition, each of the pages you create for your store are going to be search engine friendly. This means that the pages are set up in such a way to allow search engines to easily work through the site, page by page, and to rank it. Search engine optimization helps your website to be found by those searching for it or searching for similar websites.
• Let's say that you are interested in hiring someone else to help with the design. On the other hand, you may be interested in using other tools from other design programs. That is no problem since Yahoo! Store supports third party tools on the site.
Now that you have used the tool, you are able to get your storefront up. Now what?
GETTING YOUR PRODUCT CATALOG UP
The next of the benefits that comes from using Yahoo! Store is the product catalog. Yes, there are other companies out there that offer product catalogs and some may be a better option for you, but most businesses will do just fine with the use of Yahoo! Store.
Take a look at what you can expect. These are some of the benefits of the product catalog:
• You are able to manage up to 50,000 products on your site for sale. That is a sizable amount and most businesses will fit well within their range, even medium sized businesses.
• To get the products on the site, you will use a step by step wizard. Like the tool you used to set up the site, this tool takes over the process and makes it incredibly easy to use.
• For those who already have an existing storefront online, you can easily upload an existing product database to the system. That makes the process easy to benefit from, too.
The product catalog is like a virtual version of the a paper catalog. It inventories all of the products that you have for sale on your site. This catalog gives your website some organization as well as structure. When someone visits the site and is looking for a specific product, they can easily find it because your catalog has organized it properly.
Other Details
- 25 Articles (TXT)
- 1 Ebook (PDF), 31 Pages
- 1 Squeeze Page (HTML)
- 2 Ecovers (PNG)
- Year Released/Circulated: 2018
- File Size: 1,781 KB
License Details:
[YES] Can sell and keep 100% of the sales.
[YES] Can edit the squeeze page.
[YES] Can be bundled into another paid package and sell at a higher price.
[YES] Can be used as a bonus to another product you are selling.
[YES] Can be sold in a Dime sale event.
[YES] Can be added into a paid membership site.
[YES] Can pass on the Master Resell Rights privilege to your customers.
[YES] Can be given away for free AGAINST an email address (lead generation)
[NO] Contents of the product can be edited, modified or altered.