Salespage Snapshot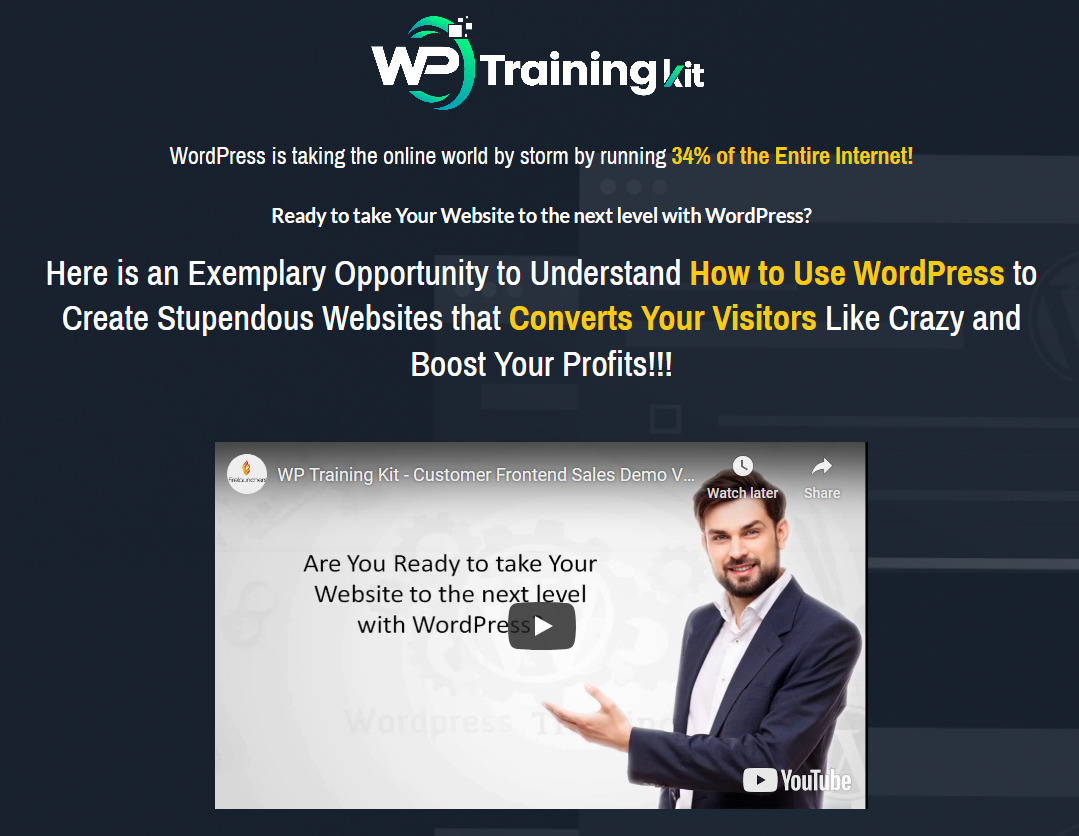 >> Click Here To View Sales Page...
Table of Contents
Chapter 1: Introduction
Chapter 2: WordPress – An Overview
– What is WordPress?
– What is Content Management System?
– How does WordPress work?
– Features of WordPress
– The Benefits of Using WordPress
– WordPress.com vs. WordPress.org
Chapter 3: How to Create and Maintain a WP Site?
– How to Create a WP Site?
– How to Maintain a WordPress Website?
Chapter 4: WP Admin Area – Introduction to WP Dashboard
– What is the WordPress Dashboard?
– WordPress Dashboard Screen Areas
– WP Admin Area: Toolbar
– WordPress Admin Area: Navigation Menu
Chapter 5: WP Plug-ins – Introduction & Installation
– WordPress Plug-ins
– How to Install a WordPress Plugin – Step by Step for Beginners
– Best WordPress Plugins for Your Site
Chapter 6: What, Why, & Hows of WP Salts & Security Keys
– What Are WordPress Security Keys & Salts?
– How Does WordPress Salts and Security Keys Work?
– How to Use WordPress Security Keys and Salts?
Click Here To Grab WP Training Kit HD Training Video
Chapter 7: Difference Between Posts vs. Pages in WP
– What are Posts in WordPress?
– What are Pages in WordPress?
– When to Use WordPress Pages
– When to Use WordPress Posts
– Features of Both WordPress Pages & Posts
– WordPress Pages vs. Posts (Key Differences)
Chapter 8: Deploying security measures in WordPress
– Basics of WordPress Security
– WordPress Security in Easy Steps (No Coding)
– WordPress Security for DIY Users
Chapter 9: Best Drag and Drop WordPress Page Builders
– Why Use a Drag and Drop Page Builder for WordPress?
– Best Drag and Drop WordPress Page Builders
Chapter 10: What are the Limitations of WordPress.com?
Chapter 11: Common WordPress Mistakes to Avoid
Chapter 12: Conclusion
Sample Content Preview
When launched, WordPress was nothing but a typographic improvement, but as time passed and the community got stronger and WordPress was developed by contributors from all over the world, now WordPress is a robust system that can be used to create and manage any kind of website to keep it short. To showcase some examples let's look into the various implementations of WordPress already developed.
– E-commerce Websites: WordPress is really great for E-Commerce websites because of its robust structure and ability to categorize contents. With the proper theme chosen to create an E-commerce website is considered to be one of the best options available.
– Educational/Library Websites: One of the most important features of WordPress is to manage and categorize documents or other assets, though not self-sustaining WordPress is good enough to create and run a Library Website. Using DMS implementation as well as WordPress one can surely develop Library Websites.
– Personal Websites: Whether it's a small website containing your portfolio or a daily blog. WordPress is undoubtedly one of the best platforms to showcase your talent as it has dedicated sections for the contents and overall easy experience.
2.4 Features of WordPress
WordPress is considered to be the most popular content management system due to its characteristics:
– The most important features of WordPress are that you can create a dynamic website without any programming and design knowledge
– WordPress is theme based which provides you options for various open source and premium design themes, which can be integrated easily without any designing knowledge
– Plugins extend the functionality of WordPress, which can be used to add new required modules
– WordPress sites are search engine optimization (SEO) friendly, it means sites built in WordPress can be easily optimized for search engine listings
– WordPress is Multilingual, which allow users to translate content in their language
– WordPress has inbuilt Media Management System which is used to manage images, music, documents, etc. and can be used with text content
2.5 The Benefits of Using WordPress
Here are just the top 5 benefits of using WordPress:
– The software is free! How many times have you been given something for free that is fully functional and ready to use? And if you want to upscale your site a little with premium themes and plugins, you're still going to save tons of money over what you would pay for a custom designed site.
– It's easy to use. Seriously. If you can send an email, use Microsoft Word, or set up a Facebook account, then you can use WordPress. In other words, if you've already used a computer, chances are you are already skilled enough for the WordPress basics. And even better, it's hard to mess it up. You can easily add and delete pages and posts without accidentally messing up the overall design of your site.
– You are in control. Owning your own site, and being able to make changes to it yourself, is the ultimate in online freedom. You don't have to rely on an expensive web designer to make changes or fix a tiny error for you whenever they can squeeze you in. You're in control of your site—and your wallet.
– WordPress has a search engine (SEO) advantages. Search engines love sites that are easy to index (WordPress is) and that have frequently updated content. That's where blogging comes in to play so nicely. Just by running your business or personal site and communicating with your readers in a way that's
natural to you, you'll be producing fresh, relevant content the search engines can't wait to get ahold of.
– There's a HUGE support community. WordPress isn't just software, it has become a community. Some might even say a movement. In fact, WordCamps (1-3 day training sessions) have sprung up from grassroots efforts. They are informal, community-organized events put together by other WordPress users just like you. You'll meet people of all backgrounds, ages, and nationalities at WordCamps. Plus, there are thousands of people and hundreds of resource and tutorial sites set up just to help you with your WordPress site.
2.6 WordPress.com vs. WordPress.org
The one major difference between WordPress.com and WordPress.org is who's actually hosting your website. With WordPress.org, YOU host your own blog or website. WordPress.org is where you'll find the free WordPress software that you can download and install on your own web server. Getting your WordPress site set up involves purchasing a domain name, buying a hosting plan and then installing WordPress on your server. Most hosting companies provide instructions or services to install WordPress for you.
WordPress.com, on the other hand, takes care of all of the hostings for you. You don't have to download software, pay for hosting, or manage a web server.
2.6.1 Pros and Cons of WordPress.com vs. WordPress.org
Both WordPress.org and WordPress.com have pros and cons, depending on your needs. If you're not interested in paying for your own hosting, managing your own web server or paying someone else to handle that for you, you'll probably want to use WordPress.com. It's free and easy to set up and you have lots of options for customizing your site. A few of the cons of using WordPress.com include that your domain will, by default, include "WordPress.com."
Click Here To Grab WP Training Kit HD Training Video
You also can't upload any custom themes, plugins or modify the PHP code behind your site. While WordPress.com is free to set up, they do offer several premium upgrades, including domain name registration (if you don't want WordPress.com in your domain name), the ability to upload videos and the option to use their premium themes.
Using the downloaded version of WordPress from WordPress.org opens up more control and flexibility for your WordPress site, but it also means more responsibility. Using a self-hosted version of WordPress means you can use your own domain name, upload and install themes and plugins, edit the code behind your site and have access to your site's database (or files). Most of the showcase sites you see on the WordPress site showcase are the self-hosted version of WordPress since many of them have unique functionality or a custom-made design.
Other Details
- 1 Ebook (PDF, DOC), 127 Pages
- 9 Audios (MP3)
- 9 Videos (MP4)
- 2 Graphics (JPG, PNG)
- 1 Salespage (HTML)
- Resource Report, Cheat Sheet, Mindmap, Legal Page, Sales Video, Email Swipes, Voice Over Scripts, Psds, Sales Copy
- Year Released/Circulated: 2020
- File Size: 515,272 KB
License Details:
. [YES] Can be sold
. [YES] Can be used for personal use
. [YES] Can convey and sell Resale Rights
. [YES] Can convey and sell Master Resale Rights
. [YES] Can convey and sell Private Label Rights
. [YES] Can be packaged with other products
. [YES] Can modify/change the sales letter
. [YES] Can modify/change the main product
. [YES] Can modify/change the graphics and ecover
. [YES] Can be added into paid membership websites
. [YES] Can put your name on the sales letter
. [YES] Can be offered as a bonus
. [YES] Can be used to build a list
. [YES] Can print/publish offline
. [YES] Can be given away for free
. [YES] Can convey and sell Personal Use Rights
. [YES] Can be added to free membership websites