Salespage Snapshot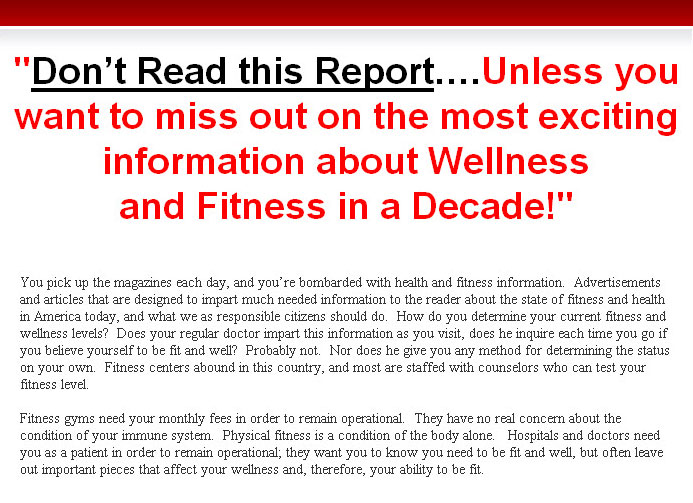 >> Click Here To View Sales Page...
PLR Ebook Sample Content Preview
Today's Concerns about Wellness and Fitness
In this wonderful age of enlightenment and advanced medicines, we should be some of the most fit, most well human beings.  But, you will most often find the opposite is true.  So how and why has this happened?  The following report takes a look at all the components that must be present for us to be fit and well.  We will examine all the necessary conditions that must be met in order for us to be fit and well.  And some of the more creative, fun and unique forms that self-help and medicine have taken over the last several centuries.
As you read the following paragraphs, we're going to walk through some of the more generalized areas of wellness, fitness and overall good health that each and every person should strive to attain.  We'll then move on to examining the various areas of individual concern, fitness, wellness, the mind, body and soul importance, and the development of good health practices.  All of these areas are necessary for the whole wellness of the individual.
The Blissful Union of Wellness and Fitness
You pick up the magazines each day, and you're bombarded with health and fitness information.  Advertisements and articles that are designed to impart much needed information to the reader about the state of fitness and health in America today, and what we as responsible citizens should do.  I want you to stop, and think for just one moment.  How do you determine your current fitness and wellness levels?  Does your regular doctor impart this information as you visit, does he inquire each time you go if you believe yourself to be fit and well?  Probably not.  Nor does he give you any method for determining the status on your own.  Fitness centers abound in this country, and most are staffed with counselors who can test your fitness level.  What about your wellness level?  Are they one and the same?  They are not one and the same, yet they rely heavily on each other to keep you healthy.
Thanks to the advances in modern medicine, the average person's life span now exceeds seventy years. If you stop to think, that's quite a long time to walk around on this earth. Along with the wonderful life expectancy increases, however have come the detrimental effects of overeating and unhealthy eating.  It seems that as we advance in one area, we regress in others.  This doesn't have to be so, however.  Reaching a place of responsibility, where we combine our physical health, with our wellness enhances those extra years of life.
Other Details* Sales Page:
Included, HTML
* File Format:
MS Word Doc, PDF
* Number of Pages:
52
* Included Graphics:
Ecovers
* Extras:
Keywords
* Download File Size:
933 KB
* Private Label Rights Terms & Conditions
:
This license must follow this product
Yes - Can sell private label rights
Yes - Can sell master resale rights
Yes - Can edit the content
Yes - Can become the author
Yes - Can be added to a paid membership
Yes - Can be offered as a bonus
No - Can be offered through auction sites
No - Can be added to a free membership
No - Can be given away