Salespage Snapshot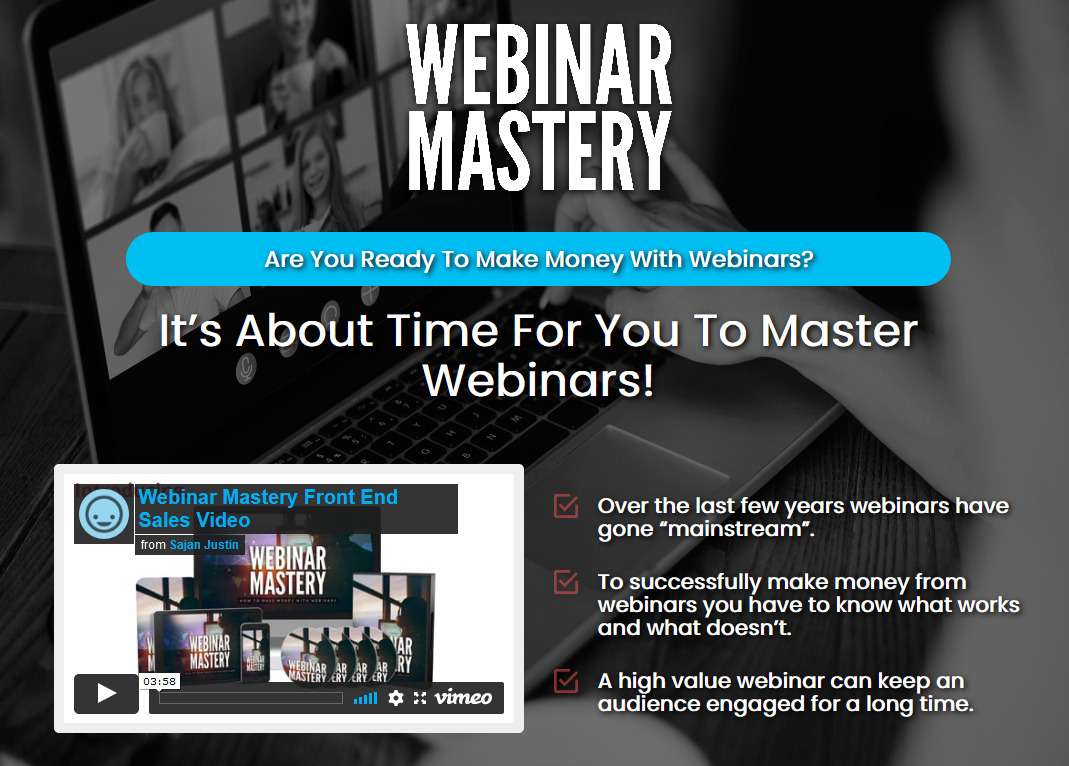 >> Click Here To View Sales Page...
Sample Content Preview
Attendees know that they will be able to participate. The main way of doing this is to ask you questions and get the answers in real time. You are able to ask your audience questions as well and you can ask them to participate regularly in micro actions such as polls, quizzes and so on. When you get your audience to perform micro actions throughout the webinar you are warming them up to taking the final action that you want – purchasing your product or service.
Not all webinars have sales pitches at the end of them. Some businesses use webinars to just provide value by explaining how to solve a problem and how using their products and services make things a lot easier. This increases brand awareness and trust which will make the attendees more likely to become customers in the future.
Expert Status
If you are running a webinar then your audience will perceive you as an expert. Even if some of the attendees have never heard of you before they will assume that you are an expert in your niche because you are running the webinar.
Being perceived as an expert is exactly what you want. People trust experts and are much more likely to buy from them. It takes effort for attendees to register for a webinar and they have to spend their precious time attending. They wouldn't do this if they didn't believe that they are going to learn something valuable from you.
No Hard Sell
If you setup and run your webinar in the right way then you will not require a hard sell for your products or services. We will cover this later on in this guide. You will be able to present your offer to your audience and some of them will just go for it because you have impressed them so much throughout the webinar.
Your webinar needs to discuss a problem that your audience is having and provide a solution. It needs to deliver value and overcome any objections. You need to persuade the attendees that they have a specific "WANT" and your product or service is that WANT. By the time you come around to the pitch your audience will be ready to buy without a hard sell.
A Large Global Audience
One of the really great things about webinars is that you can provide your presentation to hundreds (possibly thousands) of attendees from all over the world. You can sit at home controlling everything. It doesn't get much better than that!
OK it is not as effective as a one to one meeting with a prospect but it is the next best thing. Your audience wants to hear what you have to say and how you will solve their problems. They are a captive audience. Can you imagine the logistics and the cost of gathering hundreds of people from around the world to a physical venue?
Webinars have High Engagement Levels
Live webinars are special because your attendees know that if they show up late they are going to miss part of your presentation. If you don't plan to provide a replay (or at least announce that you are going to do this) then they will miss out on everything if they do not attend.
This is why people from around the world are willing to attend a webinar in the middle of the night. They will do this because they want the information that you are going to share. It is one of the best scarcity tactics available. Show up or miss out and stay until the end or you may miss something important!
The other reason that webinars offer high levels of engagement is because they are interactive. People know that they will have the chance to participate and ask questions. You want to encourage attendees to ask questions as this increases their interest in what you are discussing.
Generate Leads with Webinars
Every business wants to make sales but they also know the importance of generating leads. No matter how good your webinar is, you are not going to sell your product or service to all of the attendees. When a person registers for a webinar event you will obtain their contact details – their name and email address. This enables you to follow up with them after the webinar through email marketing. You know that they are interested in your niche and solving a specific problem so you can use this to your advantage.
Invite Guest Presenters and Leverage their Audience
Do you know who the influencers are in your niche? If you don't then you need to find out and invite them to be a special guest on your webinars. Not only is this a great way to encourage people to attend your webinar, it also gives you access to the audience of your special guest.
The special guest that you invite is very likely to have a large following either on social media or through an email list (or possibly both). Ask them to tell their audience about the webinar and you will be able to reach people that you never could before.
Faster Sales Process
Webinars offer a really fast way to convert leads into sales. With a well presented webinar you will provide your audience with all of the steps of your sales funnel in one go. Your audience will get to know you fast, like what you have to say and trust you. This is essential for converting attendees into customers.
Nothing else compares to webinars when it comes to providing the fastest return on investment (ROI). If you sell a product using a website and a sales page you are unlikely to make a lot of sales with first time visitors. With webinars you can do this.
Attract Super Affiliates
If you have an affiliate program for your products and services then webinars provide a great way to attract the best affiliates out there. These guys have very big email lists and can fill up your webinar without you having to do any additional marketing.
Super affiliates will be interested if your webinar has a high conversion rate. So you need to keep statistics about this. Show these people those persuasive metrics and they will promote your webinar in a heartbeat!
In the next chapter we will discuss how to plan for a high converting webinar…
High converting webinars do not just happen they are planned. Even if you are true expert in your niche we do not recommend that you just "wing it". Your attendees will expect a well planned and organized webinar event and you need to provide this to maximize your engagement and your chances of making sales.
What are your Webinar Goals?
What do you want to achieve with your webinar? Do you want to establish yourself as an expert in your niche? Do you want to generate more leads and sales? Do you want to create a successful joint venture? Do you want to increase the visibility of your brand?
It is important that you define the purpose of your webinar. You may want to achieve more than one goal such as promoting your niche expert status and driving new leads and sales for example. This is fine – just know what your goal is.
What Value will you provide?
A high converting webinar will always provide value so you need to think carefully about what you are going to give your webinar audience. You need to provide your attendees with value first before you make a sales pitch.
The best way to do this is to show your attendees how they can solve a common problem. Let's say that you are in the make money online niche. One of the most common problems for people in this niche is traffic generation. If you can show your attendees how to generate a lot of traffic to their website or their offers you will certainly grab their attention.
When it comes to the product or service you intend to pitch at the end of the webinar it must be related to the original theme. So if your webinar is about online traffic generation then your offer needs to be about this too. Maybe it is way to automate the traffic generation methods you have already explained for example.
Create Presentation Slides
You will need to create a high quality presentation slide set for your webinar. This will provide organization and discipline to your event and help to focus the attention of your attendees. The best slides reveal one point at a time to maintain focus. If you reveal everything at once then you run the risk of your audience reading rather than listening.
We recommend that you plan for a buildup of excitement with your presentation. Start by introducing the problem and getting your audience to feel the pain of this. Ask them to interact using the chat facility.
Next ask them how they would feel if you had the answer to their problem. Again encourage interactivity here. Then talk about the benefits of solving the problem before you reveal the methods or tactics in your webinar.
Other Details
- 10 Articles (TXT, DOC)
- 1 Ebook (PDF), 34 Pages
- 5 Graphics (PNG)
- 1 Salespage (HTML)
- 10 Ecovers (JPG)
- 2 Promotional Ad Materials (Emails, Banners)
- Resource Report, Cheat Sheet, Mindmap, Social Media Images, Legal Page, Sales Video, Email Swipes
- Year Released/Circulated: 2020
- File Size: 213,476 KB
License Details:
[YES] Can be sold
[YES] Can be used for personal use
[YES] Can be packaged with other products
[YES] Can modify/change the sales letter
[YES] Can be added into paid membership websites
[YES] Can put your name on the sales letter
[YES] Can be offered as a bonus
[YES] Can be used to build a list
[YES] Can print/publish offline
[YES] Can convey and sell Personal Use Rights
[YES] Can convey and sell Resale Rights
[YES] Can convey and sell Master Resale Rights
[NO] Can modify/change the main product
[NO] Can modify/change the graphics and ecover
[NO] Can be given away for free
[NO] Can be added to free membership websites
[NO] Can convey and sell Private Label Rights