Salespage Snapshot: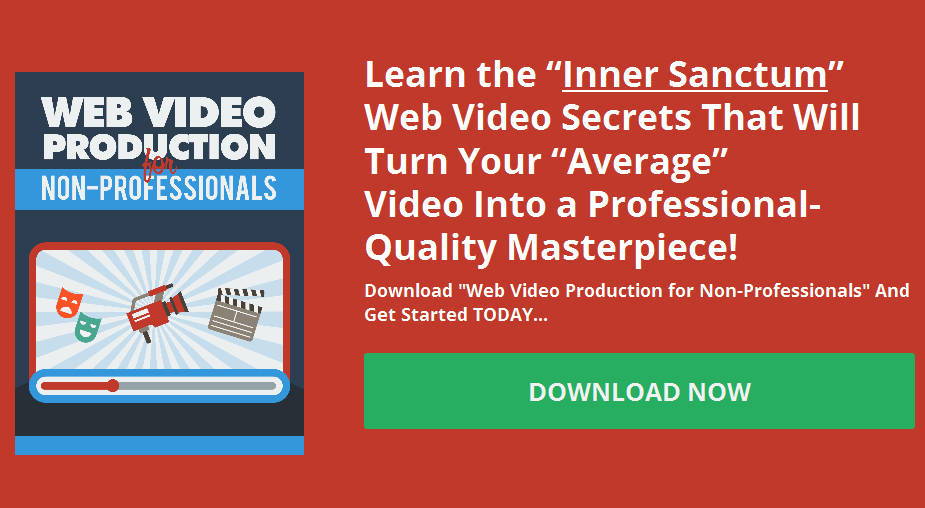 >>> Click Here To View Full Sales Page…
Table of Contents
Introduction .. 3
What You Can Use Video Production For .. 4
What You Will Need .. 5
Hardware …. 5
Video Production Without Hardware 6
Software 7
Specialist Software . 7
Planning and Pre-Production 8
Deciding on Your Type of Video ….. 8
Storyboarding . 10
Creating a Script …. 11
Filming and Production 13
How to Read Professionally From a Script ….. 13
Some Tips for Using a Camera ….. 13
Creating Your Set . 14
Editing ….15
How to Use Editing Software ..15
Openers, Music, Logos, Titles and Lower Thirds . 16
Closing Notes … 17
Sample Content Preview
Introduction
Video marketing is one of the most powerful tools available to any internet marketer and provides an excellent way for you to set yourself apart from the millions of other people trying to 'get rich quick' online. If you've been around the web for a while, then no doubt you'll have come across a fair number of landing pages trying to sell you e-books, 'work from home programs' or ways to lose weight. And if you're at all cynical, you will likely have thought they looked pretty much like scams – or at least bad deals.
The simple reason for this is that most of them don't look professional. They use the normal landing page design but they're written in an obvious font, with an overly salesy script and they keep saying 'Buy Now' in a big yellow button. This strategy can work for a lot of people but it also puts off a lot of potential buyers because it looks spammy. The average web user is becoming increasingly savvy and unfortunately for those internet marketers in their Mum's basements, that means they're harder to sell to.
So what do you do if you legitimately have something you want to sell? You need to make it look like you're not operating out of your Mum's bedroom. And that means working hard to create a professional looking website and professional marketing material.
This is where video marketing comes in. Video marketing impresses because it looks high quality. The production costs of videos are higher and if your production values look high, then the assumption will be that you spent a lot of money to create your advert. That in turn suggests that you are operating a professional outfit that's genuinely willing to invest time and money into a real product that you believe in. Then there's the fact that videos are so good at grabbing attention. So good at drawing us in. So good at persuading us. If you've ever been talking to a friend with a TV in the room, you'll know how hard it is to ignore a moving image and if you've ever watched a 'Top 100 Greatest Love Songs' countdown, you'll know how hard it is not to watch to the end.
With a high quality video you can leverage all that to really sell your product and that will make a huge difference in making you stand out and in making your product seem like a great deal.
And here's the great part: you actually don't need a lot of money to make great looking videos for the web. And you don't need to be Stephen Spielberg either. You just need to know a few tricks of the trade so that you can approach the process logically and smartly… And precisely that's what this book will teach you.
Other Details
- 10 Articles (TXT)
- 1 Ebook (PDF), 17 Pages
- 13 Graphics (PNG)
- 1 Salespage (HTML)
- 1 Squeeze Page (HTML)
- Cheat Sheet, Checklist, Report
- Year Released/Circulated: 2015
- File Size: 21,123 KB
License Details:
[ YES ] You CAN sell this product (suggest price $27)
[ YES ] You CAN sell this with other products
[ YES ] You CAN give this product away
[ YES ] You CAN sell this product with resale rights
[ YES ] You CAN sell this product with master resale rights
[ NO ] You CANNOT sell this product with private label rights