Salespage Snapshot: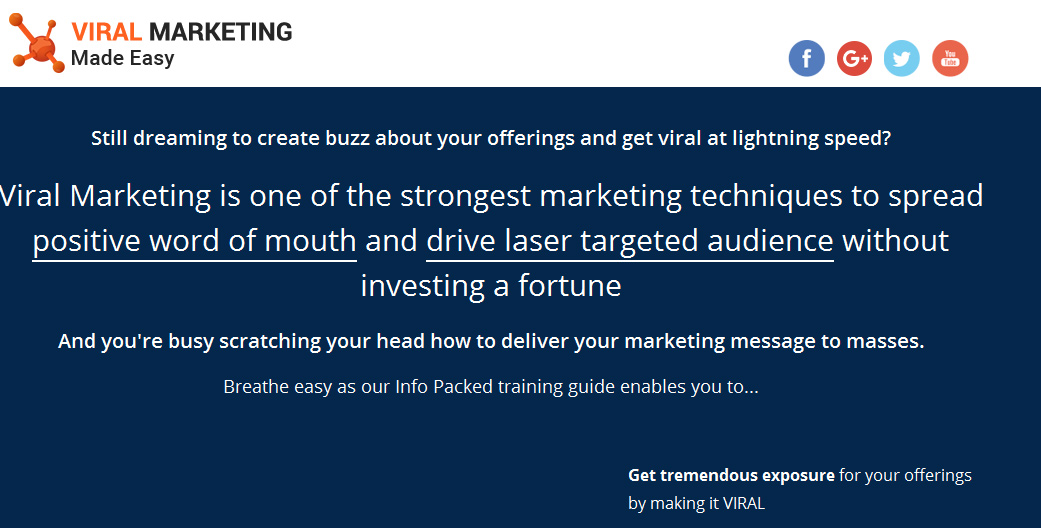 >>> Click Here To View Full Sales Page…
Table of Contents
Introduction 04
Section 1: Viral Marketing Basics
Chapter 1: What Viral Marketing is all about 09
Chapter 2: The Four Core Elements of a Powerful Viral Marketing Campaign 11
Section 2: Setting up your Viral Website
Chapter 3: Setting up your Viral Website with WordPress 14
Chapter 4: Adding must have plugins for viral power 16
Chapter 5: Enabling Viral Power Tools in your website 18
Section 3: Creating your Viral Content
Chapter 6: Getting Viral Ideas before creating your first post 21
Chapter 7: The Anatomy of a Viral Post 23
Chapter 8: Posting your viral content like a PRO 25
Section 4: Going Wildly Viral with Social Media
Chapter 9: Going Wildly Viral with Facebook 28
Chapter 10: Going Wildly Viral with Pinterest 29
Chapter 11: Going Wildly Viral with Twitter 30
Section 5: Additional Viral Marketing Tips to consider
Chapter 12: 10 do's to apply 32
Chapter 13: 10 don'ts to avoid 33
Chapter 14: Premium tools and Services 34
Chapter 15: Shocking Case Studies 35
Conclusion 37
Top Viral Marketing Resources 38
Special Offer 39
Sample Content Preview
Chapter 1: What Viral Marketing is all about
What is it? Viral marketing, also known as viral advertising, refers to marketing that seeks to exploit online trends and social behavior to produce exponential increases in brand awareness, content sharing, rapid sales and other marketing objectives. The "viral" part of the name is attributed to the ways in which viral marketing techniques achieve promotional goals, often mimicking the spread of computer viruses through methods that trigger self-replicating behaviors, such as word of mouth. Viral spread of information online is mostly attributed to the social nature of the transmission of information on the World Wide Web. Viral marketing differs from other advertising methods, because it is not paid advertisement. Although viral content can be shared by corporate sponsors, it doesn't mean that the actual campaigns are paid for, nor do they need to be. Instead, viral marketing relies on the quality of content being shared and the social outreach of the people sharing it.
The ultimate goal of viral marketing is to reach individuals with high social networking potential that can help spread information on a very rapid basis to a very broad audience, meeting the objectives set forth for the viral marketing campaign, no matter if it leaves a short or a long standing impression. What defines viral marketing as "viral"? Viral marketing that works needs to meet three specific criteria to transform an ordinary message into a viral one. Having the right Messengers Three types of messengers intervene in the process of causing information to go viral, each one corresponding to a different stage in the process. The first type of messenger is the market expert. This is the first individual, or group of individuals, to be exposed to the message before it goes viral. This is because market experts are "in the know" and up to date with trends. These experts, often known as authorities or influencers, then pass the message to their different social connections. These social connections are spread among many online subcultures that serve as a bridge for the message to be spread further from the initial connection. The last messenger involved is the salesperson or marketer, who then amplifies the message by making it more persuasive and relevant, spreading it further to meet the initial marketing goal.
Chapter 2: The Four Core Elements of a Powerful Viral Marketing Campaign
In our previous chapter, we talked about how viral marketing is all about dramatically boosting outreach by making lots of people pump our content in all directions across many channels at the fastest rate possible. That is why it is called viral, because viral content spreads much like a computer virus, this time intentionally.
We also talked about how viral marketing is not magical, that people do not share content virally only on the merits of good content, and that a successfully run viral marketing campaign heavily depends on the actions put forward by the people involved, whether they knew that they were sharing content to make it viral or not.
In this chapter, we are going to talk about the four elements that are at the core of what makes content go viral, or basically what the messengers, the message and the environment need to do to send a campaign through the roof.
Viral Website
While it is true that much of what has become viral since the term "viral" began, there is a very relevant aspect of said content that people tend to forget about: where the content is housed.
That is, any website can potentially go viral if the content on it allows for it, but when this happens it is actually a matter of luck and unintentional. If you want something to go viral, you need to add viral levers to it to increase the chances.
In the early days of the internet, viral content needed a viral website to be strikingly unusual. Nowadays, a viral website just needs to be responsive, be search engine friendly and host trending, high quality content.
Viral Content
Regarding trending and high quality content previously mentioned, your website will be next to nothing without content. Not just any type of content, mind you, but content with the highest possibility of going viral. Content that will not only make people want to share it with their friends, but content that they feel needs to be shared with the whole world if possible!
Viral content needs to be understood as content that not only targets a niche audience, but that caters to a large number of people from different subcultures. An example of non-viral content would be if you have food recipes, because food recipes will only be of interest to food minded people.
Other Details
- 1 Ebook (PDF), 41 Pages
- 1 Salespage (HTML)
- Cheat Sheet, Mind Map, Top Resource Report, Training Guide
- Year Released/Circulated: 2016
- File Size: 5,514 KB
License Details:
[YES] Can learn from
[NO] RESELL OR GIVEAWAY