Salespage Snapshot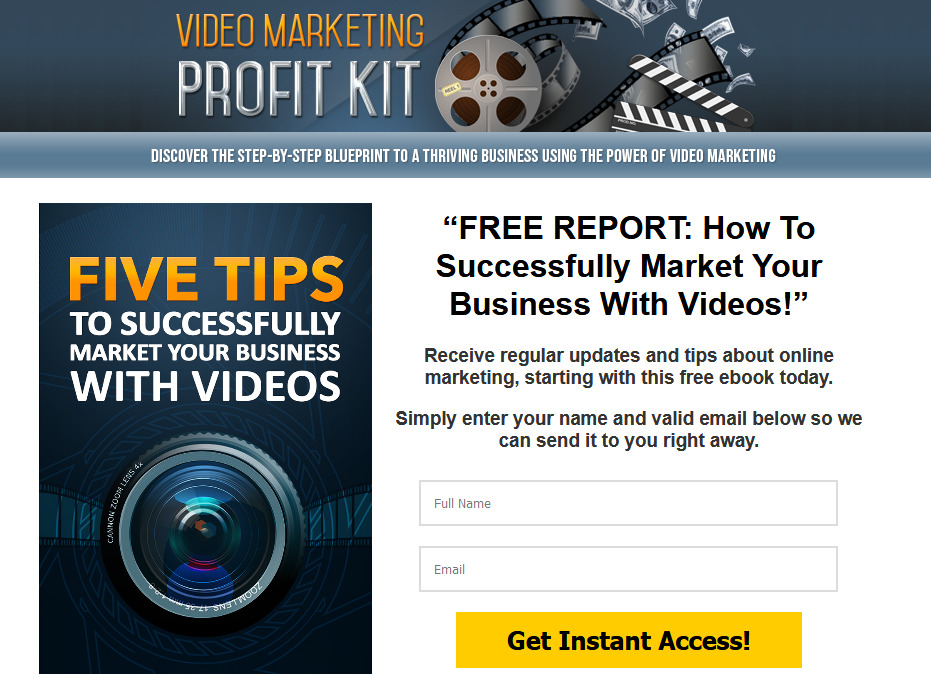 >> Click Here To View Sales Page...
Table of Contents
Table Of Contents Introduction .. 4
Chapter 1 – How to Figure Out the Right Kind of Video to Make 6
Understand Your Audience … 7
Doing the Same is Not Going to Cut It . 8
Chapter 2 – Figuring Out Your Competitors' Best Videos … 10
Pick Your Competitors' Best Videos 11
Key Warnings to Keep In Mind … 11
The Bottom Line . 12
Chapter 3 – Improving on Your Competitors' Videos .. 14
Be Clear on the "Industry Standard" … 14
Figuring Out How to Improve Your Competitors' Videos .. 15
The Problem with Improvements 17
Commit to Testing Your Improvements. 17
Key Elements You Can Test When Improving Your Competitors' Videos … 18
Chapter 4 – Upload your video to YouTube and other platforms correctly .. 20
Understand your mission . 21
Make sure you categorize your videos correctly… 21
Pick your tags correctly . 21
Chapter 5 – Writing a video script that works … 23
Make sure you mention your keywords in your video 23
Get to the point quickly . 24
Deliver on the needs of your viewers . 24
Link to previous videos within your script 25
Call your viewer to action. 25
Remember to call them to action for subscription purposes … 26
Chapter 6 – Promoting your video within YouTube . 27
Create and engaging profile on YouTube .. 28
Put up a professionally designed YouTube channel 28
Comment on related videos . 28
Engaging with other influential channels .. 31
Chapter 7 – Promoting Your Videos Outside of YouTube … 33
Embed Your Video into Blog Post … 33
Find Existing Facebook Groups and Pages 34
Build Your Own Accounts on Social Media .. 35
Auto-publish Using Social Media Publishing Tools . 35
Auto-publishing Checklist 36
Social Media Engagement Checklist … 37
Other Traffic Sources . 39
Chapter 8 – How to Sell Better with Your Video … 41
Optimize Your Video Type .. 42
Understand Your Goal .. 43
Use Question and Answer Formats 44
Mix It Up by Using Influencer Appearances . 45
Chapter 9 – Monetizing Your Videos .. 46
Your Number One Monetization Weapon . 47
Your List Turns Casual Video Viewers into a Captive Audience… 47
Your Number Two Monetization Weapon. … 48
What will you be selling? .. 48
Chapter 10 – 8 Key Video Marketing Best Practices You Must Always Remember 51
Invest in a Powerful Video Script 51
Pay Attention to Video Length 52
Develop a Brand . 52
Always Engage Your Audience … 53
Call Your Audience to Action .. 53
Interlink Your Social Media Platform Videos 53
Invest in Branding Elements 54
Invest in Social Proof . 54
Conclusion .. 56
Sample Content Preview
Chapter 2 – Figuring Out Your Competitors' Best Videos
In Chapter 1, I gave you an overview of how reverse engineering works. It's pretty straightforward. Basically, you come up with a list of keywords that are related to your niche. Next, you go to Google Adwords, get an account (it's free), and access their keyword planner tool.
Once you have access to the Google keyword planner tool, find keywords that are related to your niche. For example, you know that you want to sell dried mango chips online through video. Fair enough. You go to Google Adwords' tool and you type in "dried mango chips."
It will do a good job spitting out all sorts of keywords that are either directly related or thematically related to your niche. Use your common sense to filter these keywords.
Next, enter each and every one of these keywords into YouTube. You will then see the videos of your competitors.
The same applies to Facebook pages. Look for official pages of your competitors selling the same stuff. You can do the same on Instagram using hashtags. You just turn your keywords into hashtags.
Whatever you do, find all your competitors on all these platforms. To save time, I would focus on Facebook, both the pages and the groups, Instagram, and of course, YouTube.
Pick Your Competitors' Best Videos
I know you're probably scratching your head at this point. You're probably thinking, "Okay, great, I'm supposed to reverse engineer my competitors' best videos. I already know what they talk about, but how do I know what's best?"
Well, the good news is, these platforms make this very easy for you. In fact, it's quite transparent.
On YouTube, pay attention to their views and engagement. By engagement, I'm talking about the number of comments and likes. This gives you an objective standard as to which content your competitors offer that truly get engagement.
I need to insist on this. You need to use an objective standard because otherwise, you're just going to be trusting your hunch. You're going to be watching video after video, and the only thing you have to go on is that you like one video more than the other. That's not good enough. Not even close.
So the next thing that you need to do is to go on Instagram and look for the same indicators of success. Again, engagement. The same applies to the videos on Facebook groups and Facebook pages.
Key Warnings to Keep In Mind
So far, it seems like everything is cut and dried. It seems like everything is pretty straightforward. But I have a little bit of a warning for you: things are not what they appear on social media.
I know, it's shocking, but believe it or not, people do buy video views for social proof. Now, you may be thinking to yourself, "Why would somebody publish a video on YouTube and buy views, fake or real, for that video? What's in it for them?"
Well, it's one thing to look at the obvious, which is that the people that they are hiring or the software robots that they are retaining to get those views obviously won't buy. Often times, the people that they get to view these videos for less than a cent actually come from countries like the Philippines or India. These people are usually not the target market for such videos.
So are these people wasting their time? They're buying for social proof.
What is "social proof?" The easiest way to explain social proof is to imagine yourself going to a new city that you've never been before. When you pass a restaurant, would you be more likely to enter and eat at that restaurant if there is a lot of people there, or if it's completely empty?
If you're like most people, you would not eat at an empty restaurant. Subconsciously, you're equating or associating the emptiness of the restaurant with the quality of the food. Now, that's arguable, but that's how the human mind works.
The same applies to your video. When you promote your video and people see that there are only 20 views, they might automatically read that as a shorthand for the quality of your video. They think that if only 20 people viewed your video, your video must suck.
Now, you know, and I know that that's not the case because you reverse engineered the very best videos of your competitors to come up with something new and cutting edge. But you know what? Consumers couldn't care less. All they see is the number. All they see is the fact that your video has 20 views and they have better things to do.
Sure, your video is in a niche that they are interested in. Sure, your video has a very catchy title and it seems that the thumbnail picture of your YouTube video is quite engaging indeed. But all of these really aren't going to help you if you have very low views. This is why a lot of big name brands on YouTube and elsewhere buy views as part of normal business.
You have to understand that this is happening. When you determine which videos to reverse engineer and which of your competitors' videos to copy, you have to consider this fact. You have to factor this in, otherwise, you're going to make a mistake. You might very well reverse engineer the wrong videos. Can you imagine that? It happens all the time.
Other Details
- 20 Articles (TXT, DOC)
- 1 Ebook (PDF), 57 Pages
- 4 Graphics (PSD, JPG, GIF, PNG)
- 1 Salespage (HTML)
- 1 Squeeze Page (HTML)
- Promotional Ad Material (Emails)
- Checklist, Resource, Mindmap, Lead Magnet, Quick Start File
- Year Released/Circulated: 2018
- File Size: 38,876 KB
License Details:
[YES] Can be sold
[YES] Can be used for personal use
[YES] Can be packaged with other products
[YES] Can modify/change the sales letter
[YES] Can be added into paid membership websites
[YES] Can put your name on the sales letter
[YES] Can be offered as a bonus
[YES] Can be used to build a list
[YES] Can print/publish offline
[YES] Can convey and sell Personal Use Rights
[NO] Can modify/change the main product
[NO] Can modify/change the graphics and ecover
[NO] Can be given away for free
[NO] Can be added to free membership websites
[NO] Can convey and sell Resale Rights
[NO] Can convey and sell Master Resale Rights
[NO] Can convey and sell Private Label Rights