Salespage Snapshot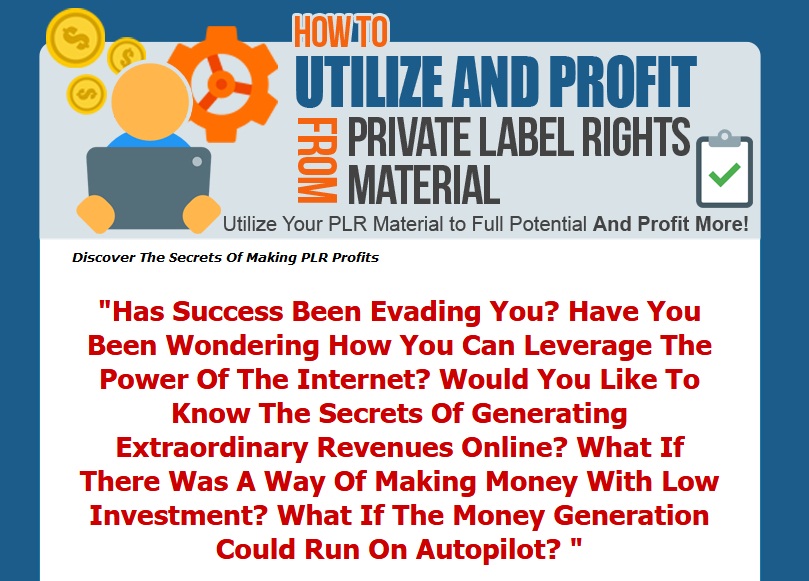 >> Click Here To View Sales Page...
Table of Contents
Introduction
What Is PLR?
Who Should Consider Using PLR?
What Are the Benefits of PLR?
What Should I Look for in PLR Content?
How Do I Find PLR?
What Are the Different PLR Rights and What Do They Mean?
What Can I Use PLR for?
How Do I Customize PLR?
What Are the Big PLR Mistakes to Avoid?
How Do I Create My Own PLR?
Conclusion
Sample Content Preview
What Are the Benefits of PLR?
Most business owners evaluate decisions based on two main criteria: Will it save me time? And Will it save me money? With PLR, the answer is a resounding Yes! to both questions. Here's a little more information about how PLR content can help your business:
1. It gives you a starting place. Whether you use it as a completed product or as merely a starting place for your own content, PLR can save you tons of time. You can make a few adjustments to the information you receive and publish it as-is, or you can take a little more time and rework it. But even if you give the PLR content a complete overhaul, it's a shortcut worth taking. Any writer can tell you it's much easier to have content to start from, rather than beginning from scratch, so even if you scrap 90 percent of the material and use only the table of contents, you've got a head start.
2. It's like a business in a box. Online, content is king, regardless of your business structure or industry. All people see is what you put in front of them, so by populatinga new website or blog with pages of high-quality content you'll be on the fast track to building a business.
3. It helps you get to profitability faster. Any entrepreneur can tell you that when you work for yourself, time is money, often literally. So by saving time, you're well on your way to giving a boost to your bottom line. Not only that, by helping you get a product to market more quickly, you're that much closer to making money.
4. It makes you look like an expert.Imagine walking into an upscale winestore, looking for the perfect bottle of cabernet sauvignon. But not only are there no bottles on the shelves, there's no staff person to ask for assistance. Faced with this situation, you'd soon head out for greener pastures with no one there to help youfigure out what to select. The same need for expertise exists online; if your site is nothing but a shell with no depth or real information, your visitors aren't going to stay long. Having high-quality content on your site is imperative when you are attempting to present yourself as an expert in your field.
5. It gives you multiple revenue streams.Maybe you've strictly been offering services but want to also sell ebooks, or you want to try your hand at a podcast or membership site, but thought you couldn't expand your offerings due to time constraints, PLR can get you there, quickly. And that means more money, quicker.
What Should I Look for in PLR Content?
PLR content comes in all varieties, from extra-cheap to custom. You may be wondering how to select from all the PLR services advertised –what makes them different, and what do you need to think about? There are five criteria in particular to use to evaluate potential PLR:
1. Is it professionally written? Writing is a skill, just like painting, scuba diving, brain surgery, and rebuilding a carburetor. Just as you wouldn't hire any old guy standing at the bus stop to fix your cranium, you also shouldn't think just any person who throws up an ad online can create fabulous articles and other content for your business. Look for PLR that's written by a native-language speaker, who's got proven talent with the written word.
2. Is it professionally edited? Editing –going through an article or report and evaluating it for grammar and spelling, vivid language, and strong content –is a specific skill, one that needs to be performed on any piece of writing. Professional editors are experienced in reading others' writing -findingsentences and paragraphs that aren't clear and improving them. That's why editing is important. Good editors will not just make sure the content is good; they'll make it better.
3. Does it have limited distribution? If you're putting something out to your customers or prospects, it shouldn't be content they're going to find on 4700 other sites in your niche. Some PLR providers put no limits on the number of customers to whom they sell their content, so you could conceivably encounter the same exact information on hundreds, if not thousands, of other sites.
4. Is it targeted content? With some PLR providers, you sign up for a membership without any guarantee of content or topic. As a result, you may get one set of articles appropriate to your niche, and 35 other articles on basset hounds, selling ferret manure, and quick ways to clean dentures with turpentine.
5. Does the content provider have a good reputation? Some PLR brokers who promise tons of articles for an extremely low cost make their money by selling, to put it bluntly, junk. You may get articles taken illegally from other sites in violation of copyright, or inaccurate, poorly written garbage. By turning to a provider with a good reputation, you can be ensured of getting legal, high-quality content.
Though there is a ton of PLR content available, only a fraction of it is worth your time and money. Evaluate potential sites according to these five factors to make sure you get your money's worth.
How Do I Find PLR?
Now that you're convinced that PLR is good for your business, you may be wondering how to get your hands on some good stuff. Here's how to find all the PLR sites you need… but make sure to evaluate the material to make sure it meets your high professional standards:
1. Google. Google.com will bring up almost 2.5 million responses to a search for "PLR." "Private label rights" will reduce the number to about 400,000 –but still plenty for you to find PLR on your niche. Start with Google, search on "PLR" plus your niche (for instance "PLR" and"wine tasting"), and you'll have a great starting place.
2. Ask for referrals. Want a great criminal defense lawyer? A French tutor for your poodle? A plant-sitter? Ask a friend! And the same goes for PLR –ask your fellow business owners and entrepreneurs to see where they go for their PLR content. (Note: You may want to ask those outside your niche, so you won't end up using the same content as your biggest competitor).
3. Advertise. Put up an ad on a site like The Warrior Forum (www.warriorforum.com), Lynn Terry's Self-Starters Weekly Tips forum (www.selfstartersweeklytips.com), or other online business forums to which you belong. State what you're looking for, including niche and price range, and get ready for the responses.
Other Details
- 1 Ebook (PDF), 20 Pages
- 12 Graphics (JPG, PNG)
- 1 Salespage (HTML)
- 1 Squeeze Page (HTML)
- Year Released/Circulated: 2019
- File Size: 1,934 KB
License Details:
[ Yes ] Can sell the eBook to your customers.
[ Yes ] Can give away eBook (PDF Format).
[ Yes ] Can be used as a bonus (PDF Format).
[ Yes ] Can include eBook in membership site (PDF Format).
[ Yes ] Can be combined with other offers or sold as a package.
[ No ] Can include within website flips.
[ No ] Cannot sell Resell Rights to customers.
[ No ] Cannot sell Private Label Rights to customers.