Salespage Snapshot: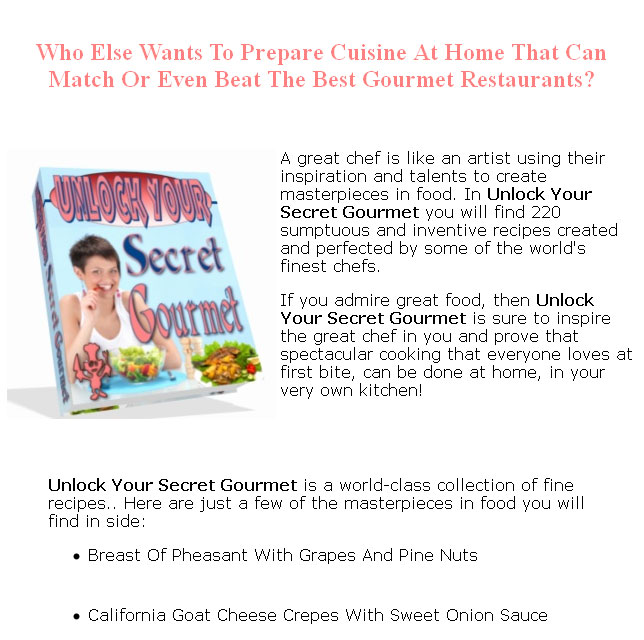 >>> Click Here To View Full Sales Page…
Table Of Contents
6. Agnolotti Di Ricotta E Spinaci
7. Ahi Tuna In Mustard Crust With Red Pepper Nage
8. Almond Meringue –
9. Almond-Anaheim Dressing For Tejas Smoked Turkey Salad
10. Alpine Mushroom Salad
11. Apple Pan Dowdy
12. Asparagus Cornet With Lemon Dressing
13. Auntie Yuan Duck Salad
14. Baby Lettuce Salad With Tart Raspberry Vinaigrette
15. Baby Spinach Salad With Grilled Onions,Tomato Vinaigrette
16. Baked Lobster Savannah
17. Beef Stock –
18. Beurre Blanc (White Butter Sauce)
19. Beurre Blanc For Lamb Spirals
20. Bird's Nests With Cheese
21. Black Bean Soup
22. Bordelaise Sauce –
23. Bowl Of The Wife Of Kit Carson
24. Braised Veal Shanks
25. Breast Of Pheasant With Grapes And Pine Nuts
26. Broiled Fruits With Vanilla Ice Cream
27. Brown Chicken Stock –
28. Brown Sauce (Sauce Espagnole)
29. Bruno's Chocolate Cake – Plain
30. Bruno's Chocolate Cake With Chocolate Cream
31. Buche De Marrons Au Chocolat
32. Caesar Salad
33. Cajeta
34. Cajun Barbeque Butter
35. Cajun Barbeque Shrimp
36. California Goat Cheese Crepes With Sweet Onion Sauce
38. Caracoles Con Frijoles Colorados
39. Caraway Cabbage Soup With Lemon Dill Spaetzle
40. Carciofi Alla Romana (Artichokes Roman Style)
41. Carrot Ginger Vichyssoise
42. Cazuela De Chorizo
43. Champagne Cabbage –
44. Charbroiled Swordfish With Citrus Salsa
45. Charred Tomato Coulis
46. Chicken Picardy With Dill Sauce
47. Chicken Stock –
48. Chili-Corn Sauce –
49. Chocolate Cake –
50. Chocolate Leaves –
51. Chocolate Mousse –
52. Chocolate Mousse Flowerpot
54. Chocolate Rum Cream –
55. Chocolate Sauce For Fresh Fruit
56. Cilantro Pesto
57. Cima Alla Genovese I (Stuffing)
58. Cima Alla Genovese Ii (Salsa Verde)
59. Cima Alla Genovese Iii (Assembly)
60. Citrus Crusted Shrimp with Ginger Starfruit and Rum
61. Clarified Butter –
62. Coquille Of Lobster Savannah
63. Corn And Crab In Pastry
64. Court Bouillon –
65. Crab Cakes And Curry
66. Crab Cakes With Sweet Peppers And Capers
67. Cranberry Relish –
68. Crema De Laurel
69. Creme Anglaise –
70. Crepe Batter –
71. Dessert Tostada With Fresh Fruit, Cajeta, And Hot Fudge
72. Dill Sauce For Chicken Picardy
73. Duck Stock –
74. Duxelles Stuffing –
75. Eggplant Manicotti
76. Escargots Bourguignonne
77. Feuillete D'escargots Et Cepes Au Santenay
79. Fillet Of Salmon With Anchovies And Tomatoes
80. Fillet Of Sole Marguery
81. Fish Broth With Oysters And Saffron
82. Flourless Chocolate Cake
83. Fresh Blender Lemonade
84. Fresh Cherries In Grappa
85. Fresh Grapes In Grappa
86. Fresh Pineapple With Rum Cream
87. Frittelle De Corleone
88. Fritter Batter –
89. Frozen Raspberry And Macaroon Souffle
90. Garlic Soup With Shiitake Mushrooms
91. Gazpacho Cocktail
92. Gorgonzola Polenta –
93. Green Goddess Creamy House Dressing
94. Grilled Beef Tenderloin With Red Wine And Pistachios
95. Grilled Chicken Breast Sandwiches With Roasted Peppers
96. Grilled Chicken Salad With Cilantro Pesto Mayonnaise
97. Grilled Grouper Savoy Grill
98. Grilled Red Snapper Burger With Mango Ketchup
99. Grilled Salmon With Honey Mustard Glaze
100. Grilled Vegetable Salad With Red Pepper Vinaigrette
101. Grilled Vegetable Terrine With Sun-Dried Tomato Oil
102. Grilled Yellow Fin Grouper With Butter Pecan Sauce
103. Grouper Saor
104. Halibut Orca Bay
105. Hazelnut Praline Buttercream –
106. Home Style Chicken
108. Honey-Almond Parfait
109. Hot Fudge Sauce For Dessert Tostada
110. Indian Summer Berry Compote
111. Jarrets D'agneau A La Grecque
112. Kobeba Samakeyah
114. Lamb Spirals With Goat Cheese Ravioli
115. Lamb Stock –
116. Le Carre D'agneau Roti A La Fleur De Thym
117. Lentils With Spiedini
118. Linguine Agnello
119. Linguine Con Verdure
120. Lobster Butter –
121. Lobster Newburg
122. Locke-Ober Cream Sauce
123. Locke-Ober Fish Stock
124. Locke-Ober Indian Pudding
125. Long Island Duck With Grapefruit
126. Mako Shark Steak Au Poivre
127. Mango Ketchup
128. Maryland Style Crab Cakes
129. Medaillons De Veau En Croute
130. Meuniere Sauce
131. Michigan Beef Steak With Chili-Corn Sauce
132. Minestra Di Piselli Freschi E Carciofi
133. Mushroom Duxelle
134. Mustard Dressing For Grilled Chicken Sandwich
135. Napoleon Of Potatoes, Artichoke Hearts… With Curry Oil
136. Orange Hollandaise Sauce
137. Oyster Pan Roast
138. Pan-Roasted Rabbit With Fresh Herbs
140. Papas A La Arequipena
141. Papaya-Cream Cheese Tart With Macadamia Nuts & Choc. Sauce
142. Pappa Col Pomodoro
143. Pappardelle Alle Sevise
144. Pappardelle I (Pasta)
145. Pappardelle Ii (Duck)
146. Pappardelle Iii (Assembly)
147. Pastel De Pescado
149. Pecan Breaded Oysters
150. Petti Di Pollo Al Cartoccio Agrodolce
151. Pheasant With Champagne Cabbage I (Pheasant)
152. Pheasant With Champagne Cabbage Ii (Stock)
153. Pheasant With Champagne Iii (Stuffing)
154. Pheasant With Champagne Cabbage Iv (Sauce)
155. Pheasant With Champagne Cabbage V (Cabbage)
156. Pheasant With Champagne Cabbage Vi (Assembly)
157. Poached Fresh Pears In White Burgundy With Chocolate Sauce
158. Polonaise Butter
159. Potage Au Potiron
160. Puff Pastry –
161. Raspberry Honey-Almond Parfait
163. Raspberry Mousse
164. Raspberry Parfait
165. Raspberry Sauce –
166. Ravioli Di Zucchine E Gamberi
167. Ravioli With Sweetbreads I (Filling)
168. Ravioli With Sweetbreads Ii (Pasta)
169. Ravioli With Sweetbreads Iii (Sauce)
170. Ravioli With Sweetbreads Iv (Assembly)
171. Red Pepper Nage
172. Red Snapper In Brodetto With Polenta
173. Risotto Milanese
174. Roast Beet Puree –
175. Roast Duckling A La Orange
176. Roast Quail With Juniper Berries I (Polenta)
177. Roast Quail With Juniper Berries Iii (Quail)
178. Roast Quail With Juniper Berries Ii (Relish)
179. Roasted Potato Salad
180. Roasted Tomato And Mint Salsa
181. Roquefort Beignets With Apple Puree I (Puree)
182. Roquefort Beignets With Apple Puree Ii (Batters)
183. Roquefort Beignets With Apple Puree Iii (Assembly)
184. Rum Cream –
185. Salmon A La Michael
186. Salmon Rillettes
187. Salsa Verde –
188. Salzburger Nockerl
189. Sauce Champignon Locke-Ober
190. Sauteed Calf's Liver With Pancetta And Red Onions
191. Sauteed Chicken With Gewurtztraminer, Leeks, And Grapes
192. Sauteed Sturgeon With Vermouth Dill Sauce
193. Scallops Newport
194. Simple Syrup
195. Slow-Smoked Beef Tenderloin With White Truffle Aioli
196. Smoked Chicken Roulade With Dried Fruits And Bourbon Sauce
197. Smoked Shrimp Enchilada W/Red Pepper Cream, Barbecue Sauce
199. Sole A La Catalane
200. Souffle Glace Aux Framboises
202. Souffle Potatoes With Custard Royale
203. Spicy Dumplings With Sesame Sauce And Hot Oil
205. Spicy Grilled Shrimp And Melon Salad
206. Spicy Sesame Sauce –
207. Spinach Salad With Honey Mustard Poppy Seed Dressing
208. Steamed Salmon With Black Bean Sauce
209. Stir-Fried Spicy Lobster
210. Succes Aux Noisettes
212. Sweet Corn And Anaheim Chile Pepper Relish
213. Sweet Onion Sauce –
214. Tejas Gazpacho
215. Tejas Smoked Turkey Salad With Almond-Anaheim Dressing
216. Terrine Of America's Three Smoked Fish
218. Texas Ruby Red Grapefruit With Honey Cinnamon Glaze
219. Texas Wild Duck Gumbo
220. Tiramisu
221. Tortelloni Di Zucca
223. Tournedos Of Lotte With Lobster And Lobster Butter
225. Vanilla Custard
226. Veal Glaze
228. Veal Stock
230. Veloute Froid Aux Herbes De Saison
231. Vitello Contadina
232. White Truffle Aioli
233. Wild Mushroom Soup
234. Wildflower Honey Cake With Indian Summer Berry Compote
235. Winter Vegetable Potage
236. Yellow Tomato Concasse
Sample Content Preview
Agnolotti Di Ricotta E Spinaci
1 lb flour
6 oz sweet cream butter
8 eggs
3 pn salt,to taste
15 oz ricotta cheese,dry as-possible
2 oz spinach,trimmed,washed
13 oz Parmesan cheese,grated
1 pn black pepper,to taste
2 pn nutmeg,to taste
1 qt heavy cream
4 oz mascarpone cheese
2 pn white pepper,to taste
STEP ONE: The Dough
Combine the following ingredients: 1 pound bleached flour, 2 ounces sweet butter, 5 eggs, and 1 pinch salt. Work the dough long enough to allow the butter to be incorporated inside the dough. Wrap the dough in a towel and let it rest, for at least one hour, inside the refrigerator.
STEP TWO: The Filling
For the filling, steam the spinach and chop it very fine. In a bowl, beat together 2 eggs with 7 ounces freshly grated Parmesan cheese, 1 pinch each: salt, black pepper, and nutmeg. Add 15 ounces dry ricotta cheese and mix very well, but not too long. If you mix it too much, the mixture will become liquid.
STEP THREE: The Agnolotti
Roll out the dough in a thin layer and brush it with an egg wash (made from 1 egg). With the help of a teaspoon to make a "walnut" shape, place the spoon on the dough and cover it with another layer. Cut with a round pasta cutter 2 inches in diameter. Stuff the pasta with the filling and cook in boiling water until the agnolotti come to the surface of the boiling water.
STEP FOUR: The Sauce
For the sauce, bring 1 quart heavy cream to a slow boil and add 4 ounces sweet butter, 6 ounces freshly grated Parmesan cheese, 4 ounces mascarpone cheese, 1 pinch of salt, 1 pinch of nutmeg, 2 pinches white pepper. Boil slowly for five minutes, constantly stirring with a wooden spoon.
Serve agnolotti on warm plates with warm sauce.
Other Details
- 1 Ebook (PDF), 237 Pages
- 1 Salespage (HTML)
- Year Released/Circulated: 2008
- File Size: 910 KB
License Details:
[Yes] Includes Reseller Website
[Yes] Can sell Master Resale Rights
[Yes] Can be added to paid membership sites
[Yes] Can be offered as a bonus to one other product
[Yes] Can be packaged
[NO] Can be offered through auction sites
[NO] Can be given away
[NO] Can be added to free membership sites