Salespage Snapshot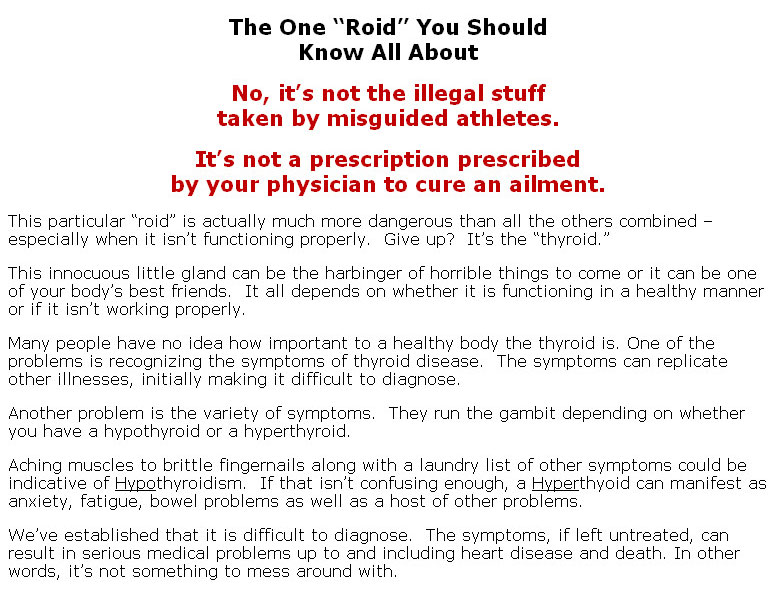 >> Click Here To View Sales Page...
PLR Ebook Table Of Contents
About the Thyroid
Testing the Thyroid
What is Hypothyroidism
What is Hyperthyroidism?
Thyroid Disease – Who is at Risk?
The Autoimmune System
Treating the Underactive Thyroid
Treating the Overactive Thyroid
Finding the Right Balance
When Nothing Works
Should you stop Treatment?
Nutrition and Your Thyroid
Weight Control
A Woman's Cycle
Your Own Thermostat
Ebook Sample Content Preview
About the Thyroid
What Is the Thyroid In Relation To the Endocrine System?
The body is made up of eleven major systems. These groups are composed of various organs which are responsible for homeostasis. If any of these systems malfunction, other bodily organs are compromised. Therefore, it is vital to maintain balance in the body so the systems can remain fully functional.
One of those major regulatory systems in the body is the Endocrine System. It is made up of glands that produce and secrete hormones. Metabolism, sexual function and bodily growth are established through the hormones secreted by the endocrine system.
The Major Glands of the Endocrine System
The endocrine system is made up of different glands which are responsible for the secretion of hormones. These hormones are like chemical messengers which transfer information from a group of cells to another in order to coordinate the functions of various bodily parts.
Other Details* Sales Page:
Included, HTML, MS Word Doc
* File Format:
MS Word Doc, PDF
* Number of Pages:
84
* Included Graphics:
Ecovers, PSD
* Download File Size:
1,206 KB