Salespage Snapshot: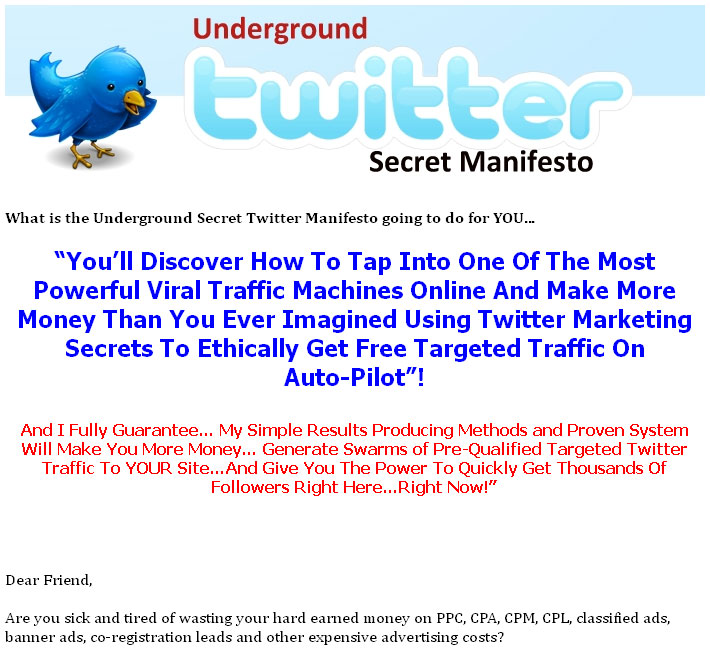 >>> Click Here To View Full Sales Page…
Table Of Contents
How Can Twitter Help Expand My Business and How Does Twitter Work For Making Money Online? The insider secrets that only 5% of all Twitter users know to literally dominate your niche…
Red Flags You Need To Consider Immediately Before You End Up Wasting Hundreds Of Precious Hours Using Twitter And End Up With An Addiction!
Don't spend hundreds of hours of your life with Twitter Marketing struggling to see what works through trial and error…Use these strategies to create a rabid following…
You Need To Know These 5 Basic Tips If You Are A Twitter Newbie To Avoid Wasting Valuable Time… Avoid the deadly mistakes most make with Twitter…
How To Use Twitter To Get Targeted Traffic To Your Blog And Provide Valuable Targeted Content For Your Followers… Follow These Guidelines To Insure Maximum Profits…Don't follow this and you're simply wasting YOUR time!
How To Set Up Your Twitter Account Properly For YOUR Niche And Generate More Followers… Discover the vital secret tactics that virtually Guarantees to generate a swarm of pre-gualified targeted traffic…
How To Make Money With Your "Tweets" Using Twitter The Right Way And To Avoid Annoying Your Followers!
Surefire Strategy How To Make Easy Residual Income With Twitter Without Doing Anything Black Hat…It does not get any easier than this…
Insider Secret Tactics On How To Set Yourself Apart From The Twitter Crowd… Most marketers have absolutely no idea how to convert their followers into real traffic and fail miserably to get any results at all…
How To Avoid The Biggest Mistakes Most Marketers Are Doing With Twitter To Keep Your Following Growing Daily!
How To Open The Floodgates With Twitter By Using Valuable Resources, And Tools To Generate A Dynamic Massive Following And Build Your Twitter Success Smarter And Faster!
Twitter Is NOT A Fad… Twitter Has Become A New Revolution In The Way We Do Business Online… Why is this too BIG to miss out on?
Sample Content Preview
How Can Twitter Help Expand My Business and How Does Twitter Work For Making Money Online?
The keyword here is balance. You want to share information that's not only yours. Just be careful how much you spend on self promotion. Self promotion only is a red flag. Sharing information that's not yours creates credibility. The idea is to make money but try to balance with providing valuable resources your followers can use.
This is very powerful when you do this with a little self promotion in your tweets. People will know that you're providing value and you will look like a hero.
One fact to consider is that Twitter and blogging go hand in hand. Twitter has totally revolutionized the way that people communicate online and it should be a vital aspect of your overall marketing plan for your blog. Twitter is free to join and you can get set up with an account in a matter of just a few minutes.
Twitter has two main components. Just like other social networking sites like MySpace or Facebook, you can add "followers" and follow other people as well. They'll receive your updates and you'll receive theirs. Your messages are limited just to 140 characters, which is why some people call it a "microblogging" tool. You have to keep your messages brief and too the point.
Sometimes it's a challenge to get the point across in the allotted space, but it also leaves room for a lot of creativity just try to keep your message in line with your niche if at all possible. Coming up with ways to say what you have to say in that small space is a big part of one major reason why Twitter is exploding with growth.
You can take a look here at some of the Top 100 and beyond and you can get an idea of the power of Twitter when you know how to use Twitter to build your business. This is another great site to see what others are doing and get ideas.
Kevin Rose the founder and site architect of Digg has 86,000+ Twitter followers! Do you think Digg might help you get more followers? Do you think that somehow Digg and other sites may be a little responsible for Kevin being #2 for most followers? You might want to take a look and see how he uses Twitter. http://twitter.com/kevinrose Take note that Kevin is only following 133 as of this writing! Imagine trying to follow 86,000+ It would be total madness.
I know there are pros and cons on having a massive following because without the right tools and resources you can get overwhelmed to say the least. You need to find, locate and educate yourself on building a massive following to be effective using Twitter. However, if you are selective on who you follow it makes a big difference.
Other Details
- Ebook (PDF), 25 Pages
- Salespage (HTML)
- Ecover (JPG)
- Year Released/Circulated: 2009
- File Size: 818 KB
License Details:
[YES] Can resell unlimited copies of the product for any price. (RRP $17)
[YES] Can bundle in with other paid products.
[YES] Offered as a Free Bonus (With a paid product)
[YES] Can pass along resell rights to customers. (RRP $37)
[YES] Can pass along master resell rights to customers. (RRP $47)
[YES] Can include in a paid membership site with $7 fee or more.
[YES] Edit/Alter the sales material
[NO] Can include in a paid membership site with less than $7 fee.
[NO] Cannot sell the report on ebay or any other online auction sites.
[NO] Cannot give the report away for FREE.