Salespage Snapshot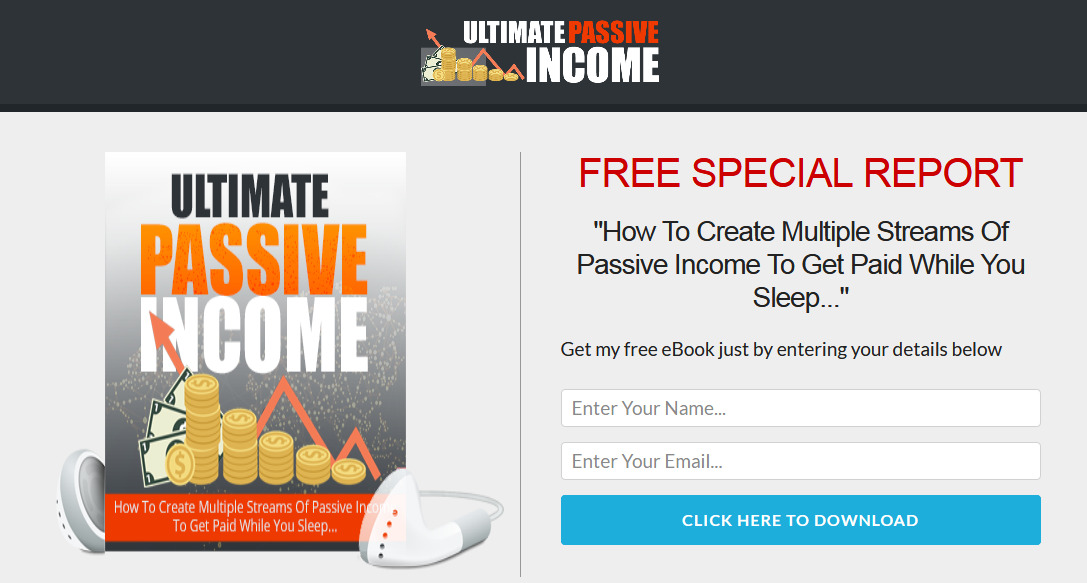 >> Click Here To View Sales Page...
Sample Content Preview
And you can even repeat the strategy you just employed in order to multiply the income several times over.
The other thing to recognize, is that you need to be smart about the way you approach these business models. The key is very much to work smart rather than hard. You need to be able to understand the thought process of your audience and you need to know how to create something that will work without wasting lots of time and effort on small details that really don't matter.
But I'm not just going to tell you what not to do. I'm also going to help you actually get started with one of these smart business models so that you can begin seeing that passive income pour in right away.
In this guide, you're going to learn three simple ways to start making money while you sleep. And all of them will be simple, effective and easy to implement…
Selling a Digital Product Online
One of the easiest ways to start making passive income is to sell a digital product online. This is what Tim Ferriss calls a 'muse' – a very simple sales process that will bring in cash to fund the things that you care more about.
So where do you start?
First, you need to acquire said digital product. A digital product is anything that you can sell that doesn't have a tangible aspect. A good example here is an ebook but video courses also work well, as do email courses.
Whatever the case, a digital product has the benefit of being completely free to produce (no overheads) and not requiring any delivery or storage. This means you can create it once and then sell it indefinitely. And you can also use a digital delivery system to take payments and then send the product.
To make this product, you can either spend some time doing it yourself (an ebook is just a PDF in most cases, which you can make with MS Word) or you can hire someone to do it for you. Writers and writing agencies are easy to find online and won't normally cost you that much (a few hundred dollars often for an entire ebook).
You're then going to create a sales page. This is going to be a single page designed to sell your product using persuasive writing and a smart layout. It's very important that this page be well designed because you need to gain the confidence of your audience and look like a 'real business'. There must be no concern in their mind that their payment might get lost in transit, or that you're going to take their money and then never deliver the actual product.
It's also very important that you make it as quick and easy as possible for people to checkout. That means they should be able to click 'buy' without having to worry about entering their payment information or sign up. Most sales are made on an impulsive basis and in order to take full advantage of that, you need to ensure your site allows for those impulsive purchases!
Finally, you're going to use Facebook Ads in order to target your advert to the right people in a way that means you're only paying when someone actually clicks one of the ads. You get to set how much you're willing to pay for each of those clicks, which means that you're going to be able to ensure that you're earning more money overall than you're spending.
In short, the right people get sent to your sales page, they get tempted by your sales pitch and they quickly and easily check out.
Making it Actually Work
But none of this is actually anything new. No doubt you've heard of selling digital products before and it's not exactly rocket science working out the basics!
The key is to making a business model that will actually work and understanding what it is that makes some products sell very successfully while others never do.
The first key element is the niche and the demographic. You need to pick a product that has a very broad appeal and that offers a lot of value to the buyer but also one that won't be going up against too much competition and that won't struggle to get noticed.
If you make a book on 'fitness', then you're going to be going up against thousands of other eBooks, some of which will have much bigger budgets than you. That means you'll have to pay a lot more in terms of advertising in order to get noticed.
But if you can hone in on something more specific: maybe making an ebook on fitness aimed at the over-50, or an ebook on fitness aimed at martial artists, or students, then suddenly you can choose much more specific keywords and demographics and thereby spend a lot less money on your adverts.
This is a good start because it means you can quickly get seen by a lot of people.
Another tip is to think about the niches that you already have influence in. As well as advertising, you can also sell by using a 'route to market', which is any direct access to a big audience that is likely to buy from you.
Right now, you probably have a few routes to market that will make it very simple and very easy for you to make those sales. For example, you might just so happen to be friends with the editor of 'Gardening Magazine'. If that's the case, then take advantage of that audience by creating a gardening ebook. Create the product, find the right audience and match the two. That's all it takes – so think about your existing opportunities rather than trying to invent new ones from scratch.
Other Details
- 1 Ebook (PDF, DOC), 9 Pages
- 1 Audio (MP3)
- 1 Graphic (PNG)
- 1 Squeeze Page (HTML)
- Year Released/Circulated: 2020
- File Size: 7,885 KB
License Details:
You're granted master resell rights, resell rights or to resell with personal use rights.
You may add this product to your PAID membership site
You may giveaway the product as a bonus when people buy through your affiliate link
You may edit the included opt-in / squeeze / landing page
You may giveaway the eBook for Lead Generation purpose
No, you may NOT edit the contents of the eBook
No, this product does NOT include private label rights. You are granted Master Resell Rights only