Salespage Snapshot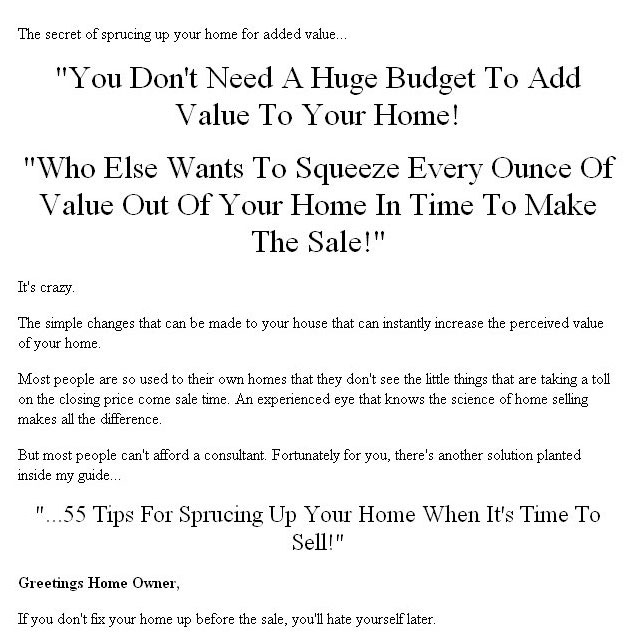 >> Click Here To View Sales Page...
PLR Ebook Table Of Contents
TABLE OF CONTENTS    2
INTRODUCTION    4
55 TIPS TO SPRUCE YOUR HOME: APPEAL WITHOUT THE SPENDING    6
OUTSIDE YOUR HOME    6
Tip #1 Tidy Up Outside    6
Tip #2 Trim Shrubbery    7
Tip #3 Plant Some Flowers    9
Tip #4 Landscaping: Mow the Lawn    9
Tip #5 Keep Porches and Railings in Good Repair    11
Tip #6 Maintain Shutters    13
Tip #7 Touch Up Painting    14
Tip #8 Make Sure Your House Numbers are Visible    15
Tip #9 Beautify the Front Entrance    16
Tip #10 Exterior Cleaning    18
INSIDE YOUR HOME    19
Tip #11 Decorating for a Sale    19
Tip #12 Make Space    20
Tip #13 The Value of Surface Space    21
Tip #14 The Nose Knows    21
Tip #15 Remember That Buyers are Human Too    23
Tip #16 Testing the Home for Baby Compatibility    24
Tip #17 Butt Out    24
Tip #18 Give Your Home a Timeless Feel    25
Tip #19 Shed Light on the Subject    26
Tip #20 Get a Professional Home Inspection    27
Tip #21 The Art of Plain White    27
Tip #22 Look Down on Your Carpet    28
Tip #23 Avoid Making a "Statement"    28
Tip #24 Wallpaper: It Sticks or It's Nix    29
Tip #24 Straighten the Closets    30
Tip #25 Flower Power    30
Tip #26 Open Up the Windows    32
Tip #27 Clean, Clean, Clean    32
Tip #27 Let Your House Stand Out – In a Good Way    33
Tip #28 Be Realistic    34
THE DIFFERENT ROOMS OF THE HOUSE    34
Tip #29 The Kitchen: Know how much is enough    35
Tip #30 The Kitchen Sink    36
Tip #31 The Kitchen Appliances    37
Tip #32 The Kitchen Cupboards    38
Tip #33 The Kitchen Surfaces    39
Tip #34 Rapid Fire Kitchen Tips: Paint    39
Tip #35 Rapid Fire Kitchen Tips: Center Island    40
Tip #36 Rapid Fire Kitchen Tips: Molding with flair    40
Tip #37 Rapid Fire Kitchen Tips: A backsplash to make a splash    40
Tip #38 Rapid Fire Kitchen Tips: Light up their lives    41
Tip #39 Rapid Fire Kitchen Tips: Dressy window dressings    41
Tip #40 The Bathroom: Find out what needs to be done    42
Tip #41 Bathroom Fixtures    43
Tip #42 Bathroom Moisture    43
Tip #43 Bathroom Plumbing and Electrical    45
Tip #44 Rapid Fire Bathroom Tips: Keep it Clean    46
Tip #45 Rapid Fire Bathroom Tips: Keep it Neat    46
Tip #46 The Front Entry    47
Tip #47 Bedrooms    47
Tip #48 Living Room/Dining Room    48
RAPID FIRE TIP SECTION    48
Tip #49 Do the Windows    49
Tip #50 Make Your Floors Gleam    49
Tip #51 Have a Place for Coats and Umbrellas    49
Tip #52 Use Mirrors in the Right Places    50
Tip #53 Keep Your Walls Simple, Yet Elegant    50
Tip #54 Use Higher Wattage bulbs    50
Tip #55 Silence the Squeaks in the Floor    50
Ebook Sample Content Preview
Introduction
Have you been considering selling your home in the near future?  If you have, then it wouldn't be a bad idea to take a good long look at your home, using an unbiased eye.
After all, a clean, appealing, well maintained home has much better odds of selling, selling for more, and selling faster.
When looking at your house, the thing you need to keep repeating to yourself is that "first impressions are lasting impressions."  This couldn't be truer when it comes to selling real estate.
However, this doesn't mean that you should take on a major renovation project just so that you can sell your property.  Remember, there are no guarantees that you would recover the costs of an enormous overhaul.
Instead, take a more conservative approach, and have a look at the different cosmetic improvements that can be made for an overall improvement.  These can include things such as cleaning, painting, refinishing, and other such efforts.  These are the projects that don't require all that much capital, and yet they make an immeasurable improvement to the overall look of your home.
Before you take on any fix-up-for-sale projects, take on the mindset that you are sprucing up your home in order to sell it.  Don't think of it as fixing it up for someone else.  You're trying to create more of an appealing look than you are a perfect home.
If you fix up the house with a certain person in mind, you're limiting your market.  Limiting your market will usually mean a slower sale, and a lower selling price.
So instead of tackling a whole mess of huge projects, just focus on making the home attractive, clean, presentable, and well maintained.  Let the new owners do their own customizations.
This guide will take you all around your property and let you know the very things that you can do to get the most out of your sale, without having to dump huge amounts of time, money, and energy into repairs.
Other Details* Sales Page:
Included, HTML
* File Format:
MS Word Doc, PDF, RTF
* Number of Pages:
29
* Download File Size:
197 KB