Salespage Snapshot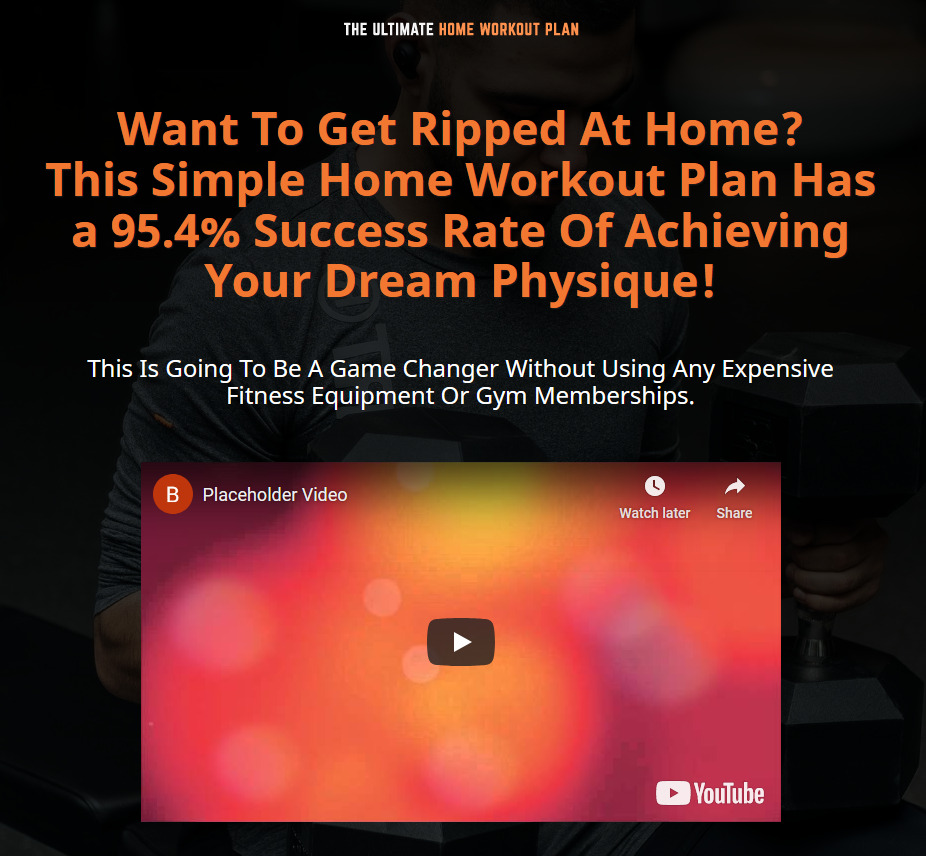 >> Click Here To View Sales Page...
Table of Contents
Introduction . 5
Chapter 1: Keeping Fit: A Route to Sanity ….. 8
What is a Home Workout Plan? …. 9
Vital Features of an Effective Home Workout Plan … 10
Link Between Physical Health and Mental Health …. 13
Chapter 2: Doing It For Yourself ….. 18
Avoiding Unnecessary Attention . 18
Keeping Fit With the Right Motive …. 20
Staying Clear of Media Pressure .. 22
Signs You're Working out for the Wrong Reasons …. 23
Chapter 3: Benefits of Staying Fit …. 26
Prevents Muscle Loss 26
Improves Digestion … 27
Enhances Appearance ….. 28
Improves Mental Performance and Work Productivity .. 29
Have A New Circle of Productive Friends ….. 31
Viable Alternative to Social Media Activities . 32
Chapter 4: The Science Behind Physical Fitness ….. 34
Boosts the Immune System … 34
Reduces Cancer Risk . 36
Prevents Cardiovascular Disease . 37
Decreases Chances of Diabetes …. 38
Improves Bone Health ….. 39
Chapter 5: Physical Fitness and Your Sex Life .. 43
Attracting the Opposite Sex … 43
Self-Confidence When Asking or Going For A Date .. 45
Keeping Fit and Libido …. 47
Fatigue, Mental Exhaustion, and Sex 48
Sex-boosting Exercises …. 49
Chapter 6: Tips on Creating a Feasible Workout Plan … 53
Crescendo all the way: Starting with the Easiest Tasks … 53
Typical Home Workout Plan . 54
Chapter 7: How To Create A Diet Plan .. 63
The Link Between Physical Fitness and Feeding Habits . 64
Typical Diet Plan .. 66
Nutrition Guidelines .. 66
Tips for Dieting Success …. 71
Chapter 8: How To Maintain Your Plan and Momentum …. 73
Be Consistent with Time and Location …. 73
Always Remind Yourself About the Benefits . 75
Surround Yourself with the Right People 76
Keep A Journal of Your Progress . 78
Share Your Results with People of Like Minds …. 79
Conclusion .. 81
Sample Content Preview
Indeed, we cannot deny the added advantages of visiting a gym or hiring a physical trainer to develop your physique. An expert has both the knowledge and experience to give you a customized routine that will get the requisite results. Nonetheless, you don't need a gym membership to build your muscle or lose weight.
If you've been observant enough, you'll notice that many people post pictures and videos about their home workout routines online. It is true that you shouldn't believe everything you see on the internet because many people post false information just to get likes and positive remarks. Nevertheless, the reality is that many people are improving their physical appearance without leaving their homes. You can be one such person if you're ready to pay the price.
A home workout plan is a deliberately structured routine to improve your physical appearance by carrying out various
exercises. Indeed, there are equipment and facilities that can make this process easier. Nonetheless, you don't have to break the bank to get a good sweat, lose weight, or develop your muscles. You can still lose weight or build your abs with minimal or no investment by choosing the right plan and tasks.
Vital Features of an Effective Home Workout Plan
Just like any activity, there are vital components that are integral to the success of your home workout plan. Once these features are missing, you'll only have a plan but will never execute it. They include:
Purpose
When you fail to define the reason for an activity, it will eventually become redundant. You need to ask yourself why you need to start regular exercises. Do you want to start so that you can post a picture on your social media profile? Do you want to do it because it is the current trend? If your reason is flimsy, you'll stop very soon.
Therefore, you have to ensure that you have a clearly defined objective before starting your plan. Endeavor to write your targets down so that you can tailor your plans in the right direction. Your goals will also help you to develop an effective diet plan that will support your commitment to physical activity.
Vision
A vision is something you see long before it happens. Having a clear vision about the kind of person you want to be determines the kind of commitment you'll have today. It enables you to channel your energy and resources in the right direction.
The purpose of starting a workout will affect your vision. Meanwhile, your vision will determine the kind of exercises you'll perform. For example, if you're doing exercise to develop your abs, you'll not have a workout plan that encourages the development of butt muscles. The kind of physique you imagine yourself having is what will determine your routine.
Gradual Process
Nothing you do in a hurry can stand the test of time. Rushing may earn you some quick results, but you'll not be able to sustain it.
Besides, impatience often leads to desperation, which often leads to disastrous outcomes. In the context of physical activities, it can make you engage in strenuous routines that can have adverse effects on your health.
You must never forget that developing your physique is a gradual process. Impatience and desperation can make you injure yourself or become discouraged along the way.
You need to enjoy the process to make your home workout plan a success. It is good to use the body shape of others as inspiration, but you must never forget that it took them time to achieve that physique.
Motivation
The fuel of any aspiration is passion. Zeal spurs you to follow up on a plan or strategy to ensure that you succeed. Your home workout plan will never become a reality when you lack motivation. You must be excited to do your press-ups every day.
Once you lose the desire to go on, you'll quit. So, use your vision as a springboard to get going, especially during days when you're tired or in a bad mood. Joining a fitness club may encourage you to sustain your momentum. Nonetheless, if you're self-motivated, you can still be consistent all by yourself.
Commitment
You cannot separate motivation and commitment. When you're motivated to carry out a task, you'll commit to it. A plan that lacks commitment will only remain on paper but will never be executed. Laziness is one of those factors that can stop you from achieving your desired body shape. So, ensure that you don't allow laxity and boredom to set it. Anyone can start working out, but only committed people can sustain the momentum in the long run. There are some critical tips that can help you sustain your plan. You'll learn about them in subsequent chapters.
Other Details
- 1 Ebook (PDF), 83 Pages
- 5 Part Autoresponder Email Messages (TXT)
- 11 Audios (MP3)
- 2 Graphics (PNG)
- 1 Salespage (HTML)
- Checklist, Mind Map, Landing Page, Lead Magnet, VSL
- Year Released/Circulated: 2020
- File Size: 83,996 KB
License Details:
[YES] Can be sold
[YES] Can be used for personal use
[YES] Can be packaged with other products
[YES] Can modify/change the sales letter
[YES] Can be added into paid membership websites
[YES] Can put your name on the sales letter
[YES] Can be offered as a bonus
[YES] Can be used to build a list
[YES] Can print/publish offline
[YES] Can convey and sell Personal Use Rights
[YES] Can convey and sell Resale Rights
[YES] Can convey and sell Master Resale Rights
[NO] Can modify/change the main product
[NO] Can modify/change the graphics and ecover
[NO] Can be given away for free
[NO] Can be added to free membership websites
[NO] Can convey and sell Private Label Rights