Salespage Snapshot: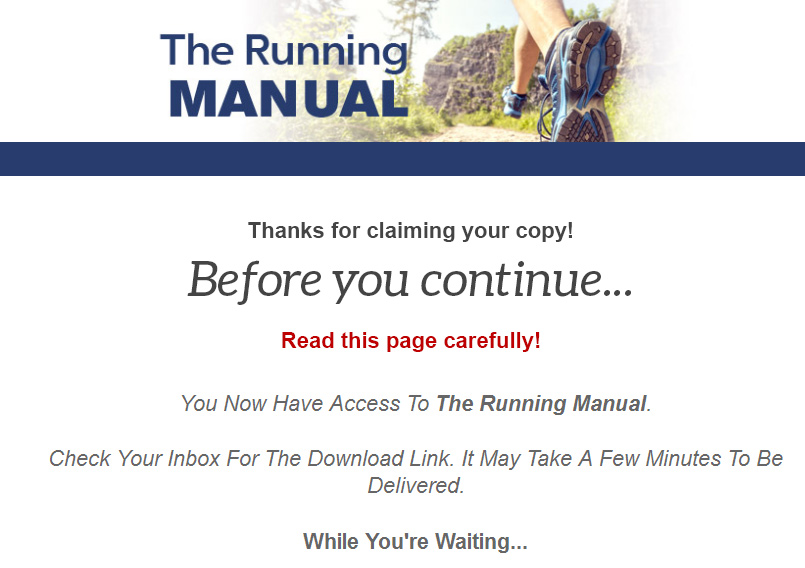 >>> Click Here To View Full Sales Page…
Table of Contents
Introduction …….. 6
Chapter 1: The Top Health Benefits of Running – It's Not Just About
Weight Loss! …… 9
Why Running is THE Number One Way to Lose Weight …. 9
The Many Other Benefits of Running………. 12
Chapter 2: Why Aren't You Running Yet? Overcoming Obstacles and
Becoming a Runner …. 17
Where Most New Runners Go Wrong……… 18
Your First Run And Your New Program…… 20
Correct Goal Setting ……… 22
Chapter 3: Your Running Kit – Crucial Clothes and Accessories for
Getting More From Runs……. 24
Running Watches and Fitness Trackers ….. 26
Chapter 4: Choosing the Right Shoes for Your Gait and Avoiding
Injury …… 29
Some Common Injuries and How to Avoid Them.. 32
Stretching …….. 33
Chapter 5: Correct Running Technique Explained! (And a Primer on
Barefoot Running) …… 35
How the Tarahumara Run….. 37
How to Switch to a More Minimal Running Style … 38
Chapter 6: How to Lose Weight With Running …. 40
Combining Your Running With the Right Diet …….. 42
Chapter 7: HIIT Versus Steady State Cardio …….. 46
The Fat Burning Zone – Fact or Myth? ……. 46
What is Interval Training ……. 47
Chapter 8: Marathon Training 101… 49
Chapter 9: Advanced Techniques – Fasted Cardio, Trail Running,
Resistance and Going Barefoot …… 53
Fasted Cardio.. 53
Running Off Road …… 54
Lactate Threshold …… 55
Chapter 10: A Recipe for Running Success……… 57
Conclusion and Closing Comments ………. 60
Sample Content Preview
All this information makes running hugely more fun and a lot more rewarding.
Why? For starters, you can now know exactly the distance you're running without having to set out a specific route prior to heading out. This makes a big difference because it means you don't have to know where you want to go but you can still monitor your progress and see improvement. It means that you can simply head outside and start running, without meticulously planning a route first and then deigning to stick to it precisely.
This is one of my favorite things about running – it allows me to explore new areas and to find new locations in my neighbourhood. I've discovered all kinds of parks, cafes, restaurants and shops just by running around and I know a ton more shortcuts too. It's also really good for your sense of direction and internal map.
What all that does, is that it allows you to turn running into a chance to explore and discover new things and this is so much more exciting and motivating than simply running the same route time and time again. It also means you can set yourself challenges and aim to improve. One week you might find you drastically increase your average pace and split, another week you might see that your heartrate stays much lower while you do the same run.
This again makes running more rewarding. Before smartwatches we had no real way to know if we were progressing while running. This made it in some ways less rewarding than going to the gym where you would be able to see the amount of weight you could move go up each time. Suddenly, you can see incremental progress and this makes it much more addictive. You can also use this to set specific goals if you want to improve in specific domains. And as we'll learn, this will also make it much easier for you to lose weight. You can do things like monitoring the time you spend in your fat burning zone, or you can go on 'tempo runs' and try and push your anaerobic threshold. And trying to maintain a certain pace is also very useful if you want to train for a marathon where the whole point is to maintain a certain speed over the distance.
All this is possible thanks to a running watch!
Chapter 4: Choosing the Right Shoes for Your Gait and Avoiding Injury
So the most important piece of equipment you need for running is going to be the shoes. But it's no good to just get any old shoe – it needs to be a good shoe and it needs to be one that is specifically tailored to the way that you personally run.
So how do you know what that is?
The best way to find out is to visit a running shop. Here, you will often be able to find a treadmill with a camera attached which is designed to monitor and measure your precise gait. This will look at when your feet hit the floor and which part of your foot strikes the floor first.
This is important because it will right away be able to show you any signs of problems with your running style and it will help you to learn more about your individual technique.
Some people will find that the ball of their foot hits the ground first. This is called a 'toe strike'. Other people will find that their midsole hits the ground first. And many people will find that their heel hits the floor first.
Depending on which type of runner you are, you need to make sure you have the right type of shoe. Those who hit with their heel first for instance will need a bigger 'heel to toe drop'. The shoe will need to be more structured and supportive and it will need to be more padded.
Others will be able to make do with a slightly more minimal shoe. We'll be discussing this in more detail in the next chapter but suffice to say that these types of shoes use less of a sole in order to make your foot more flexible. This is good because you want your foot to land on the ball first in many cases and a more flexible shoe allows you to do this when it is your natural tendency to begin with.
The shoe store will be able to advise you on what type of runner you are and they will be able to give you the best shoe for your specific technique. What's more, is that they might be able to identify any issues with your current gait – for example if you are over-pronating, or if you are flat footed. If you have a flat foot, you're going to need arch support. If you are overpronating, then you're going to need some kind of insole. You may even find that your legs are significantly different in length. If that's the case, then you may need specialist orthotics to solve the problem.
You also need to think about what the aim of your shoe is. Do you want to run fast? Or is your aim to run for long distances?
Do you want to run on tarmac? Or do you want to run through the forest ('trail running')?
If you want to run fast for instance, you'll want to look at a shoe with a sole that is able to offer a lot of energy return. In other words, you need a shoe that is somewhat 'bouncy' so that when your foot hits the road, it propels you forward with even more gusto. Adidas makes a foam called 'boost' that is very good for this.
If you're looking for something that will let you run longer distance on tarmac, then you might want a more structured shoe that guides your foot through the motion. You will also want more shock absorption and possibly even insoles.
And if you're planning on trail running, you'll need to go more minimal to avoid letting your foot roll.
We'll discuss this in a little more detail in the next chapter but this brief overview should help you understand how to pick the right shoe! Of course sizing is also very important and so too is choosing a shoe that will be breathable enough, light and comfortable. Try a few on, try bouncing up and down and feel around the toe box to make sure there's enough space. Sizing can be a little off when you're wearing running shoes – so make sure you actually try them on before you order!
Other Details
- 20 Articles (TXT, DOC)
- 1 Ebook (PDF), 61 Pages
- 2 Graphics (JPG, GIF, PNG)
- 1 Salespage (HTML)
- Social Media Images, Email Swipes, Optin Page, Mindmap, Resource Cheat Sheet, Checklist,
- Year Released/Circulated: 2016
- File Size: 40,439 KB
License Details:
1. You're granted master resell rights, resell rights or to resell with personal use rights.
2. You may add this product to your PAID membership site.
3. You may giveaway the product as a bonus when people buy through your affiliate link.
4. You may edit the included sales page and opt-in page.
5. No, you may NOT edit the contents of the eBook(s).
6. No, this product does NOT include private label rights. You are granted Master Resell Rights only.
7. No, you may NOT giveaway the main eBook for free.
If you disagree to these terms, please refrain from reselling this product.
Anyone found not abiding to these terms will have their license revoked and a possible infringement notice will be made to their web host for possible account suspension.